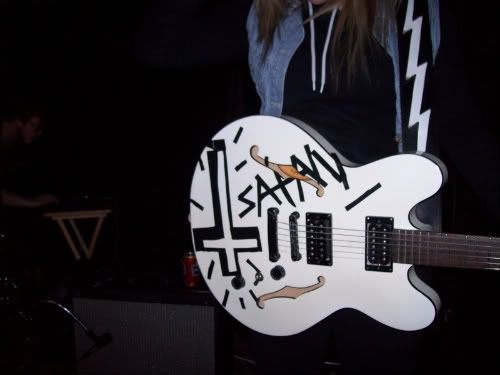 Pictured: cute girl from Bad Flirt's awesome guitar
So I apparently still have a job here. Either that or Duffy is just too busy with SXSW and hasn't gotten around to reading Weakened Wrap-up #1. Either way, whatever's clever- I still get to type stuff for your reading "enjoyment". I like to think the pictures turned out a little better this time around…
This week I saw The Receiver, Maserati, Brainbow (twice), The Exceptionals, Ill Fits, Frustrations, Psychedelic Horseshit, Bad Flirt, Town Monster and The Back Up.  I also attended the Baby Bonanza.
How much of it do I remember? FIND OUT AFTER THE JUMP- INTERNET FUCK YEAH!!!!
So Wednesday night I went to Circus (the bar formerly known as High Five) to watch bands.  I gotta say if you weren't a fan of the High Five for whatever reason, you should check Circus out.  The sound was ON. First up were The Receiver and I mean if you haven't seen them you should.  I remember hearing them but honestly I was too busy trying to get pictures of boobs as requested by my rabid fanbase.  They have a cd release show at Skully's on May 8th-also they have like a new video or something that people like.

Pictured:The Receiver
O.K. so then that Brainbow band played next and well, you know, I mean they really are one of the best live bands in Columbus- I mean like I watched two entire Brainbow sets this weekend.  Basically what I'm saying is if you haven't seen them, where you been? I will tell you where to be:  Brainbow have 2 upcoming shows in town-4-4-09 at The Ravari Room with Crippled Black Phoenix and again on 4-18-09 at Skully's with American Jobs and the one and only Gil Mantera's Party Dream.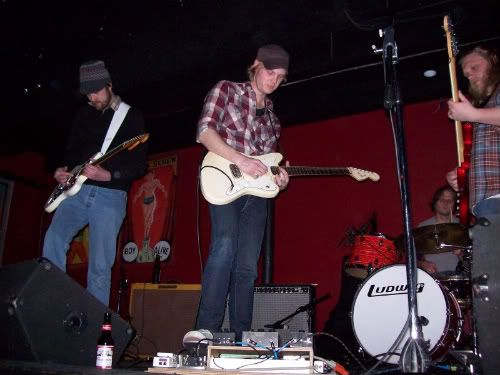 Pictured: Brainbow
I'm pretty sure I had the last Sierra Nevada Celebration left of the season.  Now it's all about the E.S.B.
Also, what is it with people not not nodding their heads when a band is head nodding worthy- this thing really bugs me out.  It's a better show for all parties involved if we all groove together.
Special Boob Bonus: ASK AND YE SHALL RECEIVE (these really aren't craigslist boobs- T.J. can vouch for me)
Maserati played next and they don't have a singer like Brainbow doesn't have a singer.  These dudes aren't as boring as Brainbow though -HAHA JK DUDES.  Maserati's drummer was front and center with a neon kit-dude was on fire.  Maserati are on the Temporary Residence label but I can't make sense of my chicken scratches to tell you what the new album is called.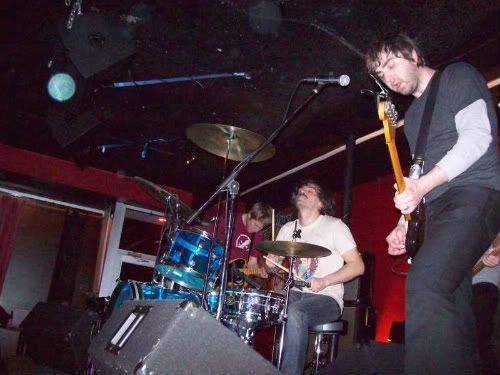 Pictured: Maserati
Thursday:  I would have liked to have made it to 2 BENCO shows 2 nights in a row but I didn't have it in me to check out Neil Hamburger and THE BAND FORMERLY KNOWN AS HUGS AND KISSES.  But like I said, I didn't have it in me. 
O.K. so now it's about Friday night.  I wasn't sure what I was going to get into and it was brought to my attention that The Exceptionals and Ill Fits were playing at the Surly Girl Saloon which just so happens to be just a hop, skip and a jump away from the crib.
Last time I saw The Exceptionals it was just 2 dudes- now it's 2 dudes and a chick.  I like them better now.  My friend told me they sounded like The B-52 vs. The Cramps (r.i.p Lux Interior).  I guess the chick is engaged to some dude in the band and also some dude in the band works at Surly.  So does Lara Ill Fits.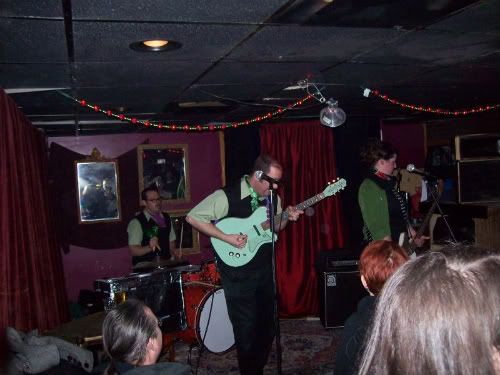 Pictured: The Exceptionals
Next up were Ill Fits, which is  Lara from Tough and Lovely's new joint.  If you haven't seen/heard Lara wail, like I said before, where you been?  I would say the Ill Fits are a less punk rock version of Tough and Lovely-yeah I guess that's what I'll say.  Ill Fits will be playing on May 7th at one of Lou's bars or Carabar or something.  You know how it goes.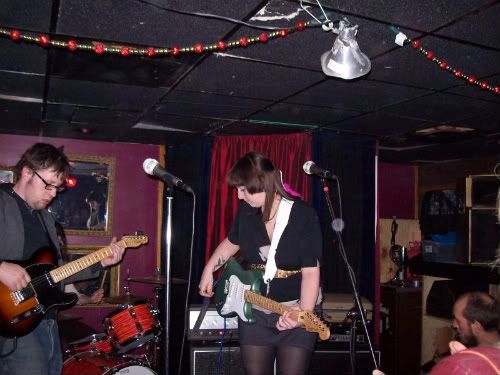 Pictured: Ill Fits
I ventured down to Carabar in hopes of catching Necropolis and We March– missed them, caught Frustrations and Psychedelic Horseshit.
FRUSTRATIONS WOULD BE THE BEST CDR BAND IF THEY WERE ON CDR or something.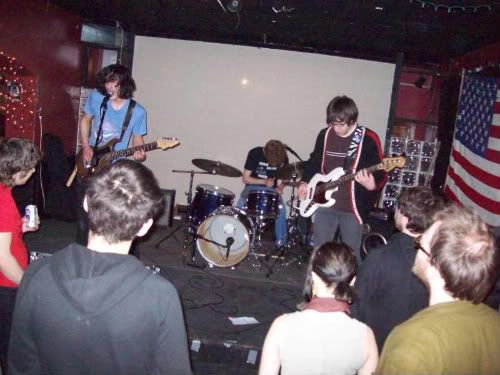 Pictured: Frustrations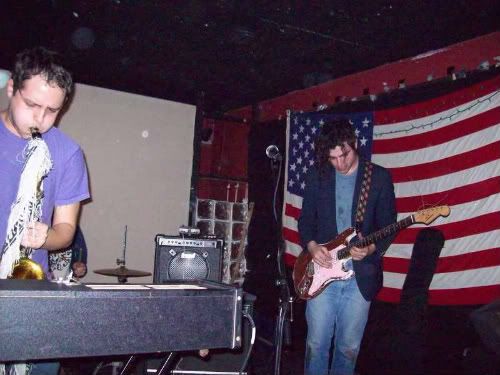 Pictured: PHS
OH MAN SATURDAY
I went to this thing called the Baby Bonanza because my friends had a booth and I wanted to see what was up and help out and I will tell you what, this sure was a weird scene.  Bottom line, there will soon be a baby boutique in Clintonville called Lottie Da.  Basically cool-ass baby accessories, location TBA.  Super cool grand opening in the works.
There were also some dudes giving away caffeinated water called Avitae.  This is a local venture and I drank a couple bottles of it and had a lil caffeine buzz so good luck dudes.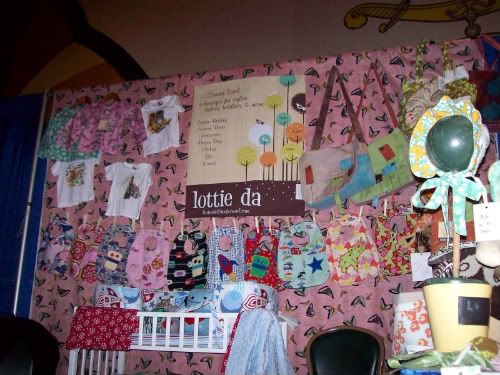 Pictured: Lottie Da's booth at Baby Bonanza
As far as my recollection of Saturday night goes, well I think I'm just gonna post pics.
Bad Flirt are 2 dudes and 2 chicks that jam. They told me they would have been down to let Don B. sing Louie Louie had they known.

Pictured: Bad Flirt
I only saw a couple Guinea Worms songs at Bourbon which was unfortunate because they are the best weirdo band in Columbus-WEIRDGAZE? I missed every other band at Bourbon because they played short sets or something.

Pictured: Guinea Worms
I saw some of Town Monster's set.  Here is a picture of their bass drum.  MAYBE AFTER I WRITE A FEW MORE ARTICLES I WILL BE ABLE TO WRITE MORE ADJECTIVES ABOUT THEM.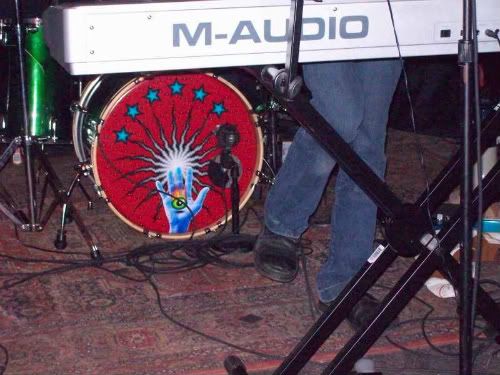 Pictured: Town Monster
The Backup is Alex from Blue Revision and Amber Lee from Di Di Mao's new project.  Both of the aforementioned bands were essentially before my time in Columbus.  I may have caught Blue Revision once before (sometimes i don't remember stuff) and Di Di Mao played the at the first comfest I ever attended but I didn't see them. AT ANY RATE- I do Know that Amber Lee does some super cool synthroclashtronica so I was stoked to finally see her play.

Pictured: The Backup
Brainbow played a song with words.
It was called Batman.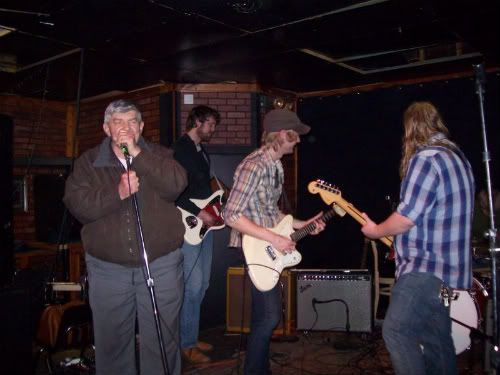 I walked home and on my way I took this picture:
Fuck if I can remember what they told me happened but I do remember the cops had not yet arrived and the car owner had the license plate of the hit and runner.
Oh yeah hey-til next time