Day 2 of SXSW began with me speaking at the music blogger panel. Here's a photo of me and Amanda Palmer's legs: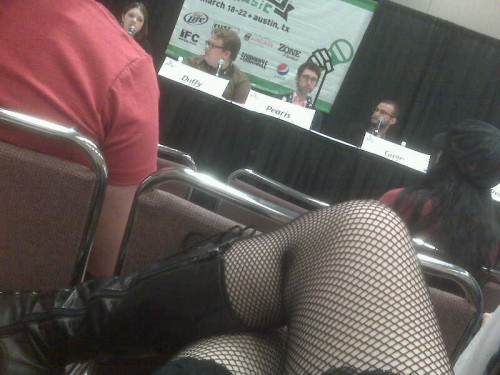 It was a real honor to be on the panel, and I enjoyed hearing my fellow bloggers (Justin of Aquarium Drunkard, Bill from Brooklyn Vegan/Sound Bites, Janet from Out the Other, Glenn from Coolfer), talk about what we do, impacts on the local scene, etc. While the title was "Bloggers Are Now in Charge," the description of the panel actually applied more to what we discussed: "Amid the rubble of the music industry, a new breed of music enthusiasts has established instantaneous and direct links to like-minded fans. What exactly is their impact on the scene?"
After the panel, I met up with Alina Simone and her high school bud Amanda Palmer for lunch at Iron Cactus. Tacos were goooood. I didn't spend any time really seeing music in the afternoon, just hung out with friends and caught up. After coming to SXSW for a few years, I realized some of my favorite times of the festival are unrelated to actually seeing bands.
I was walking to see Cursive with Taylor when someone invited us into a hair salon to drink free margaritas and hear music. I've never seen a musician perform while I sat in a chair that is normally reserved for people getting their hair cut, but there's a first time for everything. Only at SXSW! The musician I saw was Madelyn Cascio, and it was a nice relaxing way to start the day. I took a video you can see here.
My evening schedule got f'd up in the beginning. I went to Aces Lounge to see Rosie and the Goldbug and Vivian Girls, but after waiting around forever I found out that the entire schedule was pushed back an hour. OOOOOOF. I went next door to catch the last song of Peggy Sue, who were good and I'd like to catch a full set at some point.
I walked upstairs to the Parish upstairs to catch Anya Marina cover T.I. and then it was off to the live.create lounge to catch Alina Simone's set. Her new stuff sounded amazing and I can't wait to hear her next full length. Also added to the amazement: they piped in chocolate scent into the venue. I felt like I was at Hershey Park.
Onward to the Central Presbyterian Church for Amanda Palmer! After missing her the day before and meeting her for lunch, I was really excited to finally see her live. And she didn't disappoint. Because it's a church, she was able to perform her first song a capella and she quickly had the crowd in the palm of her hand. Margaret Cho joined her for a funny duet, and she also played the song she penned with Neil Gaiman called "I Google You."
At this point of the night I realized that I had unintentially only seen female musicians. I ended the evening with Elvis Perkins in Dearland again, and was cut short when I got a text message that donewaiting.com went down. Had to head home early to fix the website, and prepare for today.
NOTES
– Agit Reader SXSW coverage here
– I've been taking photos for my sponsor, Energizer's Energi to Go. You can see all of them here.