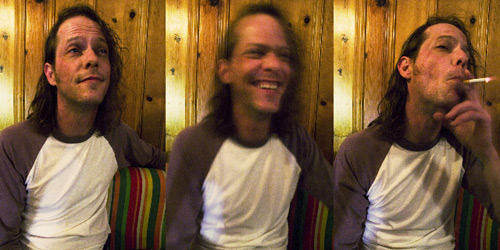 Remember a few years ago when Dave Grohl wrote an insane metal album and invited all of his favorite singers to sing on it? Probot. A little outside (okay, a LOT outside) of what he was doing in the Foo Fighters, but it was the kid in him just letting loose and making the album he always REALLY wanted to make.
Longtime Columbus drummer Paul Abbott (Woosley Band, Karma Farmers) has put together his own little Probot-like project that he's named Pocketful of Sunshine and the players on the album (Target Audience of One) are a veritable Who's Who of the Columbus music scene.
Just check out this list of singers who appear: Two Cow Garage's Micah Schnabel ("Ultimate Mixtape"), Celebrity Pilots' Chris Sheehan ("Are You Still Lovely?"), Earwig's Lizard McGee ("My Favorite Star"), The Sun's Chris Burney ("I Am the One"), The Spikedrivers' Jesse Henry ("Get With You"), Big Back Forty's Sean Beal ("Season of Giving"), Chris McCoy ("Undone"), Happy Chichester ("Easy Does It"), Ugly Stick's Dave Holm ("Same Train"), Tim Easton ("Next to You"), and Megan Palmer ("Tumbleweed Rover"). Seriously … SEAN BEAL???? CHRIS McCOY???? When was the last time either of these guys sang on a record?

With the talent involved on this album – the talent that Abbott was able to pull together – it shouldn't come as a surprise that this collection of songs are all amazing. Sequencing is a huge thing and kicking things off with "Ultimate Mixtape" was absolutely the right move – it's nice to hear Schnabel doing something different than what he typically does with Two Cow Garage. The title of the song is actually a perfect description of this CD – Abbott is the only person to appear on all the songs and if you've ever met Abbott (I sat at his table at Duffy's wedding reception), you can just imagine him jumping up and down saying, "I CAN'T BELIEVE I GOT TO WORK WITH ALL THESE PEOPLE!"
I'd love to say I have a favorite (or favorites) and that one or two maybe would have been better off on the cutting room floor but not only is this Abbott's dream line-up, it's mine as well. The only thing missing, from my point of view, is appearance by one of the Spurgeon (Greenhorn) brothers. But, really, that's the only thing missing as far as I'm concerned.
Just about all of the singers who appear on the CD will be performing their song with Abbott at the Rumba Café Friday night, the exception being Megan Palmer who won't be able to join the festivities. My guess is that this is a once-in-a-lifetime event (though I could see a repeat performance at Comfest), so check it out if you can.