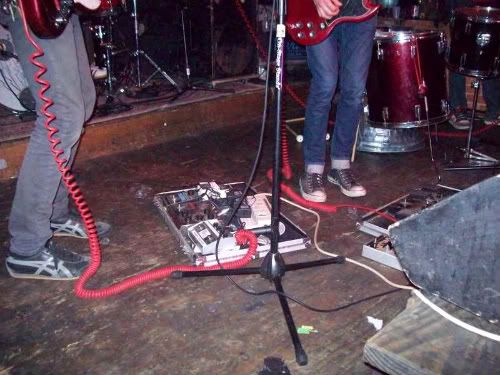 Pictured: dudes from The Slide Machine's feet
In case you didn't know, the overwhelming response to Weakened Wrap-up #2 was so huge that it actually brought down donewaiting.com last Thursday night. NO SHIT. This week I went to my first drag show with my big little brother, went to see Mindless Self Indulgence with my brother from another mother and saw The Slide Machine and a Weezer cover band. DUFFY I HOPE YOU BOUGHT MORE BANDWIDTH!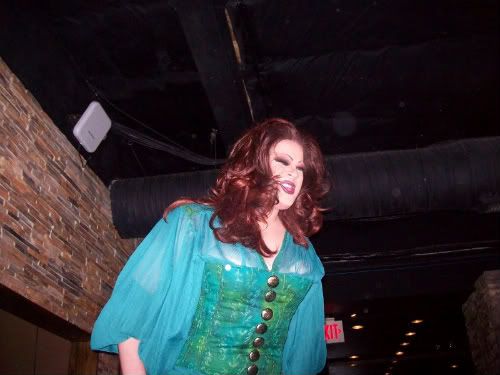 Picutred: Nina West, National Entertainer of the Year

So Tuesday was St. Patty's day, and I for one am not a fan of "drinking holidays". It was a very nice night so I decided to see what the younger bro was up to because I kinda figured he'd be out. He was at U, the new Union Station(he is a bartender there-GO BUY DRINKS AND TIP UR BARTENDER)and friends were at La Fogata as well and if you don't know those are two of the sweetest patios in the Short North. My bro had told me that I needed to see a drag show because they can be real fun, So I said why not and went to hang out with my brother and his boyfriend and see a drag show. In case you didn't know, drag queens and female impersonators are two entirely different things.
First things first-the drag show wasn't real fun…it was dudes dressed as chicks lip syncing songs and getting tipped for it-kind of a weird scene…I was told I didn't come to a particularly good one-THERE'S ALWAYS NEXT TIME! I'm gonna tell you a couple things about gay bars-1. You can pee in either the men or women's bathrooms. 2. There were more straight chicks than gay ones there. Just sayin.
I watched L O S T on Wednesday-duh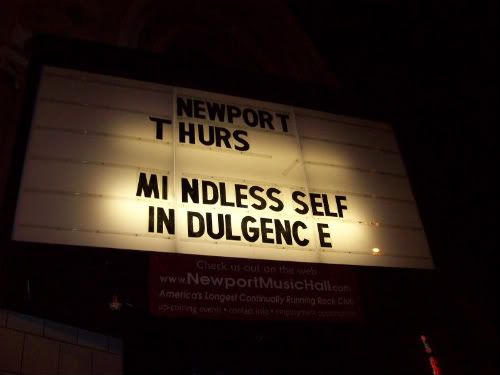 Pictured: THE NEWPORT MARQUEE WHAT THE FUCK DOES IT LOOK LIKE
THURSDAY NIGHT I SAW MINDLESS MOTHERFUCKING SELF INDULGENCE and oh man I had a blast. I went with my dude that I haven't seen in like 3 years and I missed all of the opening bands-WELL I WOULDN'T SAY I MISSED THEM.
O.K.-I LOVE LOVE LOVE Mindless Self Indulgence and I can understand HATE HATE HATING them. I don't wanna be the guy that's "OH MAN THEIR FIRST ALBUM IS THE BEST THING THEY'VE EVER DONE"-but I've been on them back when I heard their cover of Bring The Pain when it came out and have been a fan(boy) ever since. If i had not been hip to them from back in the day and heard their new stuff for the first time I prolly would hate it too. Also they cover Greatest Love of All, Big Poppa and sample Siouxsie and the Banshees' Happy House-What's not to LOVE LOVE LOVE???
BUT I MEAN YOU CANT FUCK WITH THE INDUSTRIAL JUNGLE PUSSY PUNK.
At the very least the live show is entertaining as fuck
case in point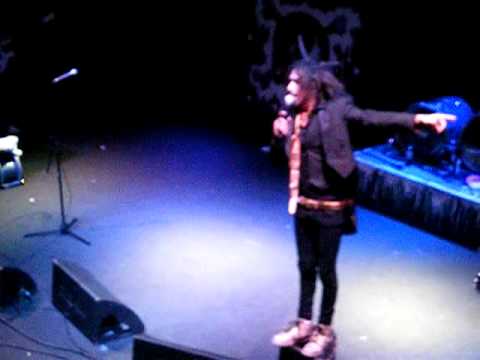 I was saddened that there was no Lyn-Z (I'm pretty sure she wants me). She's like preggo by the My Chemical Romance dude or something. Instead it was MSI's bass Tech filling in. His name is John Araya. He is Tom Araya from Slayer's little brother. It was also brought to my attention that the MSI crew are some of the best dudes to work with.
I took pictures-I DO WORK.
I don't wanna be pigeonholed as some creepy dude/the cobrasnake of
Columbus, but I mean if the opportunity presents itself…

Pictured: some chick that let me take her picture with a dw sticker above her cleavage

I wanted MSI W/DW STICKER PICS
This is what happened. I got one from the the guitar player, Steve MSI
I tried to get one of Jimmy MSI and he crumpled up the sticker and threw it.
I took this pic immediately after.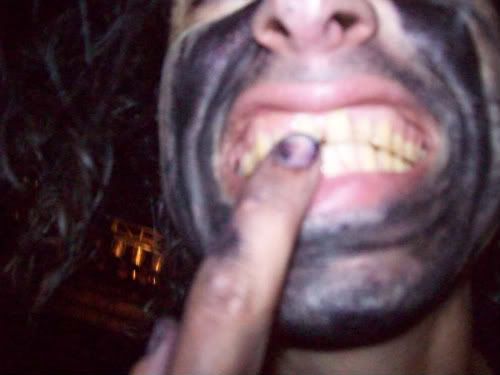 The next best part about Thursday night was after hours-i heard some kid say something to the effect of "L7 would be a good band name" or some such nonsense.
Then kid wanted to argue about scene and pretension-maybe i should start carrying around a digital audio recorder because I know this lil argument had to have been hilarious.
Saturday night i went to The Ravari room for The Slide Machine and a Weezer cover band. I accidentally drink blocked blocked Mike.3 and he still bought me a drink.
I WONDER WHAT WOULD HAVE HAPPENED IF I ACCIDENTALLY COCK BLOCKED HIM.
I typically don't use public transportation, but goddamn if I'm not gonna do it more. WEIRD STUFF HAPPENS AT THE BUS STOP.
FOR EXAMPLE-A pretty girl in fishnets and black leather knee highs took an awesome picture of me and I was "ironically" hit on by what i can only assume to be a typical OSU student.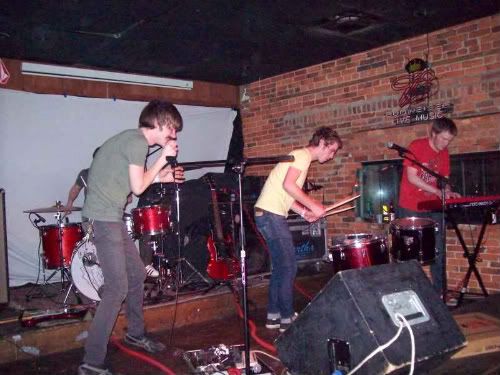 Picture: The Slide Machine
The Slide Machine are a 4 piece now and are heavier/less "proggy"-I don't believe/remember if i have seen The Slide Machine as a 4 piece before. Prior to the set I talked to Mark Slide Machine and asked what to expect from the "new band". He told me the new Slide Machine will make you want to sacrifice something. HE WAS RIGHT I WANTED TO SACRIFICE MY EARDRUMS-seriously though-best set that i saw that night, the "new" Slide Machine is rad as fuck and YOU GO SEE THEM NEXT TIME THEY PLAY.
So apparently Motion Promotion does in fact promote-there were a lot of people at Ravari Room on Saturday night.
Sooooo….Weezer played last. The Pinkertones are dudes from Six Gallery and Motion Promotion Jake.

Pictured: THE PINKERTONES SET LIST WHAT THE FUCK DOES IT LOOK LIKE
I'm not a super huge Weezer fan like some people but I do love me some El Scorcho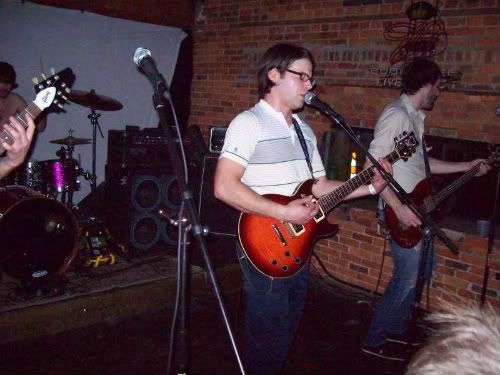 Pictured: The Pinkertones
After I heard my El Scorcho,I somehow managed to get lost in the maze that is the Ravari Room basement-I FINALLY MANAGED TO FIND MY WAY OUT-for real though, Weakened Wrap-up #4 will be up before next Thursday. I'm pretty sure.