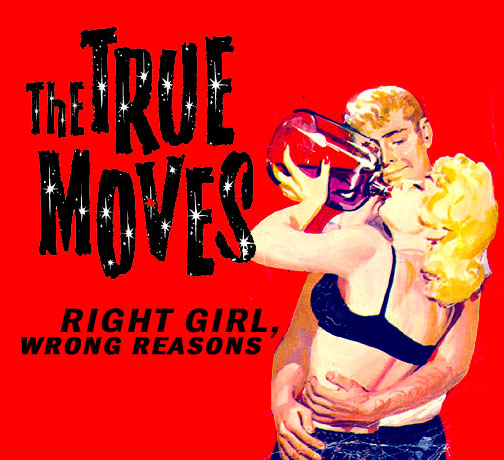 MP3: Right Girl, Wrong Reasons
Columbus' True Moves, a quintet of Columbus garage rock veterans of varied pedigrees, are releasing their second CD single this weekend. Right Girl, Wrong Reasons features three greasy barnstormers that were recorded by Nick Schuld at Zombie-Shark Studios.
The title track is a duet with lead singer/guitarist Eric Wrong and guitarist/vocalist Anna Lucci sharing their differing perceptions on a hookup based out of necessity. The track benefits from the smoky saxophone of Bob Starker, who brings the appropriate amount of instrumental sex to the jam. Elsewhere, Wrong fights to survive the nightlife to the tune of a guitar/sax surf boogie on "Hot Knife Twist," while he fights to survive a tumultuous relationship both on the mic and on the harmonica on "Hard Life." The rhythms laid down by bassist John Rice and drummer Nick Turkas are strong and steady throughout, especially on the railroading "Hard Life." This quick and dirty slab of rock highlights the strengths of this outfit and is hopefully in advance of a full-length release.
The True Moves will celebrate the new single on Friday night, April 3rd, at the Circus. Joining them will be Whoa Nellie! (Starker's other saxy band), The Beatdowns, and Dayton's Pistol Whips.