Pictured: impromptu Unholy Two
I took some [Expletive] pictures as well.
This week I saw some stand up at The Surly Girl Saloon and saw a few bands as well-specifically an impromptu Unholy Two set, ipps, You're So Bossy, Dead Set Ready(twice),who happened to be playing right next door to The Death Set, Bosniacs, The Brown Notes who happened to be playing with a band called Downtown Brown and a whole bunch more. Check me out right here yo —
Wednesday I went to The Surly Girl Saloon for a very important business meeting and it just so happened to be open mic stand up, hosted by Sean Sommerville and quite honestly I was pleasantly surprised. I literally lol'd, though I didn't stay all night….I've been there on at least one other occasion and it really is hit or miss….luckily what I caught were the hits.
On Thursday night(3.26.09)….I went to Circus to check out Dead Set Ready, The Brown Notes and some band from Detroit Downtown Brown. I asked one of the Downtown Brown dudes how he would describe their music and he said "butt funk". MAYBE AFTER I WRITE A FEW MORE ARTICLES I WILL BE ABLE TO WRITE MORE ADJECTIVES ABOUT THEM. What I mean is that they didn't impress me, but I'm a Mindless Self Indulgence fan so what do I know.
SERIOUSLY THOUGH-Dead Set Ready are a band to watch and are fun as fuck. They basically play mid 90's warped tour punk rock and I mean that in the best way possible. It really is some super fun punk rock. Seriously. I saw them twice this weekend.


Pictured: Dead Set Ready@Circus
The Brown Notes are one of the few bands that play regularly that I've been yet to catch-TONIGHT WAS THAT NIGHT. The name has turned me off, not gonna lie, I figure [Expletive] band name, [Expletive] band. As it turns out that was not the case…What I'm saying is these dudes aren't as jammy as I thought they'd be and are a super tight groove laden straight up rock band.
After the show at Circus I somehow ended up at Skully's. I ran into the man,the myth, the legend, Zachery Allan Starkey and I'm pretty sure he told me he reads my column. On my way home from ladies 80's these girls leaving Surly had beer to go. It was in a plastic bag. One of them set the beer down to put on her coat. This happened as I was walking by and I picked up the bag and kept walking…I gave it back and they gave me a 24 oz. PBR that I didn't finish. OH WHAT A NIGHT
I was summoned to Surly on Friday by The Boss Man to check out the newest Sunken Treasure Records signee Bird and Flower and discuss my salary-I meant to get photographic proof that Robert Duffy is in fact a real dude and does go out to shows. Then I dropped my camera and it quit working. Then he asked me to leave because I was talking too loud and he didn't want me to ruin
Bird and Flower's set. Then he made co worker Ben C take me to the Bourbon Street/Summit Complex in the Donewaitng Hummer to go watch other bands to type stuff about. On the way there I fixed my camera so it started working again.
I had message board post conversations IRL on Friday night at Bourbon St. My life is so weird sometimes(all the time). I bounced back and forth between Bourbon Street and The Summit thanks to Benco who was presenting the show at The Summit-New More Switch Blades Tour, FEATURING THE DEATH SET, TEAM ROBESPIERRE, NINJASONIK, TOTALLY MICHAEL and CEREBRAL BALLZY (i copied and pasted that). Basically these dudes are from Brooklyn and they are cool.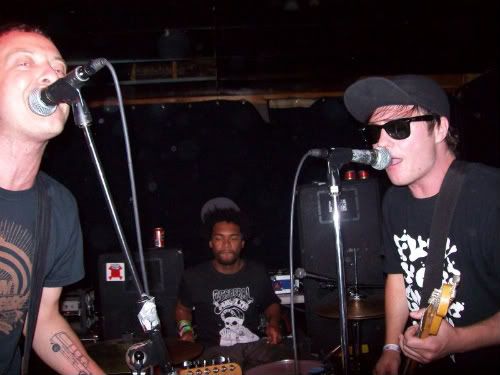 Pictured: MORE LIKE THE SUCK SET
The good bands were at Bourbon St.
First was Miss Lara Yazvak of Tough and Lovely/Ill Fits fame-All i can say is if you haven't had the pleasure of seeing Lara perform you are missing out-BIGTME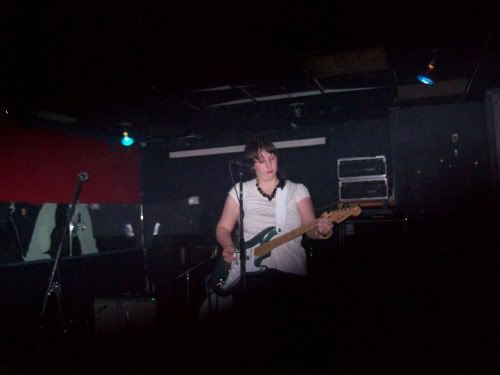 Pictured: LARA LARA LARA
Next were Bosniacs. They apparently don't have a myspace page. Why they didn't call themselves The Evil Means is beyond me.

Pictured: Bosniacs
Next up were Dead Set Ready-Like I said-saw them twice, band to watch, super fun punk rock
The Main Street Gospel closed out the evening-In case you didn't know, Main Street Gospel have a new 7″ recorded by Dan Auerbach of The Black Keys fame and Barry Main Street Gospel was kind enough to give me a copy. I just don't have a turntable-BOTTOM LINE-MAIN STREET GOSPEL GOOD PSYCH ROCK YOU GO SEE THEM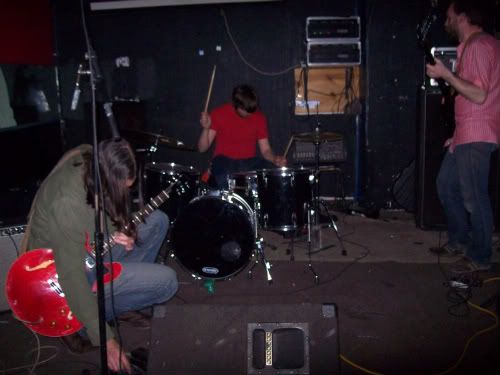 Pictured: The Main Street Gospel
HOLY SHIT SATURDAY NIGHT WAS GOOD DRUMMER NIGHT AT CARABAR
Jordan Martin, Fern, You're So Bossy, ipps and an "impromptu" Unholy Two set(2 songs).
This was one of the best nights of Columbus music that I have seen in quite some time. I missed Jordan Martin, but I do imagine the opportunity will present itself in due time-from what I gather this young lady deserves a write up of her own and you will hear the name again in the near future.
Next was Jeff Fernagle of Tree of Snakes fame/infamy. I don't know if it was because I was drunker than Jeff or that Jeff was drunker than me or that both of us were less drunk than we were at any Tree of Snakes show but homeboy is hilarious-he types stuff sometimes too
You're So Bossy just might be the best kept secret in town….in case you didn't know, YSB is Sam Brown(The Sun, Gaunt, New Bomb Turks), Phillip Park(Thomas Jefferson Slave Apartments, Haynes Boys, Anna Ranger) and Jovan Karcic(Gaunt, Haynes Boys). Jovan is an amazing drummer. It was good drummer night in case you missed it. Go see You're So Bossy@The Treehouse on 4.17.09 and Anna Ranger on 4.10.09 at the same joint.(this is what i gathered from my chicken scratches-don't quote me).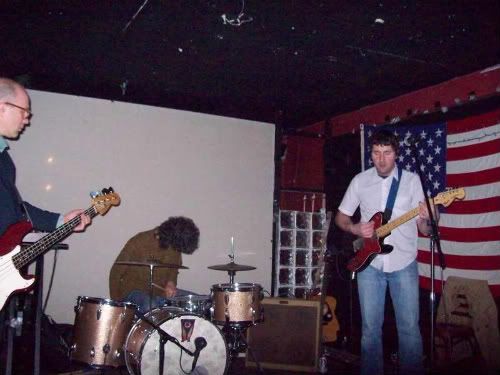 Pictured: You're So Bossy@Carabar
Soooo….ipps. Bo, Emily and Mat(sometimes) from Necropolis and Mike from El Jesus De Magico ……POOR MANS PAINS OF BEING PURE AT HEART. For real though, nothing like Necropolis or El Jesus-best non-CDR CDR band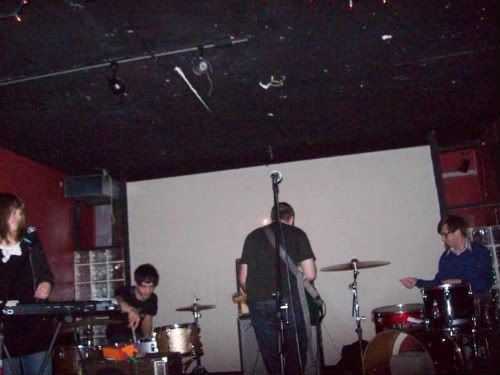 Pictured: ipps@Carabar
After ipps were done Chri$ Lutzko Unholy Two asked bartender Cara if him and Bo could play 2 songs She said sure.
She thought he meant on the jukebox.
That isn't what he meant

Pictured: 2 Unholy Two plus 2
DONEWAITING GO HARD
Feel free to post comments telling Duffy to give me a raise