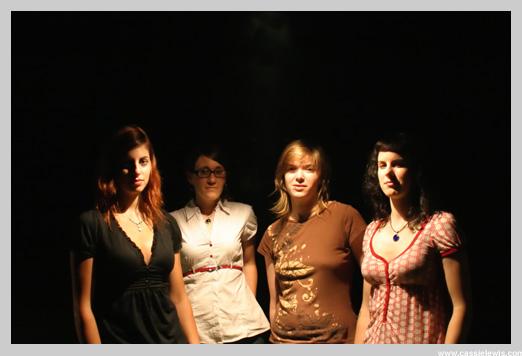 Rosehips
MP3: The Dead Are Watching (LIVE) by Rosehips
MP3: In News by The Nuclear Children
So with the Donewaiting Calander back under construction, plus a general sense of nostalgia, there's been a bit of a push to start doing more show previews up front here in the bloggity. Seems like a good-cause show is decent place for me to reaccquaint myself with the business end of WordPress.
So this weekend- today, even. Friday. Treehouse. There's gonna be a rock show with a lil' benefit twist.  Organizing and headlining the gig are Rosehips, joined by (and sharing a guitar-player with) Rollo. Also on the bill are The Nuclear Children and Ease the Medic. It could be shear vocab coincidence, but I'm leaving open the possiblity that the last dudes were added out of clever band-name suitablity.
See, Cassie Lewis of Rosehips fame has put together a show to benefit some physicians, but more specifically to raise awareness about the state of naturopathic medicine in Columbus, and what it means to practice this sort of doctoring in our state. In addition to all the rock (see above for some MP3 offerings), the physicians of the Columbus Clinic of Naturopathy, Tamara Strickland and Jennifer Ball, will be in attendance at the venue for the evening.  They will be answering questions about their practice and also raffling off a first office call with the clinic!  This will be for a initial two hour consultation with a naturopathic physician.  There will be a table of information (including naturopathic medical schools), and free samples.
Despite the health care industry as a whole getting a lot of attention right now, I really didn't know a ton about this stuff, so I asked Cassie to help me understand the motivation for the benefit show, and a little more about the issues involved. Her first person account is after the jump.
This is what Ms. Lewis wrote to me:
About three years ago, I found myself hired as the office manager for the naturopathic physicians at the Columbus Clinic of Naturopathy. Throughout these years, I have seen these physicians do wonderful things for people and their well-being through holistic means. Unfortunately, I have also seen that these wonderful things can be hindered by the fact that Ohio does not allow them to be licensed, despite their rigorous medical training.

As a musician, I have played benefits in the past with Rosehips, and we have been interested in organizing a benefit of our own. I felt that using a rock show as a vessel to bridge the naturopathic community with the music community would be a good way to raise awareness, while bringing some holistic health into the Columbus music conscious. Also, as insurance does not cover this type of care due to the licensing issues, the clinic is in need of not only awareness, but funds for medical supplies and continuity of care.