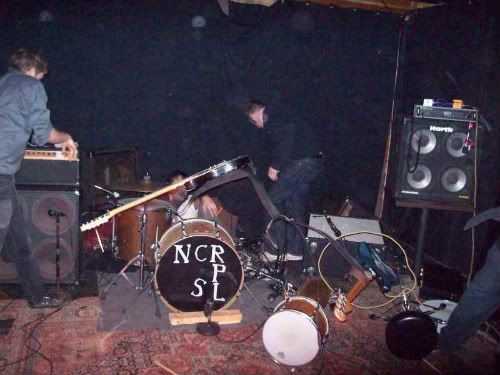 Pictured: Necropolis guitar in mid air and drummer on floor
Seriously I have the worst camera possible and the oldest/slowest hard drive imaginable.
Also I would love to have this up sooner but i mean life happens
This week I saw The Moz, El Jesus De Magico, Necropolis, Day Creeper, Brainbow(againnnnn) and other bands I'm pretty sure.
Less is
SO IT TURNS OUTCD101 IS GOOD FOR SOMETHING…I won Morrissey tickets at 4:44 p.m. on Tuesday, the day before the show. I do kid-I have much love for the 101 and we are very fortunate to have them here in town.
I had a +1 and invited old school blogger Joel Treadway to accompany me. You should know that the Cultural Elite were out in full force.
No sooner do I sit down than I hear girls screaming my name-NO SHIT. Turns out The Columbus Music Co-op scored seats right behind me.
This show was nothing short of amazing and I don't consider myself a Morrissey fan. I did see "How Soon is Now" live and I feel my life is complete. From here on out it is short and sweeeeeeeet
I'm pretty sure Don B. reads Weakened wrap-up because I saw him sing 4 times this weekend.
FRIDAY-Day Creeper…Laura formerly of Night of Pleasure She books shows too.
Also these bands from some label called CDR played too
Specifically Necropolis and El Jesus De Magico. Necropolis were good for once.

Pictured: Necropolis
Then El Jesus Played-They practice in a funeral home.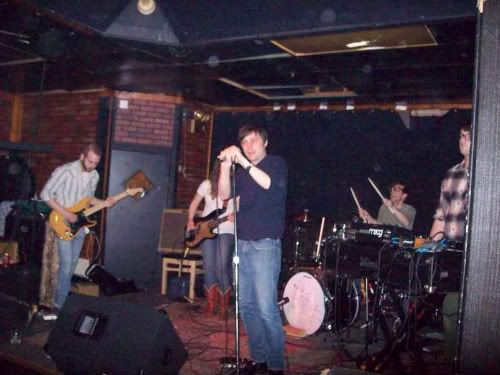 Pictured: El Jesus De Magico-they practice in a funeral home

Necropolis are playing with drunk driver, unholy 2 and maybe more on Monday May 18th @ 15th house.
El Jesus are playing Blackout fest in Athens Ohio on 4-17-09 with a bunch of good/Columbus bands
Special boob/food bonus
Extreme Weiners serves pizza by the slice

Pictured: boob eating food
Saturday I saw Brainbow and Crippled Black Phoenix….they have some dude from Mogwai or something in their band….I shared pizza with co-worker Chip and burned my lip on that greasy amazingness.

Pictured: Brainbowwwwwwwwwwwwwwww

Pictured: Crippled Black Phoenix w/o Mogwai dude
BASICALLY WHAT I'M SAYING IS GIRLS ARE DISTRACTING
TIL NEXT WEEK IF I STILL HAVE A JOB!!!!!!!!!!!!!!!!!!!!!!!!!!!!!!!!!!!!!!!!!!!