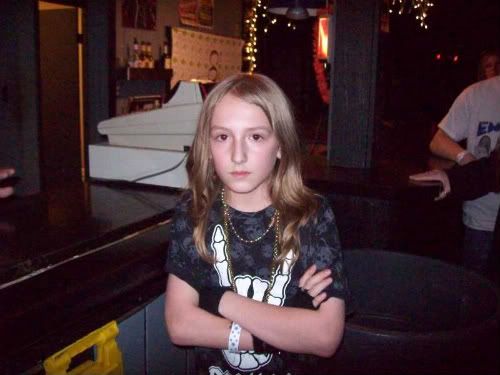 Pictured: Chase from Encore he is 10
Oh man this week…
Wednesday night i had another VERY IMPORTANT BUSINESS MEETING, Thursday night I went to some website's happy hour at Surly Girl, saw an awesome rock show on Friday at Carabar and went to Pick-n-Pull and The Alrosa Villa both for the first time in my life on Saturday because Duffy made me. Seriously. I don't read the emails he sends me nor do I answer his calls, but I'll be god damned if I didn't run into him at Magnolia Thunderpussy on Saturday.
Like I said before
OH MAN THIS WEEK

Pictured: homeless tranny
UH OH UH OH HERE WE GO
On Wednesday I had a VERY IMPORTANT BUSINESS MEETING with some guy who's footage of some dude playing in some record store just got posted on a couple websites or something. When I was outside having a smoke I snapped the above pic. Some other dude smoking outside asked homeless tranny when he was gonna have the surgery. Homeless tranny said he likes his dick too much. Oh man this week.
I decided to check out the Agit Reader happy hour At Surly Girl Saloon presented by PBR mainly to chase down the local PBR rep and get a t-shirt. O.K. not really…I just wanted to get out and I wanted to see what these guys were up to…. bottom line-good time. Kevin and Mike O. were having a blast playing records and Stephen Slaybaugh didn't tell me my Weakend Wrap-ups sucks. All in all a good night. Plus I got a sweet black and white Pabst shirt. If I would have been thinking I would have gotten a pic of Mike O. Oh man this week.
FRIDAY NIGHT AT CARABAR

Pictured: Astral Ride
So yeah there was an awesome rock show at Carabar. Struck By Lightning/Churches Burn/Astral Ride/October Fist/Beast in the Field, specifically.
Astral Ride played first and it was in fact one of their first few shows. I know weird right. These dudes play some pretty cool melodic psych rock, more than one dude singing at a time and I mean they didn't clear the room. These dudes will prolly be a band to watch.
Churches Burn reminded me of Melvins/Jucifer a whole bunch-reason enough to check them out if you ask me.

Pictured: Churches Burn
STRUCK BY FUCKING LIGHTNING MEAN FUCKING BUSINESS
No Shit. Dudes don't fuck around. Dudes are tight as fuck. Dudes were out on Friday night at Carabar-joint was packed. I'm pretty sure I flirted with/creeped out (tomato/tomahto) cute chicks too. Oh man this week.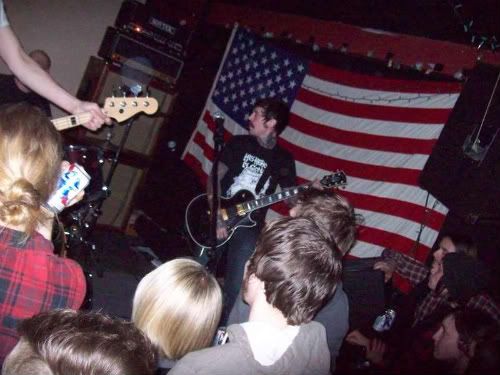 Pictured: STRUCK BY FUCKING LIGHTING
S-A-T-U-R-D-A-Y
I decided to actually do something with myself on Saturday. The first thing I decided to do was track down my black book that somehow managed to fall out of my pocket on Firday night. I retraced my steps, aside from going to Carabar to no avail. It was later located at Carabar. Thank you for leaving it on the table or picking it up of the floor or whatever whomever.
After not finding my black book, I went To Magnolia Thunderpussy to actually purchase music-Mastodon's "Crack the Skye" to be exact. (album is so good)
That's when I "coincidentally" ran into Robert Duffy(i think he's stalking me because i don't take his calls). He had an assignment for me to prep me for Rock on the Range. The Last Vegas at Alrosa Villa
He didn't really make me go to Pick-n-pull. I had to go myself because my mechanic told me I needed a new something fucking brake lamp modulator and I got one and that didn't fix the problem.
Seriously though, this place is like the fair, only it cost a dollar to get in and the rides are junked cars. I mean there is even a food wagon there. We really are going to have a donewaiting staff meeting there.
So The Alrosa Villa experience…. and let me tell you it was an experience. I decided to go for a number of reasons. This band just got off tour with Motley Crue, I had super special donewaiting everything access and I had never in the almost six years I have lived in Columbus been compelled to go to any shows there.
I gotta say it really did blow my mind to be in the venue where a great guitarist was shot and killed onstage by some deranged motherfucker. Shit was crazy to see where such a fucked up thing went down.

Pictured: The Last Vegas@ Al Rosa Villa
O.K. so there were 7, yes 7 bands on the bill at Alrosa on Saturday. That is a commitment I could not make. I should have showed up earlier because I missed Encore. I did get to hear lil dude wail though. The bartender or owner or something was mc'ing from behind the bar and and asked lil dude to sing….he busted out Holy Diver like nobody's business. It was amazing.
I did suffer through 2 bands whose names I don't remember or care to spend the time looking up but good lord it was painful…. basic generock.
So you know how good bands play at venues like Bourbon St. and the crowd is thin as fuck a fair amount of the time? Well, I don't think it's just "indie" bands or whatever, because the crowd here was thin as fuck too. I expected a couple cute, if not white trash chicks to flirt with-NO AVAIL-seriously-none.
I really do expect to hear The Last Vegas on 99.7 in the near future….dudes are on some Buck Cherry kind of shit so I was kind of expecting the worst but quite honestly these guys were better than I expected and you could tell they learned a thing or 2 from the Crue for sure. They played like there was a room full of 500 people but in all actuality there were less than 50. Logistics did not provide for me to talk with the band and there were no chicks there to stick around to party with so we bounced…oh yeah Duffy hired me a chauffeur/security.
OH MAN THIS WEEK
I leave you this week with "that car"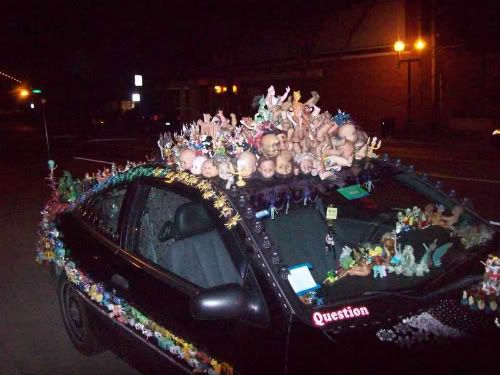 Pictured: that car