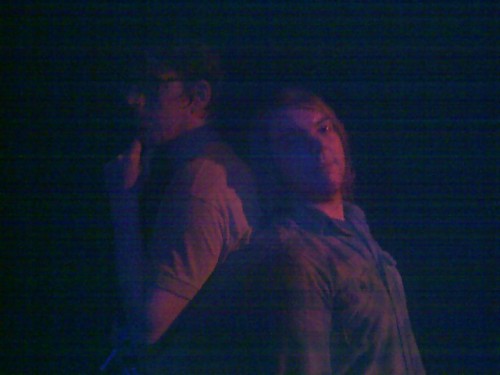 (Pat Carney of Drummer & Chris Lutsko of the Unholy Two of pose for a picture after the Black Keys show at Skullys. I lied to them and said it was for a men of Ohio indie rock calender that the proceeds would benefit upcoming victims of the Swine Flu. Jared Phillips declined to be in the nonexistant calender.)
I had to work before the show so I didn't get a chance to get to see the opening act. I work at Magnolia Thunderpussy next to Skullys. So what I did observe was a line that started at 4pm which wrapped well past the Milk Bar and all the way down 5th.
I think every single person that picked up free ticket showed up.
Outside of a club rap show, I don't think I have seen this much excitement around one band.
Ohio loves TBK.
I got there around 945 right when the Black Keys went on. Seeing a band as large as the Keys in a small venue like this is always amazing. Doods busted out "10 Am Automatic", "Strange Times" & "Psycotic Girl".
I don't recall every song cause I spent the bulk of my time trying to convince girls to buy both DJ Detox and I drinks.
I would tell them Detox was sad because it was his birthday and no one remembered it. Then the girls would ask him about it.
He would tell them he didn't know what the fuck they were talking about, that was I was lieing to them and look bewildered.
For some reason the girls would still buy us drinks.
After getting the drinks, the next move was trying to ditch the girls which was difficult because the room was so packed and no one wants to move out of the way when they are watching their favorite band.
So you then would just have to act like the conversation never happened.
Jolly goodtime. Amusing oneself while The Black Keys play loudly in an esctatic, intimate setting is perhaps the best way to spend an evening.
Pat shot the shit with us for awhile but declined going to Hendocs with us because the engine of his car had just exploded so he needed to get to Akron.