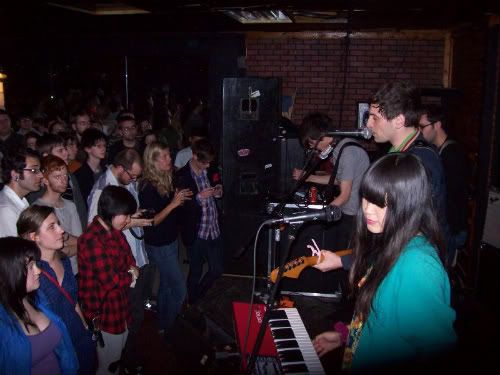 Pictured: The Pains of Being Pure at Heart@The Summit
Doing stuff and meeting people rules. Life is too short to not make the most of it. Expect the worst, hope for the best and you're never disappointed. I mean basically what I'm saying is cheers to life and OH MAN I SURE DID DO STUFF AND MEET PEOPLE THIS WEEK.
I attended that Black Keys mess at Skullys, saw Brainbow at The Treehouse, Franz Ferdinand at The Newport and saw a whole bunch of other dumb hipster bands oh man
Sooooooo…I'm pretty much on borrowed time and everyday is a bonus. I'm lucky to still not be dead or in jail and I'm totally stoked for life. i started the week with the Jack Daniel's Black Keys show@Skully's on Monday and good lord people love The Black Keys-I mean LOVE LOVE LOVE. This show was insufferable to old dudes like me. Nuts to butts packed+free booze+free show=total bummer for dudes that are old like me, it was still totally fun though and the sound was sweet. Other Girls opened and there were in fact no girls in the band-false advertising if you ask me.

Pictured: Fey Gods@The Treehouse
Thursday night was the last of the Red Rabbit Productions residence at The Treehouse. I finally saw Fey Gods and they pretty much sound like The Unholy New Viking-check 'em out dudes.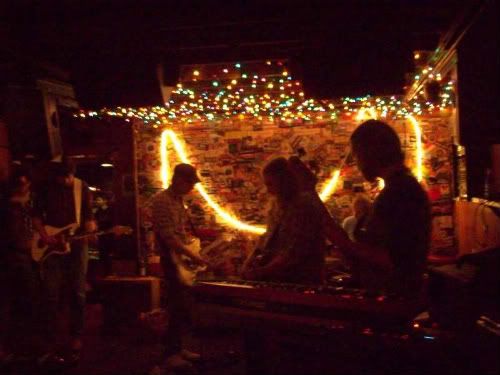 Pictured: Brainbow@The Treehouse
BRAINBOW BRAINBOW BRAINBOW played too. They sound like Floyd, Zepplin and Crimson or something. They play next on 5-16-09@The Summit. Beaten Awake played as well. Red Rabbit Productions is booking some shows at Rumba now instead or something.

Pictured: Zaza@Summit
Friday night I believed the hype and went to check out cute band alert band, The Pains of Being Pure at Heart and hang out with the hipsters. When I arrived Zaza were playing. Zaza are from Brooklyn, need I say more? Seriously though more like The Pains of being Boring Art. Black clothes, black guitars and a spotlight pointed into mirror was supposed to make up for lack of good anything. I really did enjoy the set to some degree and I guess I looked like a Zaza superfan because I wear black and have cool hair. I saw cool ass singer dude by the pool table and I was like "good set man". Dude looked at me and was all "yeah" and walked away. Seriously fuuuuuuck that dude. I bet he can't even spell pretension.

DONEWAITING BLOG HARD: I'm sure I was in the middle of saying something dumb/insightful/amazing
The Pains of Being Pure at Heart played a fun set and the crowd ate it up. Apparently Alex from Franz Ferdinand likes Pains or something. I missed thew hubbub because I wanted to catch Mouth of the Architect at The Ravari Room.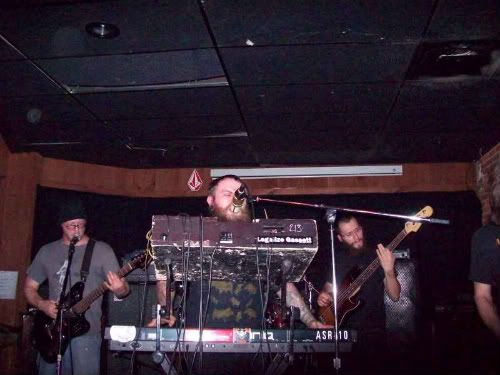 Pictured: Mouth of the Architect@Ravari
I managed to catch their last 2 songs which translates to about 15 minutes worth of beautiful brutality. MOTA are a monster and you should giver them a listen if you haven't. They will be heading out on May 28 for a short tour with Zoroaster.

Pictured: Nick Tolford and Co. in a parking lot
Saturday was a fun/full day. After recovering from Friday night, I made it downtown to the Pabst parking lot thingy to get drunk too early and check out Nick Tolford and Co. The company includes members of El Jesus De Magico, Church of the Red Museum and Deerhead. Tolford kinda sounds like dude from Maroon 5 and that isn't exactly a bad thing. I mean imagine Maroon 5 on AM radio only better.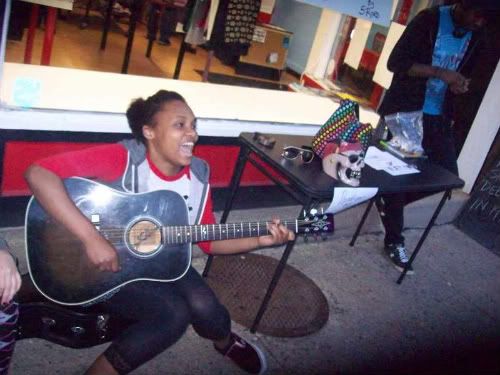 Pictured: Jordan Martin@What the Rock
I made a last minute decision to go check out the sold out Franz Ferdinand show so I had to rush rush rush to get to the Newport. It was Gallery Hop and I live in The Short North so I said fuck it and walked. As I passed What the Rock? there was a young girl singing a song with a chorus of "this gig sucks". I put 2 and 2 together and realized that it was Jordan Martin. She is in 17 bands, has a great sense of humor and she sure can sing.
I realized a couple/few things while I was at the Franz show. One of them was the fact that I am tooooo old for sold out shows, another was I have an intense dislike for the general populace and another was people sure do like to fuck with me and yet another was Franz Ferdinand has a weird fan base and all there stuff sounds pretty much the same. Some dude was being an asshole because some other asshole spilled a little bit of beer a few times on his girlfriend. The third time dude that was bigger than me got shitty with me I got shitty back and he apologized and gave us his spot. It was amazing/I'm lucky I didn't get my ass beat.
OH MAN MY LIFE!!!!!!!!!!!!!!!
I went against my better judgment and decided to go to the Hillbilly Drive-In on Sunday@Chateau Awesome and it was fuuuuunnnnn as fuck. I haven't laughed so hard for so long for I don't know how long. It's basically live Mystery Science Theater whatever and I had a blast. Check it out, don't be scared.
Somebody buy me a laptop I will tell everyone how awesome you are.
Duffy I need another week off.
Cheers to life.