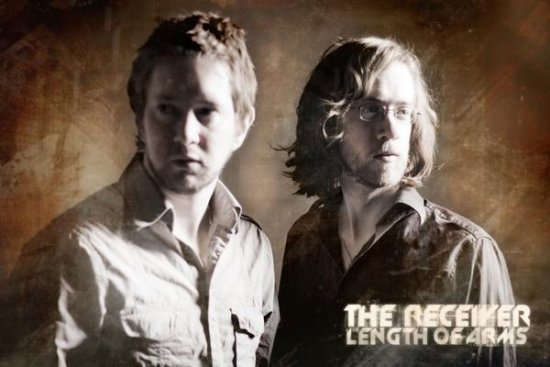 MP3: The Receiver – Lenth of Arms
It really doesn't seem like three years since The Receiver put out their first record, but I looked back into the archives and sure enough, it was 2006 when we wrote something up for the release of Decades. So now, on the eve of the Cooper brothers' follow-up second album Length of Arms going public, it seems reasonable to ask how evolution has progressed during the time elapsed. Structurally, this is still the same band- the two guys forming a rhythm heavy combination of Jesse's drumming and a bass, with synthesized keys and Casey's delicate voice providing the upper atmosphere.
I spent a few minutes revisiting Decades, a record which I liked quite a bit- but in retrospect, it sounds now very much like a collection of new ideas. A little sparse, thin perhaps- in places it seems the mechanism by which two guys could tie whispered, ethereal poems with the less nuanced primary instruments had not been fully dialed in. In contrast, the 2009 offering seems much more fleshed-out thanks to heavy use of layered synth sounds. The songs are almost brimming full, kind of making you forget there's only two of them. The integration of vocals on this record is really nice as well- gone is any hint of tenuousness or opposition, with strong sung parts becoming much more part of the meat of the tracks. Songs are cohesive and rockin'.
Have a listen for yourself though. I posted the the title track off the new record above. Come check it out in the live setting to see how they're gonna pull it all off. Rumor has it they'll be getting some assistance on the stage for the Columbus release show. The Receiver plays tomorrow night (5/8) at Skully's with Hotel Eden. DJ Kelly Warner (formerly of The Lab Rats) will keep people entertained late.