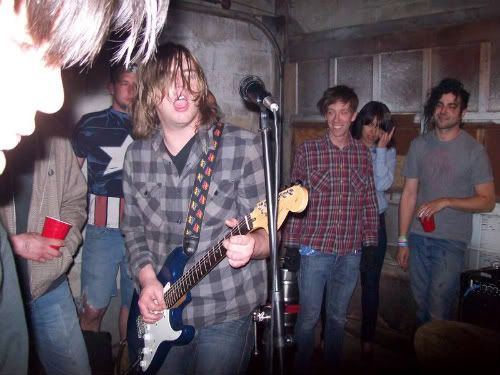 Pictured: The Unholy Two@$hithole Dayfe$t
Having good conversation is awesome. Learning stuff is cool as fuck. Live music rules. If only there were more hours in a day to TALK TALK TALK, LEARN LEARN LEARN, AND ROCK ROCK ROCK OH MAN.
I made it out for The Receiver cd release, $hithole Dayfe$t and saw an epic moons set.
MORE MORE

Pictured: The Receiver@Skully's
I arrived at Skully's too late to catch Hotel Eden's set, but last time I saw him dude was on fire. Reminds me of a way more fun, less pretentious Beck or something.
The Receiver decided to be a three piece this time and have Sean Gardner join them to fill out the sound and it worked well. I can't really say much about the Receiver that hasn't been said already so check 'em out duh.

Pictured: Genghis Green@$hithole Dayfe$t
Soooo I basically went to my first house show or my first house show that good bands actually played at or something, $hithole DayFes$t Hou$e Party was partially curated by Chris Lutzko of The Unholy Two or something and was pretty fucking fun.
When I got there Genghis Green were playing, I was familiar with the name, though I had no idea what they were about or if they were any good. Turns out they're pretty rad. Kind of like a noodly experimental pop backed by the drummer from Helmet. For realsies dude is bad ass. Don't know when they are playing again exactly so keep your ears peeled.

Pictured: NLVR@$hithole Dayfe$t
I finally managed to catch the band formerly know as Hugs and kisses and had no idea what to expect. This time around it was basically an acoustic tribal jam session/weirdo acid freakout. The only instrument that was used was a beat up trash can. I've gathered that these dudes pretty much do whatever they feel like doing on any given day and keep it fresh by changing it up every time.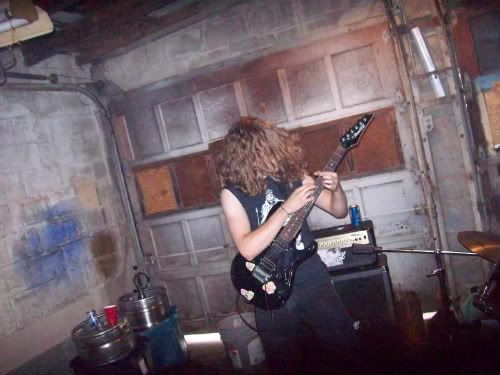 Pictured: Gigantopithecus@$hithole Dayfe$t
Gigantopithecus totally blew me away. Two dudes, guitar and drummer, total jammy yet proficient heavy instrumental stoner rick and dude can shrrrrrrrrrrrrrrred. No shit

Pictured: psychedelic horeseshit@$hithole Dayfe$t
After meetin Matt horseshit for the first time, phs suddenly made a little more sense to me than it did before or maybe it was just because they're sound was meant for garages-dunno but it was my favorite psychedelic horseshit set I have seen to date. I'd love to know how their show at Bourbon Street was later on the same night. I can only imagine it was interesting.
The Unholy Two destroyed and kids were moshing or whatever it's called. Oh man to be young and dumb again.
SUNDAY SUNDAY SUNDAY
After a long day of helping my brother from another mother work on a COMING SOON SUPER AWESOME BABY BOUTIQUE, I went with a different brother from another mother to check out a Ben Co Presents show at The Summit featuring the musical stylings of Astral Ride, moons and Pontiak.
Astral Ride are well on there way to being a sweet band and should consider using sweet vocal effects to make things sweeter. I look forward to seeing them play again. Go see them on May 21 at Circus.

Pictured: moons@The Summit
HOLY FUCK MOONS ARE FUCKING EPIC AS FUCK. Totally awesome, super tight, psych/stoner/prog/ mindfuck. moons drummer just might be the best drummer in Columbus NO SHIT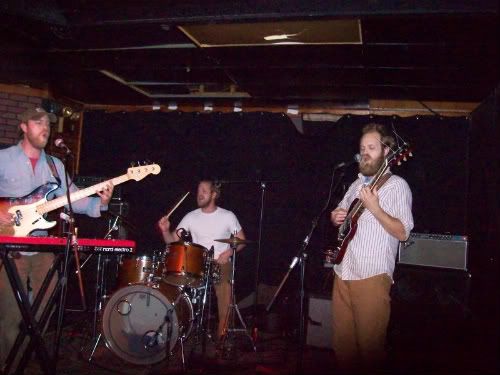 Pictured: Pontiak@The Summit
More like Deliverance the band. Dudes were bigtime creepy. Cool as fuck swampy stoner metal. Props to Ben Co for an awesome show.
I still haven't got that new laptop yet.
I'm going to Rock on the Range this weekend. Wish me luck.