I made my own assignment for Rock on the Range – pretend like this is a Motley Crue concert with a few well-known opening acts (Avenged Sevenfold and The Used). While the rest of the black t-shirt nation spent 2 days soaking in the sounds of dozens of indistinguishable hard rock bands, I rolled up into the Crew Stadium parking lot (15 friggin bucks for parking) at 6:30 p.m. on day two of the festival, just 2.5 hours before the Crue was set to kick off their headlining sets.
At this late hour, the tailgating was non-existent. I did spot a few empty beer cans and bottles on my walk to the front gates but only passed a handful of people, most walking back to their cars, apparently done with the festivities.
Met up with Kirk shortly after entering the front gates and the first thing I noticed was how long the lines were for the ATM machines. "$8 a beer! I had to use the ATM machine yesterday after dropping about $100 between food and drinks," Kirk told me, explaining why the ATM machines were more popular than the t-shirt booths and beer lines.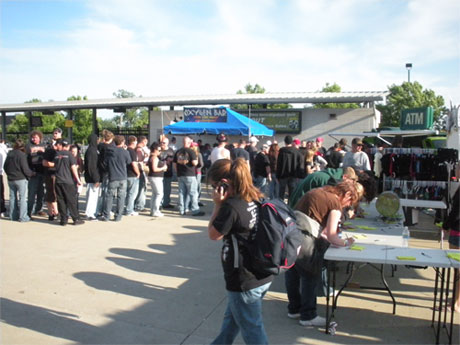 We made our way over to the second stage to check out The Used. I don't really know much about them other than their initial claim to fame came when the lead singer dated Kelly Osbourne during the first season of The Osbournes. Hungry, hungry fans filled the area in front of the stage as Kirk and I got to pretend to be real photographers and were given access to the photo pit.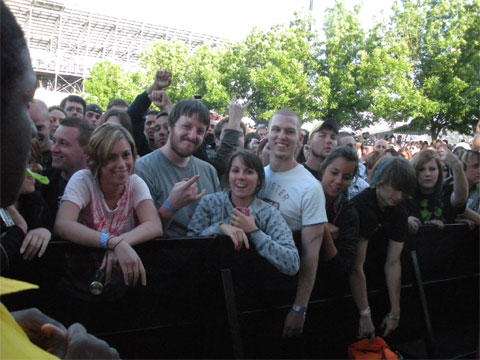 It was hilarious mingling with these guys who had multiple cameras strapped around their necks, telephoto lenses bigger than most small babies. And here we were with our puny digital cameras, ones we could slip into our pockets.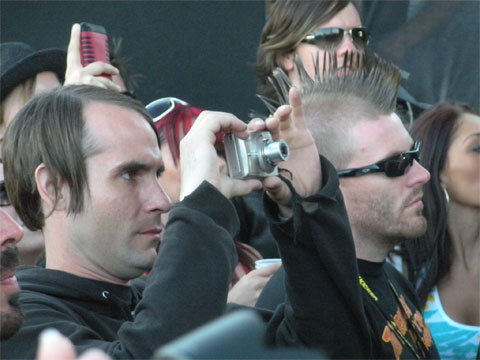 I have to admit that while I wasn't familiar with The Used's music and wrote them off as another crappy Warped Tour band, they actually sounded pretty good – good enough that I'll probably try to find their new one (due out this summer) in a used bin this coming fall. Yeah … that good.
Knowing that this was the last show on the second stage and would be my only opportunity to shoot photos, I took 78 pictures. Here are a few of my favorites.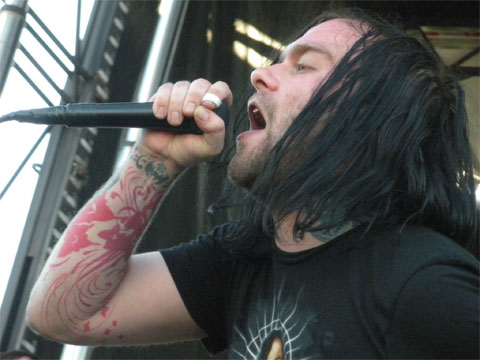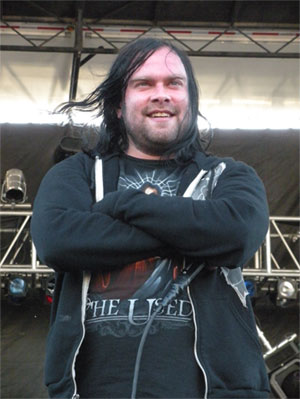 After 3 songs we were kicked out of the photo pit and thrust back into the predominantly male crowd. Kirk mentioned a few times how Rock on the Range appeared to be a sausage fest and I'd agree – not a lot of lovely ladies, maybe they couldn't get time off from the strip clubs (though the Columbus Gold shuttle bus was parked near the front entrance on the INSIDE of the fence).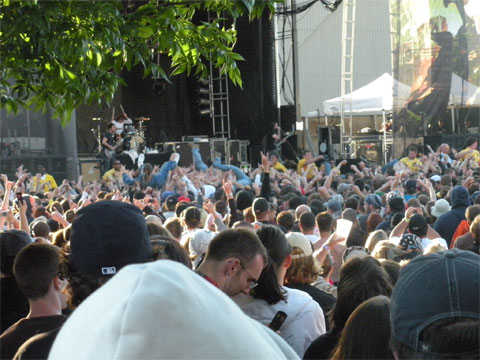 At a festival like this, you don't expect to run into people you know but in the lower concourse I heard my name being shouted out and turned to find message board member Trixie and her man in search of funnel cakes. Trixie's man knows somebody who knows somebody who knows somebody that passed along some free tix to the fest and Trixie ran into one of the festival organizers and scored a VIP wristband which undoubtedly earned the couple all sorts of wonderful amenities the rest of us could only fantasize about (said with a healthy dose of sarcasm).
Kirk and I made our way into the enormo-bowl where Avenged Sevenfold had just kicked off their set and we talked about the perks and downfalls of writing about music. Get free tix to a festival like this is a perk, that's for sure, although it seemed a lot better when written on paper than it did actually being there. Of course, had it been a 75 degree Sunday afternoon instead of a 55 degree Sunday afternoon, my feelings might have been different but when you're barely paying attention to a band that you don't care about, the weather definitely is a factor and you start thinking of all the other places you could be – places that are warm and where the music is better – and you start thinking of covering a festival like this as a job. I had only been there 2 hours but I could see signs of fatigue in Kirk's face – he wanted to honor his commitment to Donewaiting and felt obligated to get the most out of the free tickets.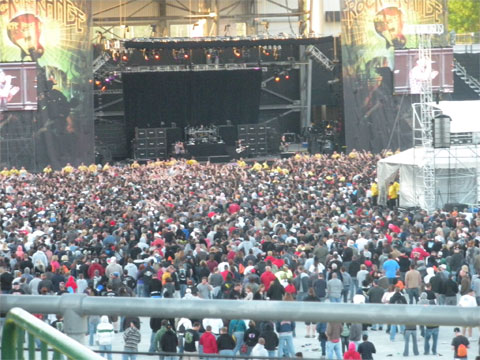 Avenged Sevenfold could be an interesting band and I can see why they earned the slot just before the headliner, but I wish they'd just decide whether they want to be a thrashy metal band (ala Pantera) or a sleeze rock band (ala Buckcherry) because their music was somewhere in between. They certainly look the part of early '90s Sunset Strip but the music was heavy, at one point Kirk and I were convinced that they were covering Pantera's "Walk" (a song they've been known to cover live) though it turns out it was one of their originals.
As the sun went down, Kirk downed 75% of a half-pound $6 hot dog. I should have taken a photo but I think the woman at the table with us probably would have thought we were Johnny Law and would have objected to us catching her trying to keep her eyes open. When asked what she was on, she replied "A little bit of everything." And she paid $50 or so bucks to get in the door. Ouch.
At 9pm we found seats in the back end of the stadium to watch Motley Crue who went on, as advertised, promptly at 9:05. From this vantage point, it was hard to even distinguish the forms of bodies on the stage and for some reason rather than show the band on the big monitors on either side of the stage as Avenged Sevenfold did, Motley Crue projected animation, film clips, etc., etc. so basically, for all I know, it wasn't even Motley Crue on stage.
The Crue is set to start the second run of Cruefest this summer and have said they'll be playing "Dr.Feelgood" in it's entirely on that tour to celebrate the 20th anniversary of that album's release. For this show, however, they played a greatest hits set opening with "Kickstart My Heart." I'd be happy to report that it quickly segued into "Wildside" but, unfortunately, it didn't as the outro to the first song lasted nearly as long as the song itself.
I caught the Crue on their reunion tour a few years ago and expected the worst but came away feeling more than pleasantly surprised. I wish the same could be said for the Rock on the Range performance but, much as I feared, Vince Neil reverted back to old habits and sang probably 75% of the lyrics from each song, either completely missing words or holding his microphone out to the audience and asking us to sing the choruses. From the back of the stadium, you couldn't hear the crowd down front singing so it was as if none of the songs had the familiar choruses I've been singing along to for years.
Four songs in and we were "treated" to an 8-minute Mick Marrs guitar solo. Really? You've got an hour and 25 minutes max to play (curfew was 10:30) and you flesh out the set with a lengthy guitar solo? While I was excited to hear "Shout at the Devil" and "Livewire" early in the set, Motley Crue 2009 is not the same Motley Crue as they were 20+ years ago and the songs didn't pack the wallop they should have. Tossed somewhere in the first run of songs was "Saints of Los Angeles," a song from the 2008 album of the same name and one of the best songs the Crue has recorded in the last 20 years. Live, it was decent and I was glad they chose to play stuff from the new CD rather than ignore it the way many bands do and just regurgitate the same set list they've been playing for the last decade.
Six songs into the set (I think), time for ANOTHER break. This time our boy T-Bone (aka Tommy Lee) addressed his homies and homegirls, rapping with the audience (not rapping in the literal sense though I wouldn't have been surprised)
Ooooh … found this YouTube clip of Lee's address to the audience.

(Make sure you listen to the song after Lee's rap – it sounds TERRIBLE)
The rest of the band rejoined Tommy and broke into "Mutherf-ker of the Year" (another fave from the new album) but by that point, Kirk and I decided to join the other hundreds of people streaming out of the stadium and trying to beat the inevitable parking lot log jam. Though the crowd was thinning, the Crue probably still managed to play to 10,000+ fans and, truth be told, if we had floor/general admission tickets, we probably would have stuck around and enjoyed the set way more than we did.
As we walked the quarter mile to where my car was park, Kirk looked at me and said "This is the best sound I've heard from the stage since I got here" and I think he was right. The muddied sound we were hearing from our seats (it was like somebody forgot to take the plastic over the amps) finally was bearable. Too little, too late.
My wish for Rock on the Range 2010 – add a third day dedicated to '80s hair metal ala the M3 Festival.
(The videos on this page were found on YouTube and were filmed by backpackdave09)
MORE DONEWAITING COVERAGE: Kirk Kline reviews both days of Rock on the Range