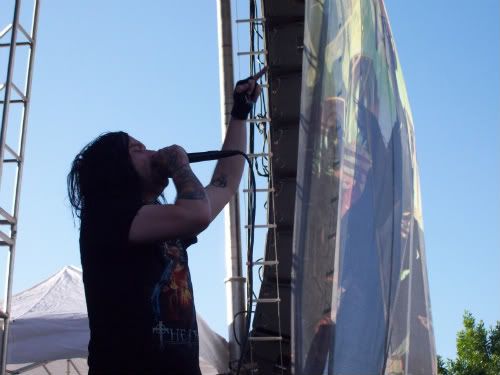 Pictured: The Used@ROTR
What sounded like a good idea a few months ago didn't sound like the best idea in the world when it came down to actually attending Rock on the Range this past weekend. I sucked it up and powered through it though and it was one of the biggest wastes of time, money and energy that I have experienced thus far in my 31 years on our mother earth. It reminded me of going to Warped tour and Ozzfest only I'm not so young and not so dumb, so i knew better than to enjoy it.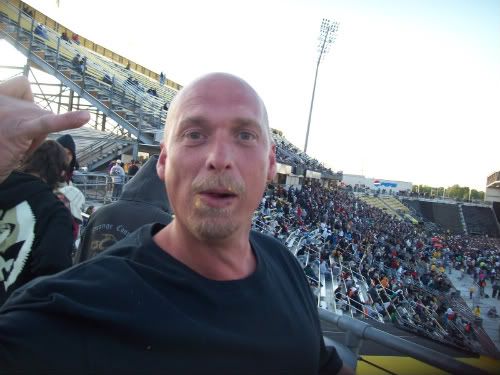 Pictured: Dude@ROTR
Fuuuuuuuuuuck…Duffy was kind enough to drop me off on both days so I dodged the $15 parking….As I approached Crew stadium, there were your typical scalpers and I heard one dude ask another, "you buying or selling?" other dude was like "no man, I got thrown out for fighting". Bear in mind this was around 2:00 p.m. on day one. Oh man.
I got in to discover $8 16 oz. Budweisers and $6 burgers. Needless to say, I spent entirely too much money over the course of the weekend-Duffy, I will be turning in my expense report tomorrow.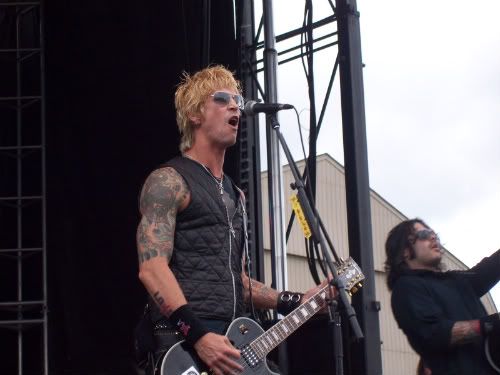 Loaded@ROTR
After beering up, I made my way over to the second stage to check out Duff McKagan's Loaded. There was a fairly decent turn out, I mean this was Rock on the Range and Duff McKagan of Guns and Roses was playing, so who in their right mind wouldn't anticipate at least one G'n R song? Low and behold, they closed out the set with "It's So Easy"…Good way to start the weekend.

Pictured: Static X crowd
I meandered over to the other side stage, the Jagermeister stage, to see if Static X were worth a fuck-SURPRISE-they weren't. The crowd was thick for them and it wasn't an awful set, though not my bag. (full disclosure, I do dig the song Cold and they ended with it so, cool I guess)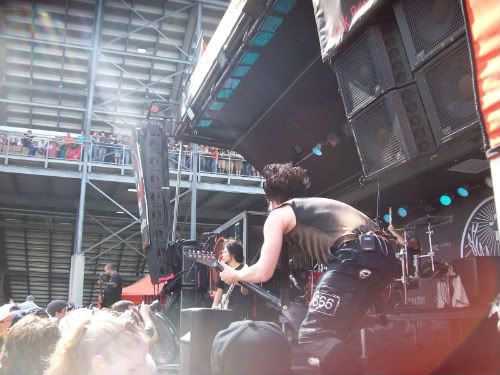 Pictured: Static X@ROTR
It started to rain just as Static X finished and I managed to stay dry until it passed.
After Static X, it was time to brave the main stage crowd to watch Korn, one of the few bands I had any interest in checking out. The main stage sound left something to be desired all weekend long and Korn managed to beat the wind which all but destoyed the sound for the remainder of the weekend. Korn didn't totally tear it up, but they did sound good for a bunch of old dudes doing the same thing that they have been doing for however many years that they have been doing it. The crowd loved them(go figure) and Jonathan Davis was wearing a kilt and still has that Geiger mic stand. Bottom line, could have been way better, could have been way worse and they were the best sounding main stage act I saw/heard all weekend.
This really was a dull show and nothing worth writing about really happened-it seemed as though all the action was on the field, which I, for better or worse didn't have access to. For real though, crew stadium was severely lacking aesthetically pleasing people. Basically, it was band dudes, their stripper girlfriends and a bunch of white trash. Not that white trash can't be aesthetically pleasing, they just weren't in attendance here.
I knocked around the second stage for a bit until it was time to check out Alice in Chains…there was a Harley Davidson tent that had 20 oz. beers for $8 and the cutest girls in the whole facility. Also, comfy leather couches and shelter.
Alice in Chains, oh man, Layne Staley is rolling over in his grave….they played one of the most uninspired sets I have ever seen and they are apparently fronted by Lenny Kravitz or something now. It might as well been a cover band for fuck's sake. Good lord I hope they don't decide to release a new record.

SLIPKNOT SLIPKNOT SLIPKNOT they were the band that I was the most stoked to see and what a disappointment it was. I'm sure it was cool as fuck down front and one thing that it was in the bleachers, was cold as fuck-seriously it felt like an October evening, the wind was fucking up the sound every which way and I was losing patience fasssst. I left before they finished and as Chip mentioned, the main stage sound really was better on the outside heading home.

Pictured: ROTR crowd
SUNDAY SUNDAY SUNDAY HAHAHA
I really wasn't looking forward to another round especially another day chilling by myself. I mean, I'm not a shy dude and I can usually strike up a conversation about just about anything anywhere…I can't say that I was really inclined to do so and if you ask me that is a testament to the suck that was Rock on the Range.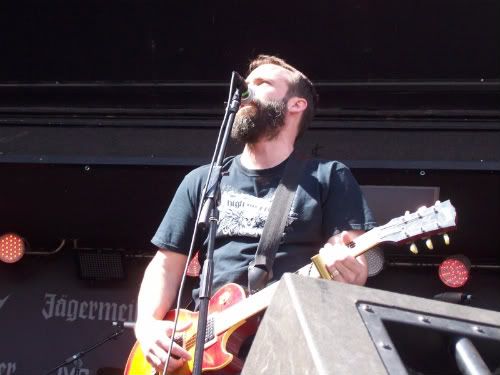 Pictured: Clutch@ROTR
Clutch were the saving grace of the weekend. The fact that so many people were in attendance for what amounts to total mediocrity was making me lose more faith in humanity that I already have. I mean people have really shitty taste in music…Clutch made me reconsider…they PACKED the Jager stage and motherfuckers were there to see Clutch. I don't think that they were slummin, nor do I think "they got robbed playing the side stage". They came to fuck shit up and fuck shit up they did. Neil Fallon is the man and we were all attending the church of Clutch. I think Neil summed up the weekend when he said "It's like a Dead concert"
Fuck crowd surfing and fuck crowd surfers-motherfuckers were acting like it was theit first concert, I saw the same dude go over the barrier at least five times. Fuck that dude.
Best set of the weekend, hands down and it was reassuring that not everyone there has horrid taste.

Pictured: Clutch crowd
I finally ended up with some company, none other than Donewaiting staff member Chip Midnight, who managed to tell the family that he was going out for smokes or something. It was good to finally see a familiar face. (there was one other familiar face on Saturday). He beered up an we went to watch The Used on the second stage. These dudes are pretty hit or miss from what I gathered watching youtubes and on Sunday, they were on…The crowd was loving it and I wasn't totally hating it. Enjoyable set at the very least.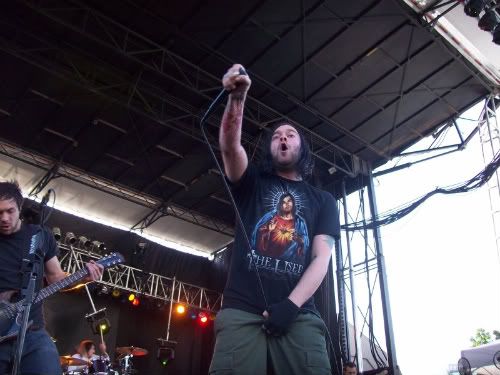 Pictured: The Used@ROTR
We went to watch Avenged Sevenfold and Motley Crue close out the weekend at the main stage. Basically Avenged Sevenfold suck and I hear they are republicans and they front on partiying-fuck this band-Bat Country is a rad track, but other that that, fuck this band. Sound was shit and I'm not blaming the wind.
I can't say much more about Crue, Chip pretty much covered it-unnecessary intros and outros, backing vocal tracks blah blah blah…when Vince Neil was singing "Shout at the Devil", he was only able to muster "shout at devil" because he was so inebriated. Tommy Lee bro'ed down with the crowd and passed a bottle of Jager into the crowd-old boy is lucky he didn't catch that bottle to the face-motherfuckers were throwing shit all day.
Once again it was cold as fuck and I even layered up for day two. We left before Crue finished because I was worked over and The Crue are well past their prime.
Oh man me and my ideas.
NEVER AGAIN. I MEAN IT WAS LIKE THE HOT TOPIC BARGAIN BIN VOMITED ALL OVER CREW STADIUM.
Duffy give me a Macbook.
MORE DONEWAITING COVERAGE: Chip Midnight reviews Motley Crue