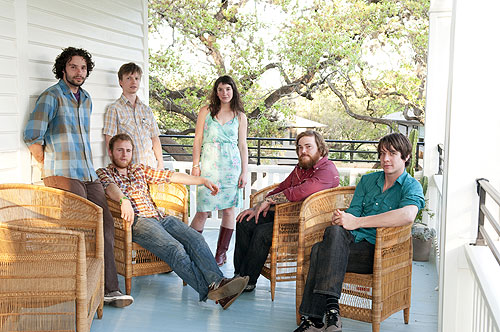 MP3: Go On Say It by Blind Pilot
Blind Pilot are opening for The Decemberists on Monday in Columbus. Their orchestral, rustic music will be a a perfect fit to start off the show.
Just back from a European tour with the Counting Crows, the band is opening a string of shows for The Decemberists including a spot at Lollapalooza. Their star is definitely rising.
Keep reading for all upcoming Blind Pilot dates.
5/29/09 – Riverside Theater w/ The Decemberists – Milwaukee, WI
5/30/09 – The Vollrath – Indianapolis, IN
5/31/09 – Pageant w/ The Decemberists – St Louis, MO
6/01/09 – Lifestyle Communities Pavillion w/ The Decemberists – Columbus, OH
6/03/09 – Tabernacle w/ The Decemberists – Atlanta, GA
6/04/09 – Memorial Auditorium w/ The Decemberists – Raleigh, NC
6/05/09 – The National w/ The Decemberists – Richmond, VA
6/06/09 – Bowery Ballroom – New York City, NY
6/07/09 – Black Cat – Washington D.C.
6/09/09 – Johnny Brendas – Philadelphia, PA
6/10/09 – TT the Bears – Cambridge, MA
6/11/09 – II Motore – Monteral, CANADA
6/12/09 – El Mocambo – Toronto, CANADA
6/13/09 – Mohawk's Place – Buffalo, NY
6/14/09 – Pike Room – Pontiac, MI
6/16/09 – High Noon – Madison, WI
6/17/09 – 400 Bar – Minneapolis, MN
7/17/09 – Marymoor Amphitheater (w/ The Decemberists) – Redmond, WA
7/18/09 – Edgefield Amphitheater w/ The Decemberists – Troutdale, OR
7/19/09 – Edgefield Amphitheater w/ The Decemberists – Troutdale, OR
7/21/09 – Vogue Theater w/ The Decemberists – Vancouver, BC, CANADA
7/22/09 – Vogue Theater w/ The Decemberists – Vancouver, BC, CANADA
8/07/09 – Lollapalooza @ Grant Park – Chicago, IL
8/10/09 – KY Brown Theater w/ The Decemberists – Louisville, KY
8/28/09 – Outside Lands Music & Arts Festival @ Golden Gate Park – San Francisco, CA
8/29/09 – Outside Lands Music & Arts Festival @ Golden Gate Park – San Francisco, CA
8/30/09 – Outside Lands Music & Arts Festival @ Golden Gate Park – San Francisco, CA