The Hell City Tattoo Fest is going on this weekend at the convention center in Columbus. We did a quick walk through last night before the Jane's Addiction show and it looks to be a really great festival for those into tattooing. We didn't even enter the main exhibit hall (you have to buy tickets for that) but there is plenty to see/do/buy in the lobby and there is a room where about two dozen tattoo artists are painting on canvas including Guy Aitchison. One of the featured artists is an old friend of mine, Kim Saigh, who appeared on the first three seasons of L.A. Ink.
I talked to Kim a few weeks ago for a feature in this month's MELT Magazine. Because the type is a little small on the MELT page, you can read the interview that is in MELT after the jump.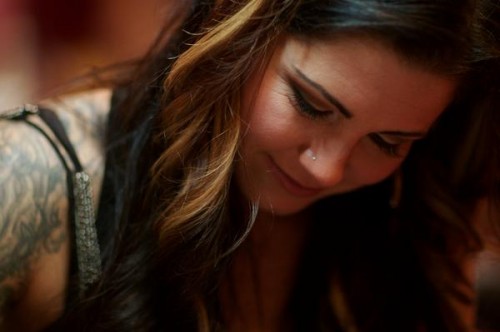 "This is going to be crazy," artist Kim Saigh says about the Hell City Tattoo Festival being held at the Hyatt Regency May 29 – 31. "I think it's going to be like a Kim reunion, freaky and fun."
Kim grew up in a suburb of Cleveland — the same suburb I did — and, to quote lyrics from a Dandy Warhols song, a long time ago, we used to be friends. Though I graduated two years before Kim, we got to know each other in the metal clubs (The Real Flash Gordon's, Peabody's Down Under, Akron Agora) where we'd go see bands with names like Spread Eagle, Fatal Charm, Faster Pussycat and The Fashion Police. But it's been a long, long time since Kim called Cleveland home.
"I moved to Chicago when I was 21 upon the suggestion of [world famous tattoo artist] Guy Aitchison," Kim says. "He encouraged me to move to a bigger city where I would have more access to better projects and more sincere tattoo clients."
For 13 years, Kim tattooed clients in the Windy City; for 10 of those years she owned Cherry Bomb Tattoos where her reputation as a great tattoo artist led to her being cast on the TLC reality-show, L.A. Ink.
"The show is a great experience in ways that I couldn't have foreseen that aren't necessarily the things that people think might make it great," Kim says. "It's given me a very unique perspective that most people don't get to have in life. And it brought me out here to L.A."
The show has also opened some doors for Kim including a relationship with Vans, the shoe and apparel company which will launch their "Kim Saigh for Vans" collection this summer. In June, Vans shoes designed with art created by Kim will be available followed in July by apparel and accessories.
"It's going to be uber-girly," Kim says about the designs. "Skulls, candy, butterflies. It's all very exciting."
While the Vans relationship is in the immediate future, the thing that's got Kim most excited – and the thing consuming most of her time – is the opening of her own tattoo shop in L.A.
"Me and this woman, Rachel Larret, are getting together and opening a space called Atelier Tattoo. It means 'an artist workshop or studio'," Kim explains. "Hannah [Aitchison, a fellow L.A. Ink cast members] is going to come out and work. It's definitely going to be an amazing tattoo shop once it opens!"
Though she's known for her tattoos, Kim won't be inking any fans at Hell City. "I'm going to be painting with my boyfriend Shawn Barber, Guy Aitchison and his wife Michelle, and I think Hannah's going to be painting as well," says Kim. "It's going to be a bunch of us making art."
"I can't wait," she says. "The Hell City convention has got the reputation of being the most fun, awesome convention you can go to. I'm really excited about that."