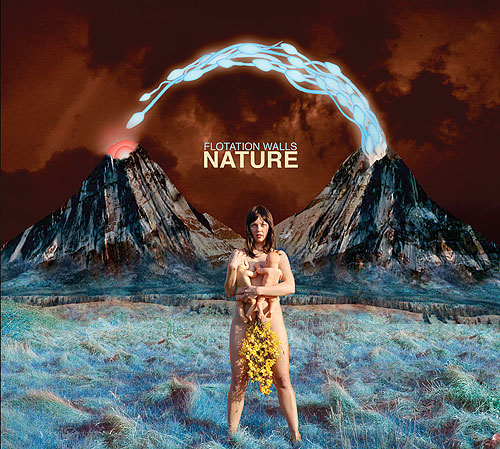 MP3: Willis the Fireman by Flotation Walls
Flotation Walls, lead in one version or another by Carlos Avendaño, have been haunting the Columbus music scene for what seems like nearly a decade. During those years there have been flourishes of activity and long periods of apparent dormancy. But one thing we've been missing throughout is a proper full length from these guys. So to say that the release of the Nature LP tomorrow at Skully's has been a long time coming is no exaggeration.
I mean, with all the talk and speculation and legitimate anticipation surrounding a release date and the subsequent passage of those dates, this record is pretty much Columbus's Chinese Democracy. Really- after the release of a nugget or two in 2003, people were pissed when this thing was delayed until December of 2004. The Chinese Democracy comparison is mostly for the sake of humor, but it has its utility too. In both cases, the elapsed time between conception and delivery was used by the respective captains to tweak, add to, and retool the contents and production in an effort to produce a grandiose master work. To a degree both Carlos and Axl have, in striving for an epic album, managed a certain amount of success and at times to overdo it as well. The analogy begins to break down when looking at the final product though, as the triumph versus try-too-hard ratio clearly favors the Flotation Walls.
So here we are, on the verge of witnessing this long-incubated egg finally hatch. I've actually heard it out of the shell for a few days now, and listened many, many times. It took that much repetition to kind of digest it all- this is a dense record. I mean that in terms of both production and content. Example: I think by the time the first track is over, you'll have already been subjected to some combination of electronic samples, a chorus, classic strings and harp, an accordion, a pretty falsetto warble and a pained wail, all in addition to the regular band instrumentation. It's not uncommon for all these seemingly incongruent tones to occur in a single song. Several begin with a first 'movement' that is placid and pretty, only to be followed by more crashing finales that can border on disturbing.
While technical in terms of compilation, I think Nature is an apt name for the subject matter. The record is lousy with references to oceans and dirt, sky and light, death and baby-makin'. But beside all the sometimes heavy-handed poetry on big subjects, this record is at its heart, a collection of pop songs. As I found myself singing them in my head earlier today, I realized how successful the record is at being light and catchy despite some onerous subject matter. "The Flickering Projections" and "Sperm & Egg" would be type-cases for this. As I alluded to earlier, sometimes the attempt at grandeur gets excessive, as in "The Sky Ejaculates" where whatever meaning the title and lyric has gets usurped by my distaste for the imagery.
I'll be curious to see how the Flotation Walls manage to incorporate the many studio and production components of this record into a live setting. The effort will be enhanced by the inclusion of a ten-piece string section for the CD release show. They've been know to put on amazing live shows as well as fall victim to a bit of disarray on stage, but certainly Carlos and company will pull out all the stops for this one. We've been waiting, after all.
Flotation walls will be joined by a couple of my favorite locals for a killer bill at Skully's: The Receiver and Brainbow.