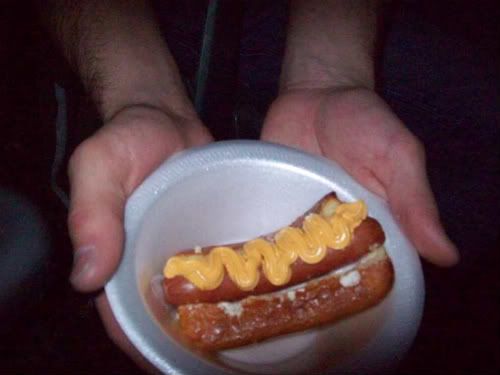 Pictured: Twinkie Wiener Sandwich@Hillbilly Drive-In.
HAHAHA JK!!! I'm gonna keep it up until Duffy stops paying me HAHAHA
I guess I've finally recovered from/managed to totally repress the Rock on the Range debacle enough to move on with my life and regurgitate more of my feeble thoughts into words for all you super awesome, totally amazing jerks to read. I think I'm scarred for life. I mean more scarred. Whatever.
This account of events that I observed actually occurred only over the weekend because I'm too poor to drink at bars every night…Duffy, is that expense check really in the mail?
O.K. so I went to Skully's for the Flotation Walls cd release on Friday, on Saturday went to Skully's again(I know right)for the Benco presents Black Moth Super Rainbow and School of Seven Bells show and saw twinkie wiener sandwiches consumed in real life at the Hillbilly Drive-In on Sunday. Also Columbus apparently now has a Peach District or something…uhhhhhhhhh…

Pictured:Swamp Leather@Peach District thingy
So, yeah, there is apparently a neighborhood called the Peach District here in Columbus. I used to live in the Peach District and I didn't even know it. They held a gathering called The Peach District Classic between Viking and Dragonfly…across from Hampton's whom insisted on competing with the bands via there sound system…it was an awkward set up and it was weird /not safe being so close to King Ave. traffic…also it's lost on me why an event like this would start at 3:00 p.m. on a Friday but whatever. I managed to catch Swamp Leather play an avant garde/experimental/noise set that included a drummer ripping the head out of a tom, putting said tom over his head until it reached his waist, dropped his droors and sprinted around the block. Swamp Leather played a pretty interesting set that likely translates a whole bunch better in a dimly lit bar at least a 6 pack deep. I only stuck around for their set as I had planned to go to the Flotation Walls cd release at Skully's.
Which I did...Brainbow or whatever they're called opened and sounded AWESOME oh man I love Brainbow so much I wish they would talk to me. I didn't watch much of The Receiver's set, but the sound was really good…I was distracted what can I say. Flotation Walls had a 10 piece orchestra backing them up and they sounded epic as fuck…I mean as epic as a band like that can…Nature was a long time in the making and I'm glad to finally see it's release…congrats dudes.
Oh yeah, sometimes I don't even bother trying to take pictures at Skully's because it's such a pain in the ass…there were a ton of people out both Friday and Saturday…FYI Skully's actually feels like an almost cool rock club when there aren't silly dance club lights inducing seizures all night as evidenced on Saturday.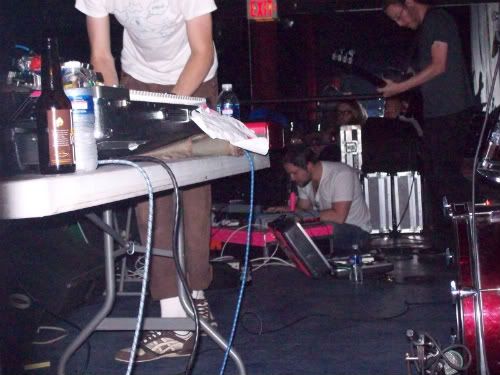 Pictured: Black Moth Super Rainbow@Skully's
I knew nothing of School of Seven Bells prior to deciding to go to this show other than it's some dude from The Secret Machines and it turns out they're pretty rad…like electro/dancyish MBV or something.
I really didn't know what to expect crowdwise going into this…it turns out the 14 year old kids that just started smoking pot LOVE Black Moth Super Rainbow…for real this was a pretty packed house and I'm prettty sure half of the crowd was underage…also, this was Zachery Allan Starkey's 14 year old surrogate nephew's first show no shit.
So BMSR are pretty much Gil Mantera's Animal Collective…total vocoder vocals and hippie psych "freakout"…mind you in the best way possible. The vocals were a little suspect, as they appeared to be prerecorded but upon further investigative photojournalism, I discovered that the vocals were in fact not prerecorded but that the singer is paraplegic and apparently not able to stand and sing so that people don't think the vocals were prerecorded. People paint their faces for BMSR WTF. Good show would see again.
I closed out my rather subdued weekend with a double feature at the ole Hillbilly Drive-In. UHF and Krush Groove…Now I don't know if you know, but I LOVE LOVE LOVE Weird Al and have no shame whatsoever in admitting it-there was no way I was gonna miss it. It was a blast per usual and Twinkie Wiener Sandwiches were served. Seriously. 10 of them. There were 10 dudes that actually ate those fucking things…uhhhhh. As fun as it was-dudes…back to the B movies.
Give me money somebody…email me for paypal info.