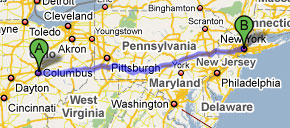 In November of 2001 I moved to Columbus from San Francscio due to my day job having a gigantic re-org of staff and resources. A year later, after being inspired by the local music scene by such bands as Miranda Sound, I decided to start a music website called donewaiting.com.
Through these six and a half years, the site has grown tremendously. When I started, we had several people writing about their local music scenes all over the country (Chicago, San Francisco, England, Indianapolis, to name a few). Things sort of moved into a more Columbus+National vibe over the last year, with SXSW coming in for 5 months as well. But the site has always evolved. I mean, do you remember when we had film reviews? (I miss you Caleb!)
Columbus has been great to me, too. I found my wife, got a dog, made some great friends, and for the last 2 and a half years have had an amazing job working for Jerry Dannemiller at the Wexner Center as their web guy. Trust me, if you have any passion for the arts and you live in Ohio, the Wexner Center is the #1 place you want to be working.
But, it's time to move on.
For those of you who don't know my complete biography (and why should you), up until the last 10 years of my life I spent it living in NJ. Ever since the time of us getting married, I've felt that it's time to hitch up our tent and move back east to be close to my family. Fortunately, the right job has come along that will allow us to move back home and we are anxious, nervous, excited, and overall a bit loopy in trying to plan the move. The tentative target is to head out of town on August 2, and I'll be using my Tumblr blog to post about our new life in New York. You can follow along here. Our hope is to move into Brooklyn, maybe Queens, something like that. (Any leads on apartments will be appreciated. +dog +cat)
So what does this mean for donewaiting.com and Columbus? Well, we're happy to announce that Joel Oliphint, writer at The Other Paper and all around great guy, is coming onboard as the Columbus Editor of the site. Joel will work with our current staff of 6 other Columbus-based writers and photographers to continue our coverage of everything happening in town. If anything, I expect more Columbus-centric writing to come out of the site than ever before. And while in New York, I'll continue to write the same sort of stuff I've been writing forever.
I hope you don't consider this an ending of any sort. It's just the beginning of a new chapter of a website that continues to change, grow, and still try to figure out what the hell we're doing.