Pictured: Brainbow w/Lara Yazvac@Comfest
Oh man Comfest...or something like that. Basically there are a number of ways to go about Comfest. You can camp out somewhere in the park on a blanket, go check out bands with "clever" band names, wander around aimlessly running into people you know and drink booze and eat food and not pay attention to any bands, or you can hang out at the Offramp Stage all weekend like I pretty much did and watch bands that you know will be good.
How many times can you say the same things about the same bands? Find out after the jump!
I wandered down to the park in time to catch Fern at the Solar stage. Fern seemed a lil bit intoxicated. Fern is Hilarious…perfect way to start of the weekend I suppose. After that I caught some of Tin Armor and wasn't totally stoked on 'em, but will give them another chance in more a appropriate setting, after all, they played at five on Friday…maybe they should have been pregaming with Fern.
Friday had a pretty rad line up over at the Offramp-Grafton, Church of the Red Museum, Brainbow, Nick Tolford and Co…etc,etc…Managed to see a few Grafton songs, kicked ass for a 5:30 set. COTRM followed Grafton and killed. It had been a while since I had last seen them and maybe it was because I missed them sooooo much, but they sounded great. You know how you have to dress "nice" in a stuffy office and that's suppose to make it feel more like work or make you behave better or something? Yeah, whatever…Church dudes jammed sans suits and they misbehaved the fuck out of that set .
Have you guys ever heard of Brainbow before? They sound like a deaf/mute eunuch Isis or something. They also covered Zepplin's "Since I've Been Loving You" with the lovely Lara Yazvac of Ill Fits/Tough and Lovely fame on vocals.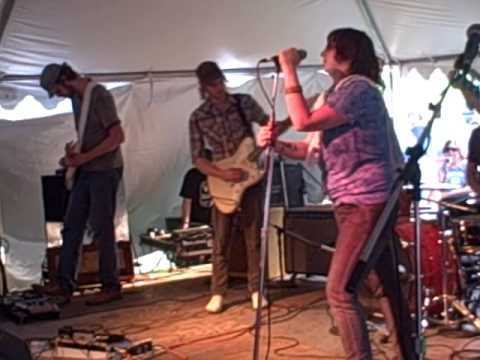 (video by Brett)

Pictured: Nick Tolford and Co.
Tolford's company featured some back up doowop from Cassie Rosehips and Leslie COTRM and some other chick I don't know. Shit was mad souled out. Nick Tolford used to play drums for The Slide Machine. No he fronts a soul outfit. Basically what I'm saying is it turns out some drummers can actually sing and that Tolford is worth making it a point to check out live.

Pictured: Happy Chichester
Happy didn't play "Alcohol", but he did play "$3.99" which was pretty sweet. Hey Happy-start a new rock band, thx.
I'm old and get tired and cranky when I start drinking at 2:00 p.m., but I managed to see a couple Sandwich songs…heavy, psych rock with an emphasis on the rock featuring the one and only Ron House on vocals. Fun fact(?), Sandwich were formed via the rock potluck …pretty sure that's a first. As much as I wanted to hang for The Guinea Worms and/or Two Cow Garage, it was not to be, my feet hurt.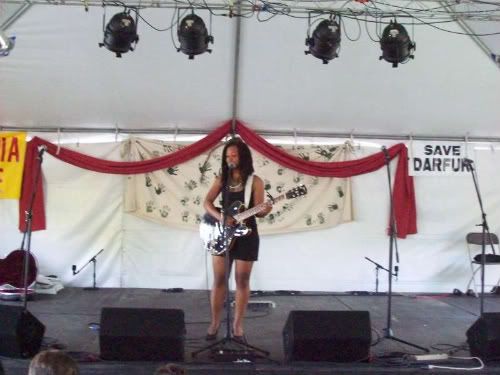 Pictured: Time and Temperature
I wasn't in a big rush on Saturday…I gave myself until 7:00 to make sure I got there in time to see Time and Temperature play. This was the kind of performance that I have been practicing shutting the fuck up for…quiet, soft, gentle lullabys that culminated with a standing ovation-NO SHIT…so awesome and Val was totally stoked. You probably missed it because you were to busy doing something dumb. Don't let it happen again is all I'm saying.
I spent a fair amount of time sitting on my ass on Saturday hanging with my peeps but I did check out You're So Bossy and The Lindsay before not making it to see Envelope.
YSB are veteran Columbus musician who are on some next level shit not hanging on to anything…Can't say enough good things about this band…hey dudes, heard of myspace? The Lindsay were prolly drunk like I was. They are so totally post grunge.

Pictured: The Lindsay
Sunday was chilllll as fuck, a totally killer way to end an otherwise mediocre and overcrowded Comfest. I worked at ye olde Donewaiting/Cringe merch tent on Sunday…there was a lot of cool shit for sale, hopefully you stopped by and spent a whole bunch of pesos. Went to see moons after the shift and OH MAN MOOOOOOOOOOONS. Dusty was dressed to the nines in his Sundays best and prolly ate like twelve sheets of acid or something because this shit was otherworldly…I've said it before and I'll say it again, HOLY FUCK MOONS ARE FUCKING EPIC AS FUCK.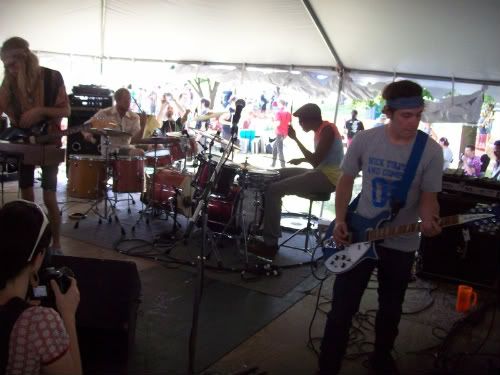 Pictured: moons
moons were joined by indie rock drummer du jour Ahemed Gallab of Sinkane, current touring drummer for Yeasayer for a 20 minute drum off. Seriously, I feel really bad for you if you missed this, as this was the highlight of Comfest weekend for me. Ahmed also played with The Slide Machine following moons with two other drummers and killed it.
That's a real drum circle hippies.

Pictured: Brian Simakis aka best sound dude in Columbus
This is what you look like after doing sound for 50 bands in 3 days. MAAAAAD props to Brian Simakis for making all of the Offramp bands sound super sweet all weekend.
Go to the CMC Parking Lot Blowout
Duffy where is my laptop I think I left it in the Hummer can I move to Brooklyn with you