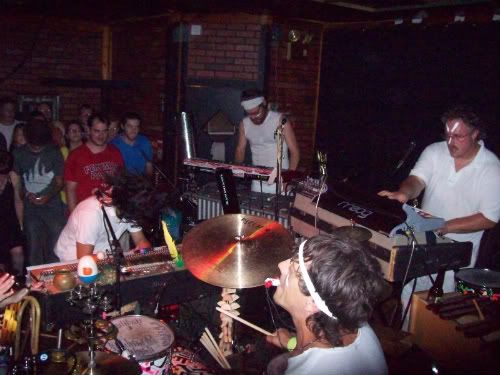 Pictured: Man Man@Summit
There's no such thing as good music. All bands suck, especially yours. It's all been done before and there is no such thing as a new genre, no matter how many you try to cram in your shitty songs. Basically what I'm saying is fuck that band Attack Attack! for being from Columbus. Crabcore? MORE LIKE CRAPCORE HAHAHA AMIRITE
This week I jammed to Michael at The Agit Reader Happy Hour, went to a sold out hipster fuck-fest at The Summit, jammed to some sweet bands at the CMC Parking Lot Blow Out and watched some bands in a pretty cool warehouse space.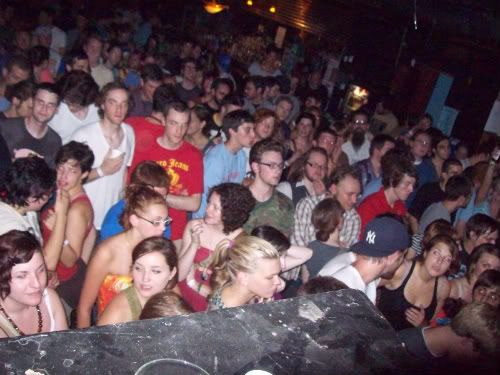 Pictured: crowd crowd@Man Man
After dancing my face off to Michael at The Agit Reader happy hour on Thursday night, I went to the sold out Ben Co Presents on Friday at The Summit to see Man Man. From what I remembered, Man Man put on a pretty fun show, so I figured I might as well see if they were still just as much fun…turns out I was too distracted by the sauna-like temperature and frustrated by the sold out hipster fuck-fest inside the Summit to actually focus on/enjoy the show.
Man Man were tight as fuck and I'm pretty sure everyone there but me enjoyed themselves…If these dudes can sell out The Summit, why is it that there are so many other ill attended shows around here? Also Firewater are better than Man Man.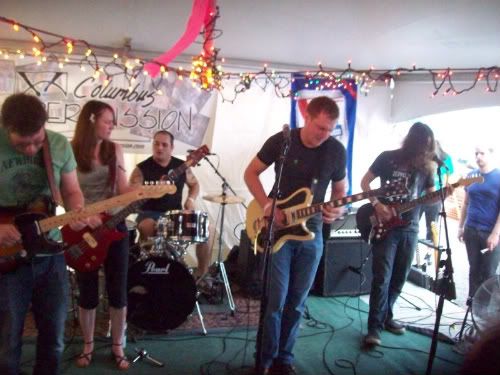 Pictured: Deerhead@CMC Parking Lot Blow Out
One thing that wasn't ill attended was the Columbus Music Co-Op's annual Parking Lot Blowout at The Surly Girl Saloon. This is the event that allows for the Co-Op to help out broke musicians get their teeth fixed and stuff and is a volunteer run event that reinforces a sense or community in the Columbus Music scene.
I made it there around three o'clock, in time for my door shift at 4:00 and I must say I was surprised by the number of people that were there and their amount of dedication to soldier through the inclimate weather. Buckets of water rained down on the tents for the beginning of the afternoon and there was many a sopping wet volunteer, but the weather broke round about 5ish and it was smooth sailing for the rest of the day. There's something that happens when one starts to consume alcohol around 2 in the afternoon, meaning I didn't pay a whole bunch of attention to the bands between that and working the door.
I watched the Rosehips be all rosehippy, saw Deerhead TOTALLY KILL IT and witnessed Cheater Slicks totally not clear a room. I missed The Guinea Worms and Struck by Lighting because I was busy not realizing they were playing. No doubt a banner year for the CMC-keep up the good work girls.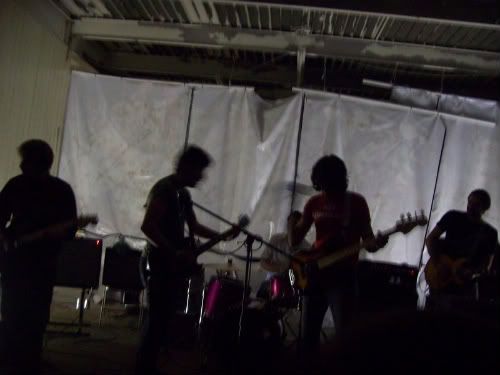 Pictured: Six Gallery@Tompkins warehouse
There was another fundraiser of sorts on Sunday to help Wing and Tusk release there album or something. I basically went to see Phantods because they're rad and Six Gallery because I hadn't seen them with a vocalist yet. Fun fact about Phantods…Nate Phantod used to be in a band called The Husher a few years back and they were one of the first Columbus bands that I got stoked for…experimental, instrumental, and defunct, sources tell me that there may be a Husher reunion somewhere in the near future. I really can't stress enough how tight Phantods are live and how awesome Gretchen King's voice is. Do yourself a favor and check them out, don't let the name be a deterrent. Also, CD101 should be playing "Revival" IMHO.
This was my first time seeing Six Gallery with new vocalist Daniel, formerly of Pirate and they were way more entertaining/less boring than before. They made me think of Minus the Bear a whole bunch when they were instrumental, now they just make me think of them a little. I left during Wing and Tusk's set due to long day syndrome but I'm going to make it a point to check them out next time I can.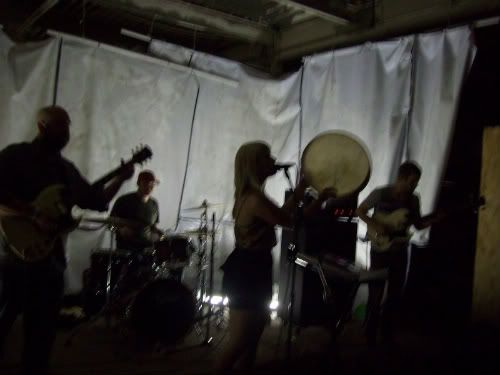 Pictured: Phantods@Tompkins warehouse
I'm going to organize a fundraiser for myself because I need a laptop and a new camera hope you can make it.