In Donewaiting's ongoing quest to report on global musical goings-on, my buddy Nate Renkes and I descended into the wilderness of Western Michigan to witness the Rothbury Festival over the 4th of July weekend. The site is 2,000 acres of campgrounds, woods, and the actual festival grounds, which contains 5 stages separated by the Sherwood Forest, a well-maintained wooded area with weird arts displays and the Speak EZ stage. The festival was an enjoyable four days of music, camping, and hippies, with solid performances from most acts involved. Big thanks go to Nate for his camping expertise and his photographic enthusiasm. Most of the pictures below are his.
Here are some pictures of the environment before a day-by-day breakdown:
Thursday:
After a quick entrance and campground setup, it was already go-time.  After a kickoff set from a contest winner, Asheville, NC's Toubab Krewe got things going with a bang at 6:45PM.  These guys dip into some West African tones and jam hard.  As check-in apparently went well for all festival attendees, the crowd was already large for this set and the party vibe was undeniable.  In what was to become somewhat of trend for the festival, the Krewe did play a cover of "Billie Jean," though they soon mixed it with their own material. There was an overlapping set from British blues prodigy Davy Knowles and Back Door Slam which we caught parts of. The set from the current Peter Frampton collaborator was fine, but not quite thrilling. There was hype for their cover of "Cut Your Hair," but if it happened, I didn't catch it.
9:00 marked the start of the 2.5 hour set from the Quannum All Stars, representing a fundamental collective of West Coast underground hip-hop. Now, me from 2003 would have been more excited about this set, but I still enjoyed most of this jamboree. First up was Portland's Lifesavas and the two MCs+one DJ went over pretty well. I haven't listened to their 2003 Quannum debut Spirit In Stone in years, but the songs I remembered from that like "Hello Hi Hey" still hit hard. Another highlight was "Shine Language" from their 2007 album Gutterfly, which I need to give another listen. Their no-nonsense beats-and-rhymes served to remind me that they are a solid crew.

Next was supposed to be mini-supergroup
Mighty Underdogs
but apparently there was a schedule conflict.
Chief Xcel
of Blackalicious (who manned the wheels for the Lifesavas) replaced them by rocking a party-time DJ set. This was when we wandered down to catch the end of a set from
Keller Williams
that the hippies loved but I couldn't quite get into.
The headliner of the Quannum set was
Lyrics Born
accompanied by vocalist
Joyo Velarde
, but we simply heard most of this set from the campground. Good thing we conserved energy, because up next at midnight was Chicago's
Cool Kids
, a throwback duo dedicated to the harder strains of hip-hop 20 years ago injected with plenty of modern swagger. The minimal, bass-heavy beats were a perfect set-up for Chuck Inglish and Mikey Rock to kill it, and the crowd lapped it up, especially on the monstrous "Black Mags" and "Gold and a Pager." Peep their
official site
for a new mixtape with Don Cannon.
There wasn't too much that thrilled me after the Cool Kids on Thursday night, but the hippies sure grooved to the Disco Biscuits' late night jams.
Friday:
Friday marked the first full day of music. In what was a pleasing trend for the weekend, the first act on The Odeum (the main stage) each day was a legend of some obscurity. Friday's opener was King Sunny Ade & His African Beats, representing Nigeria with their brand of joyful Afropop. There were many points where Ade and his band would go into a cappella chants in the middle of songs, which could have been distracting but instead just felt like part of the celebration. Ade was very appreciative of the solid early crowd and the band played with a great deal of passion.

The mid-afternoon was a hodgepodge of acts that failed to completely garner my attention.
Unlike their recent soldout show at the Summit
,
Man Man
was completely out of their element playing outdoors in the sunshine of 2:15 PM. I'm not sure that it went over that well with the crowd. I also didn't hear them play my favorites, so I was selfishly disappointed. As tweeted previously, I was later astounded by the following visual: While waiting for
G. Love & Special Sauce
to play, five dudes started a hacky sack circle while the speakers pumped out Sublime tunes. In 2009. Anyhoo, the part of G. Love's set that I caught was pretty good. I was happy to hear a brief (relative to the original) cover of jazz jam "Red Clay," which I'm assuming was a tribute to their recently passed Philadelphia compatriot Freddie Hubbard. Their fan favorite tunes like "I-76" also jammed hard, and people were into it.
Nate and I soon returned to camp to work on dinner, and because of a timing error (or the trademark Renkes 3-hour meal), we missed the set from Fela's son,
Femi Kuti & The Positive Force
, though the Afrobeat jams sounded strong from camp. We made it over to the main stage for the joint (hahagetit?) set from
Damian "Jr. Gong" Marley & Nas
, though we managed to miss most of Nas' solo set. However, there were plenty of rap-reggae mashup tunes and Jr. Gong solo tunes for us to enjoy with the joyful throng. Hearing Nas perform verses from
Illmatic
(i.e. The Greatest Hip-Hop Album Of All Time) over reggae instrumentals was novel for me and reinforced the blunted party atmosphere.
Unfortunately, the Marley/Nas set overlapped with the set from my old-time favorites
Soulive
. Luckily, Nas started performing "I Know I Can," so we felt justified in hustling over to the Sherwood Court Stage. Since we first met in a College of Wooster dorm in the fall of 2000, Soulive and I have had an up-and-down relationship. What started as basically a traditional organ jazz trio has morphed and evolved several times, adding and removing singers and saxophonists, bordering on smooth jazz then moving into smooth R&B and even releasing the first new album on the reborn Stax Records. As I have lost interest in some of their recent music, I'm not 100% sure where they are in their evolutionary progress, but the half of the set I saw was pure funk-jazz bliss. The band is currently a six-piece, with the original trio joined by two sax players and vocalist Nigel Hall. The closing sequence of "Move On Up" (Mayfield cover recently recorded by
Lettuce
, but Lettuce and Soulive currently share 4 members, so it was the same thing with a different vocalist and drummer), "Tuesday Night's Squad" (one of the better tracks from
Next
), and a James Brown medley of "Lickin' Stick/"There Was A Time" was a sweaty early evening soaker. I've never been in favor of Soulive having a vocalist period, but Hall got down and belted it out very well. The set was a great surprise from a band that I'd almost given up on, so go peep that
new album
.
Soulive was the peak of my Friday (and maybe even of the whole festival). Friday's headliner was
String Cheese Incident
, and not being a big jamband dude, I wasn't too thrilled by the prospect of their two sets. After that, I had run out of steam, so I sadly missed
Chromeo
(Nate reported favorably on this set) and
Girl Talk
. Next.
Saturday:
The 4th of July musical feast started in earnest with a 1:30 Odeum performance from another legend, Dr. Ralph Stanley & The Clinch Mountain Boys. The bluegrass master (and his masterful band) put on a great set, performing a variety of Stanley's music from his 60+ year career. Of course, the set featured the eerie a cappella "O Death" and the peppier "Man Of Constant Sorrow" from the O Brother Where Art Thou? soundtrack, which introduced newer generations to Stanley's work. Dr. Stanley announced that he first recorded "Man Of Constant Sorrow" in "Nineteen and forty eight," which got a big rise from the crowd. He had some good jokes and was very appreciative of the large and enthusiastic crowd that joined him "so early." His gospel-flavored bluegrass was a refreshing start to the day.

We then headed down to the Ranch Arena to catch
Son Volt
, who sounded decent to a man that knows basically nothing about them. Unfortunately, a small rainstorm kicked up and we decided to head back toward camp. Luckily the rain let up in time for the
Hill Country Revue
back up at Sherwood Court. The Revue is a new incarnation of the
North Mississippi All Stars
, another favorite of my late college years. The All Stars have apparently not broken up, but since guitarist Luther Dickinson has joined the lineup of the Black Crowes, his brother, drummer Cody Dickinson (who plays guitar and electric washboard in the Revue) started the Revue with NMA bassist Chris Chew and new talent including guitarist Kirk Smithhart, vocalist "Dixie" Dan Coburn, and drummer Ed "Hot" Cleveland. It's difficult for me to describe the difference between the original group and the new band, but I can tell you that the Revue plays some cookin' Southern blues rock while taking it back to the hill country of Mississippi. Smithhart shredded on lead guitar, and Coburn may have a bit more soul on the mic than my memory of Luther Dickinson. The set felt like a backyard party somewhere, and was another favorite of mine at Rothbury. Hey, they have a
new album
too!
Proceeding onward, Nate and I watched most of the set from
Zappa Plays Zappa
. I'm not a big Zappa fan, but Nate is and he thought it was a strong performance. Frank's son
Dweezil
plays guitar and shares lead vocal duties with Ben Thomas. Dweezil sounds a great deal like his father and seems to be doing a good job of keeping the Zappa legacy alive. It was a wacky performance with weird dances from Thomas and not many of Zappa's bigger hits, but it was enjoyable overall. The Zappa set overlapped with the Odeum
Black Crowes
set, but we caught enough of it. The Robinsons and Co. played the hits with an abundance of soul, so I didn't mind it all. Back at Sherwood Court,
Les Claypool
ripped into some trademark weirdness that didn't grab me at all, and dinner ensued. Then came
The Grateful Dead
. Not being much of a Deadhead, I was less than thrilled about watching their set with 30,000 of my closest friends. So I didn't, catching a few bits here and there from way way back. However, Nate is a big fan, and got down in the middle of the crowd (about 50 ft. from the stage) for the majority of the two sets. I am told that the overall performance was very strong and that they sounded their best since the 1980s, according to some veteran hippies in the crowd. The second set was the better set, but both sets were bolstered by inclusion of rarer Dead jams. Looks and sounds like fun if you could tolerate it. Here are my favorites from Nate's pics of the madness: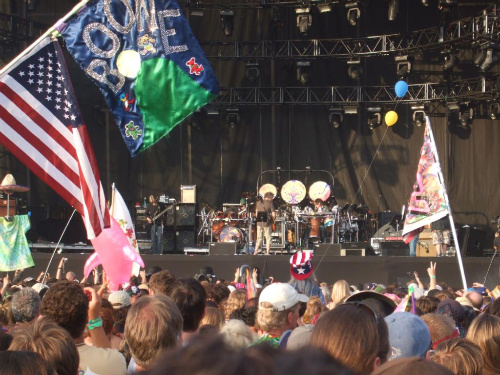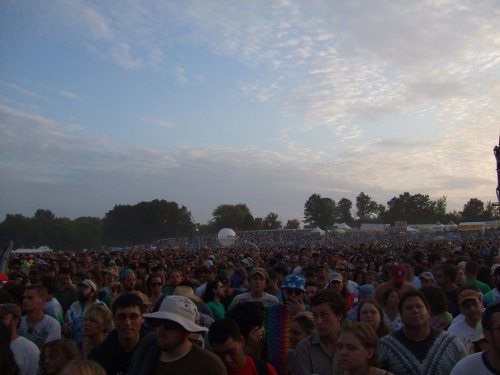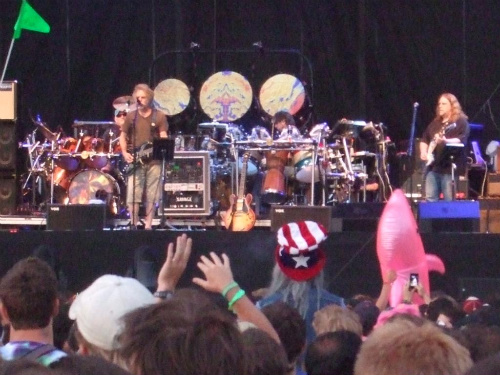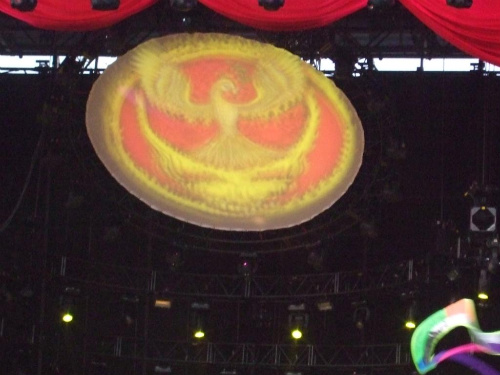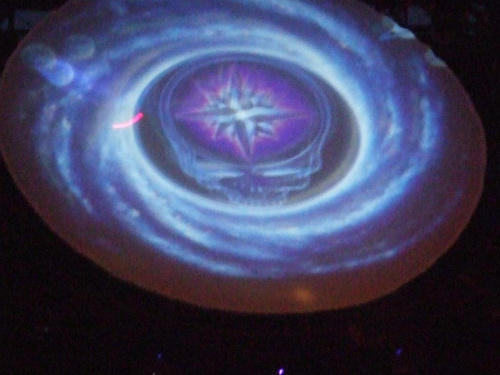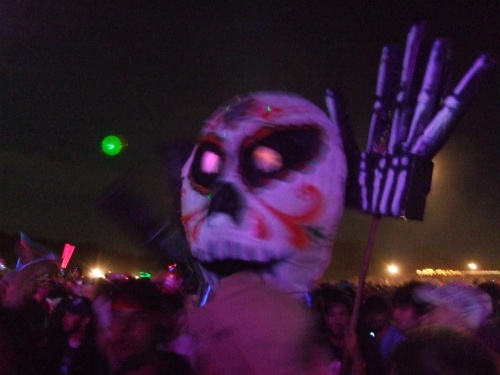 Unfortunately, my late-night stamina (ummm) was shaky on this venture and I was too worn out for much of anything after The Dead played. I did catch a bit of a burlesque show at the Speak EZ stage, mainly because my attendance was encouraged by our campground neighbor who was a member of the troupe, which was cool but not enough to reinvigorate me. What I heard of MSTRKRFT from the tent sounded boomin'.
Sunday:
One more day in camping paradise. DW favorites The Hard Lessons kicked things off at nearby Sherwood Court, but the heat was a bit intense at that point. We did enjoy most of the set from the media tent, however, including a strong cover of "Hey Hey My My." Then the "obscure legend series" that opened the Odeum stage every day concluded with Jamaica's Toots & The Maytals. This is an act that seems to tour often, but I never manage to see them, so this was a treat. Toots and crew came out burning and played most of their greatest hits in under 30 minutes. [EDIT: I knew this was going to be wrong, thanks Eric.] They kept things lively for their entire set, however, including playing their classic original "Bam Bam", more often remembered for Sister Nancy's version. They didn't play "54-46 Was My Number" but ran through all the other staples, so the aging yet energetic Toots did not disappoint. He was also very grateful for the audience's support.
Later we caught parts of the set from the
Yonder Mountain String Band
. Nate enjoyed the set from the bluegrass-jamband maelstrom, and they seemed like nice guys, but it wasn't my thing. I then somehow fell victim to a nap and missed the
Hold Steady
set. Darn it. Thankfully I got my act back together to see
Willie Nelson & Family
. I really enjoyed this set, as he played the hits and a wide variety of other material. A surreal moment was his performance of "I Ain't Superman." The
lyrics
seemed to be intended as a criticism of the hedonistic crowd, but of course they partied right through it. Score a subliminal point for Willie. We then hustled down to the Ranch to see
Government Mule
, a standard of the modern jam circuit. Warren Haynes and crew rocked pretty hard, but a portion of the set was rather confusing. Haynes made reference to a request for a Michael Jackson cover, but then led the band into a version of Nirvana's "All Apologies." Good jam, but was he saying that he would rather honor Kurt than Michael? Strange, and made stranger by the fact that he quoted "All Apologies" again later in the set in the middle of a reggae-ish number. Great set though.
The final headlining set of the festival belonged to
Bob Dylan and His Band
. This was my first time seeing Dylan live. The songs were weird and delayed, but I'm told that I simply got the Dylan live experience. I don't think his voice sounds as bad as other people may tell you, but the fact that every phrase comes out as a question is kind of off-putting to me. His band was great, however, so the music was enjoyable either way. I am glad that I got a chance to see Dylan live.
Overall, I had a great time. I missed some things that I had wanted to see, but I figure that I was just out of shape since I hadn't been to a big music festival since Bonnaroo 2004. Right? Anyway, I caught plenty of great live music and had no major mishaps, so the trip was a success. See you next year?