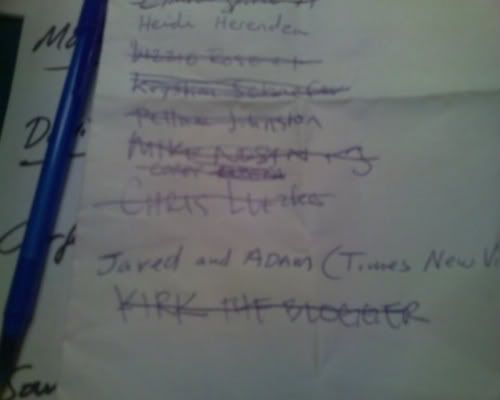 Pictured: my name on a list@Ravari Room courtesy of Thee Mike O
This is anti-shitty band, death of the whatever kind of genre that includes the likes of brokeNCYDE, Millionaires, Attack Attack!, 3oh!3, et al. Look, I was a dumb kid once too and my musical taste to this day is most certainly questionable, but how in the world are people falling for this shit? Are the eight graders doing heroin these days? Fuuuuuuuuuuuuck. That said, if any of the aforementioned bands would like to be featured on a very influential music blog, hit me up, let's party…Millionaires I'm looking at you.
In this episode of phalangic diarrhea i will relate hilarious anecdotes about the bands I saw and stuff I did, including but not limited to Jack White's newest cash cow vanity project, some cougar "milf" lady that bought me and a few others some pizza, Cheater Slicks being good again, me being a lousy MC and Puerto Rican dudes liking tambourines. Also Mike O and Woody from Ravari Room oh man.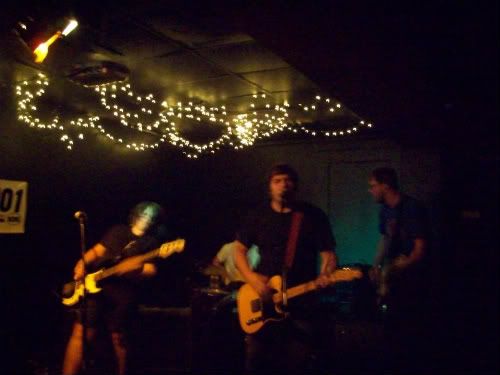 Pictured: The Lindsay@Rumba Cafe
Thursday night found myself at Rumba Cafe for The Lindsay against my better judgment and I only say that because i mean have you seen The Lindsay lately? I kid, I kid. Big fan big fan. Basically The Lindsay can rock a joint any joint go see them.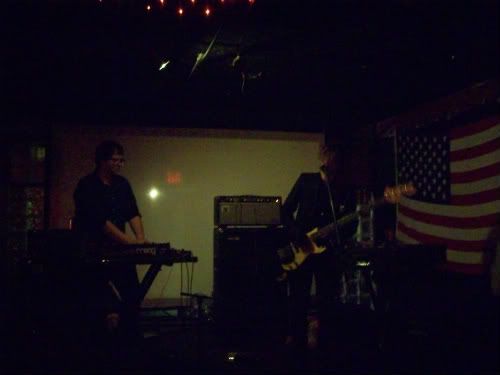 Pictured: Prison Mirror@carabar
Friday night was Chri$ Lutzko's b-day @carabar. Prison Mirror is a "band" and they play "songs". Prison Mirror is Tony and Mike O from El Jesus De Magico. There were some geriatric dudes there partying pretty late for a Friday and one of them approached me during Prison Mirror and asked me if what they were playing was a song. I told him it was 2. It's basically ambient butterfly knife goth core. Go see them if you want to hear a song or 2. I hope when I'm 65 I'm still out and about doing shots at 11 p.m. on a Friday.

psychedelic horseshit followed the Mirror and tonight was a night i wasn't feelin the phs. It was just Matt, Rich, a guitar, a sax and a table full if gear or something. It was punk.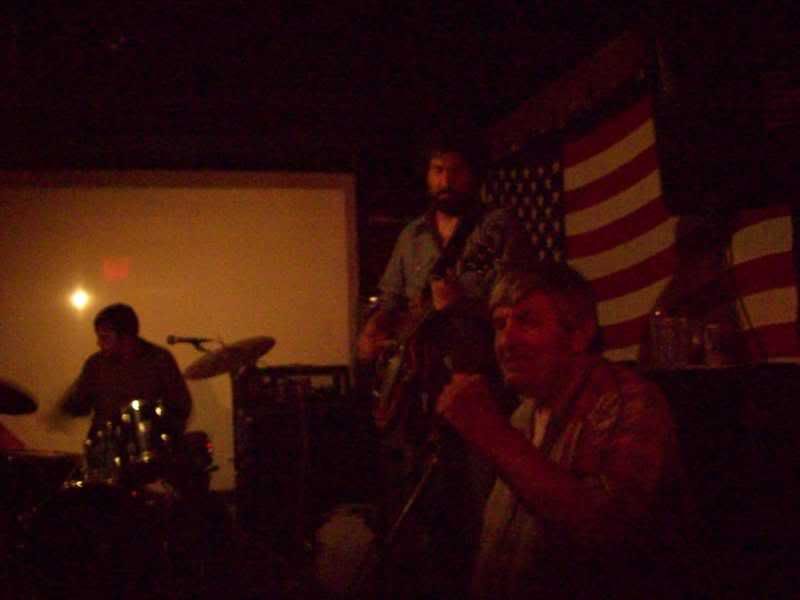 Pictured: Cheater Slicks w/Don B@carabar
This is very important. Have you seen Cheater Slicks at all within the past couple years? I have and I gotta say I've been less than impressed, but I've been hangin in there for them due to the fact that the were one of my fallen brothers favorite band(R.I.P. Ryan Rollins), so I've been giving them the benefit of the doubt and I'll tell you what, Cheater Slicks are an awesome live band again…not having seen them play in their prime this is what I would imagine they were like and am totally stoked to go see them play more. Dudes rock for a bunch of oldies.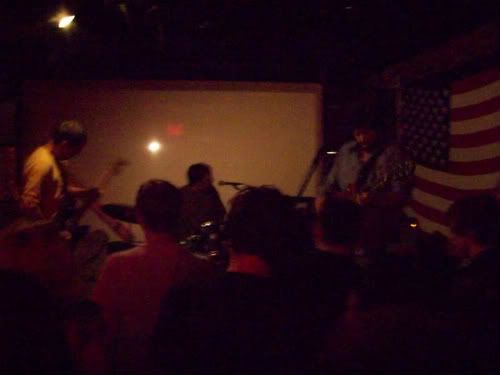 Cheater Slicks@carabar
The Unholy Two followed with an aural assault that forced me out the door on account of they are loud. So there's some new joint called Late Nite Slice that's located in the parking lot next to Bodega. I was hungry and it was late so you know, I opted to have a late night slice. While waiting there was a table of about four 20 year old dudes and like some mid forties chick that didn't appear to be related to any of them. They were all wasted and old chick bought everyone in line a slice of pizza. Good thing I didn't have to actually pay for two slices to decide I didn't like it. Basically what I'm saying is if there are tomatoes on it, it's not only cheese.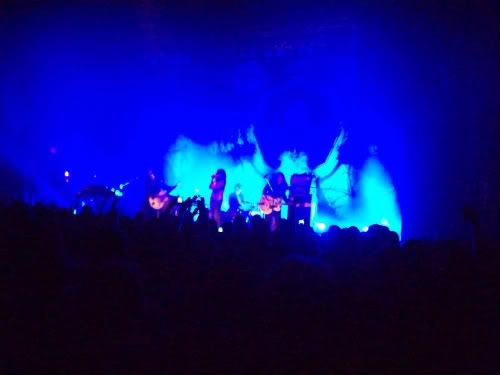 Pictured: The Dead Weather@LC
That dude from The White Stripes and that chick from The Kills played an overpriced show at The Lifestyles Community Pavilion on Saturday and thanks god I'm not one of the suckers that payed $40 to watch old Jack indulge himself on drums. (GLO Deville). There was a good turn out which blew my mind. It was also a good show too, which surprised me as well. Basically if you expect the worse and hope for the best, you're never disappointed. JW came out and strapped one on for like one song and at the end they did the back patting come out and hold hands for five minutes and bow like ten times. The show would have been better if it was a sold out Newport show. Details from the rest of the evening are spotty at best, you'll have that from time to time amirite.
Sunday I attended a wedding reception for a wedding that happened like three months ago and I also was asked to MC, which I did very, very poorly. Bands played, The Lindsay did a mostly cover set and I drank til the keg ran dry. Congrats The Wagners!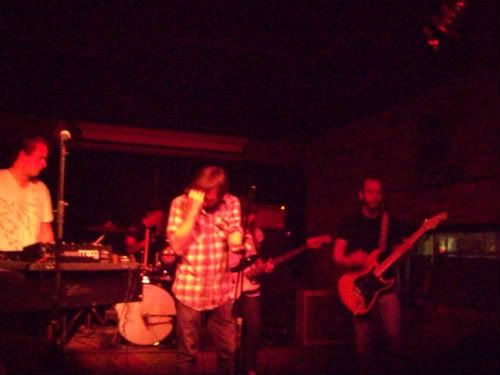 Pictured: El Jesus De Magico@Ravari Room
I ended the weekend at The Ravari Room to catch El Jesus De Magico and Davila 666. El Jesus practice in a funeral home and feature Mike O on drums. Davila 666 are from Puerto Rico and like tambourines. Woody and The Ravari Room had some nice things said about them by the Nebula dude in the new issue of Decibel mag. Nice dude, cool room.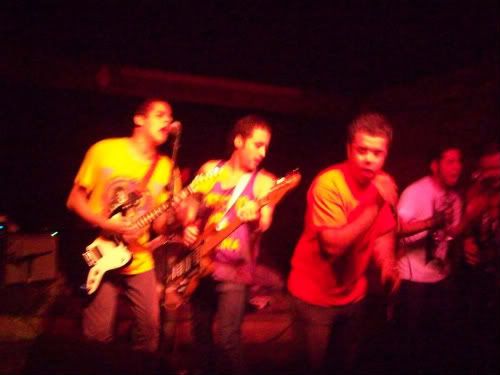 Pictured: Davila 666@Ravari Room
Duffy you should make that new photographer chick take pictures for me.