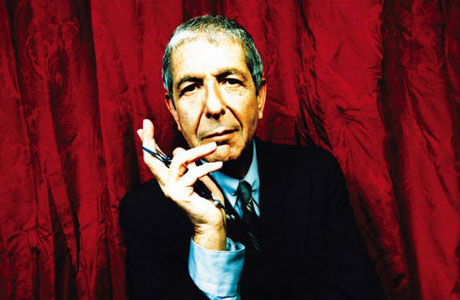 Yes dudes, sometimes we have pretty sweet giveaways and this is one of them. Leonard Cohen is heading out on tour again and we're happy to announce that we are giving away two pairs of tickets to his show on Tue, Oct 27 at the Palace Theatre in Columbus OH. To enter this contest, send a blank e-mail to contest@donewaiting.com with the subject Leonard Cohen. Winners will be randomly chosen on August 7.
If you want to play it safe and buy tickets to the show, they go on sale via AEG presale tomorrow. Go here and enter in the password 12STRING. I mean…. this is the second leg of his first US tour in 15 years, so do what you gotta do.
Cohen's got a new live album
and DVD
out, Live in London. Here's a highlight:
Full tour dates after the jump..
Oct. 17 – Sunrise, FL @ BankAtlantic Center
Oct. 19 – Tampa, FL @ St. Pete Times Forum
Oct. 20 – Atlanta, GA @ Fox Theatre
Oct. 22 – Philadelphia, PA @ The Wachovia Spectrum
Oct. 23 – New York, NY @ Madison Square Garden
Oct. 25 – Cleveland, OH @ Allen Theatre
Oct. 27 – Columbus, OH @ Palace Theatre
Oct. 29 – Chicago, IL @ Rosemont Theatre
Nov. 1 – Asheville, NC @ Thomas Wolfe Auditorium
Nov. 3 – Durham, NC @ Durham Performing Arts Center
Nov. 5 – Nashville, TN @ Tennessee Performing Arts Center
Nov. 7 – St. Louis, MO @ Fox Theatre
Nov. 9 – Kansas City, MO @ The Midland by AMC
Nov. 12 – Las Vegas, NV @ The Colosseum at Caesars Palace
Nov. 13 – San Jose, CA @ HP Pavilion