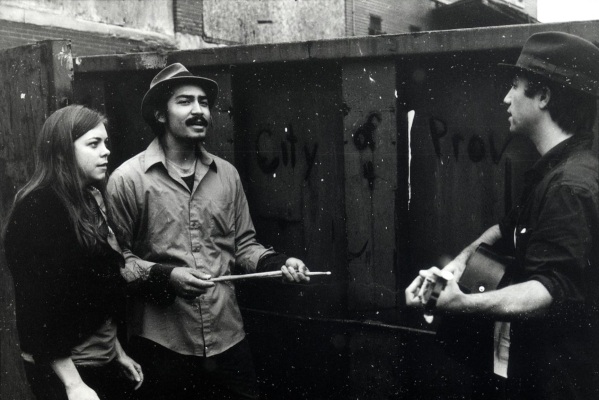 MP3: The Low Anthem: Charlie Darwin
Sometime earlier this spring while we were standing around the Newport waiting for the Heartless Bastards to do their thing, conversation turned to debriefing on favorites from the recently-concluded SXSW festival. Shane mentioned Theodore. He was right. Duffy kinda couldn't shut up about this band The Low Anthem that he'd seen like 80 times down there. And man, he was way right too. It's coincidence that the two recommendations are similar in texture and tone, but after grabbing their two most recent albums I really gravitated to the beautiful Low Anthem recordings. They've continued to be staples in my stereo since, so I'm excited about their stop in Columbus on Friday at The Summit in support of a new record. Jeff Prystowsky from the band was nice enough to talk to for a bit and tell me a little about their story and recent doings, so more of both my thoughts and his after the jump.

The easy way out is to describe the three member band with the now somewhat garbled term 'folk'- it has that acoustic, Americana organic vibe familiar to the genre. While the trio swaps a slew of duties, songs are generally heavy on the strummed guitar, harmonica and a beautiful clarinet. The instrumentation is far more strings and reeds than transistors or chips, and harmonies are sung with a delicate and sometimes forlorn beauty. But I think it's a better descriptor to focus more on the 'lore' that is implied with folk. The songs are intimate and poetic stories, full of history and conjuring a sense of place. The mood is captured perfectly on the spiritual and elemental recording of Oh My God, Charlie Darwin.
In addition to the more sparse songs ("To Ohio", "Ticket Taker") they throw more than one Tom Waits-ish foot stompin' growlers in there too ("Horizon Is a Beltway"). So while not every track is quiet enough for your parents, these are records you and dad might actually be able to agree on. When I asked about their audience, Jeff confirmed that they've had broad appeal to young and old. Feeling equally at home playing festivals, theaters and rock clubs means it's often the venue which dictates the crowd more than the music.
In a fairly rapid succession to 2007's What the Crow Brings, the Providence, RI band also self-released the first version of Oh My God, Charlie Darwin in September of 2008. While playing shows in New York to support the record during the early part of this year, the band attracted the attention of Nonesuch Records, which recently released a re-mastered and re-sequenced OMGCD. The support of Nonesuch allowed the band to build on their success in the northeastern states and expand the mission to touring the country. Along the way, they've been making waves and getting fantastic praise from reviewers also representative of the diverse audience- from internet hip to NPR. I asked Jeff to describe what that ascent (from recent college graduates starting up through multiple albums to a label deal and national tour in just a short two and half years) has been like. I'll do some really choppy paraphrasing here, but regarding the transition from screen printing hand-made CD covers to big label support and a national audience, Jeff said 'Nonesuch made us realize that not all record labels were bad. Their philosophy is to scout good bands, then allow them the freedom to let them make their records without typical contractual constraints…of course we can't screen print every t-shirt and album cover anymore- time and economics of a national tour won't allow it, but we intend to continue to have that same hands-on approach to the creative process (in the future).' An ambitious goal, if current demand is to be any gauge.
In an excellent pairing, the Low Anthem will be joined on Friday by Langhorne Slim, who has also drawn upon a more traditional sound, but paired it with a young man's rocker edge. The seemingly disparate musings of old-timey stomp and a punk ethos are compiled and on the 2008 self titled album put out by the equally eclectic Kemado Records. A graduate of the Trachtenburg Family Slideshow Players, Langhorne's live shows are a burst of energy, far outstripping the singer/songwriter tag that he's often given. A little Woody Guthrie, a little old blues, a little bit garage punk, a little bit 2009. This is going to be an excellent night.
Columbus's own Couch Forts will be kicking things off Friday, August 7th, The Summit, 2212 Summit Street.
Related/Recommended:
Joe Pug
AA Bondy
Elvis Perkins