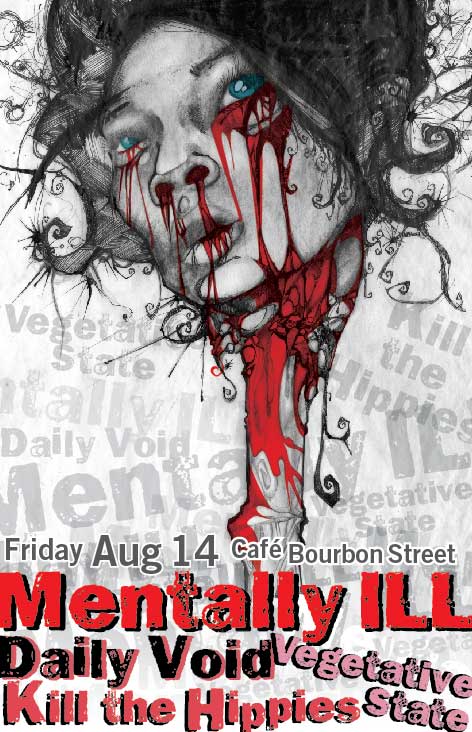 MP3: Gacy's Place
A lot of options this this upcoming Friday night in Columbus, OH. A lot of good shows. This is one of them and the one I will be attending. The line – up at Cafe Bourbon Street on August 14 is absolutely amazing. Four great punk bands that ranging from veterans to young pups. Every band brings something uniquely their own to the table.
Chicago's Mentally Ill are the main event of this show. Formed in 1978, their '79 single Gacy's Place makes the record dorks world-over drool at mere mention. The brand of punk displayed on that record is very fitting with the band's name. It's just crazy, fuzzed out, absolutely irresponsible guitar noise with snotty vocals and wild beats. In 2003 Jello Biafra's Alternative Tentacles put out an LP compiling the band's recordings. It's a great listen all the way through and does contain the songs from the aforementioned EP as well as a slew of unreleased material. You should be a able to find it still. And hopefully the band will have some as well. Of course, if you have extra $300.00, you should try to track down the 7inch on Ebay.
Also will be playing Chicago's Daily Void whose art-damaged herky-jerky, which is equal parts catchy and scary, Kill The Hippies from Cleveland, who enjoy the cult hero status around these parts, and those fresh-faced jerks from Vegetative State, will round out the bill. So be there, or be square, my friend.
Café Bourbon Street
2216 Summit St
(614)268-9377