A few weeks ago we celebrated the 4th annual Daymon Day here in Columbus. We had a basketball tourney, tribute mural, emcee battle, parade and a rowdy dance party. We got our Rucker park on and then brought it into the streets.
For those that aren't familar with Daymon Day but like things perhaps reading this article before or after viewing the following videos and pictures might give you some background info.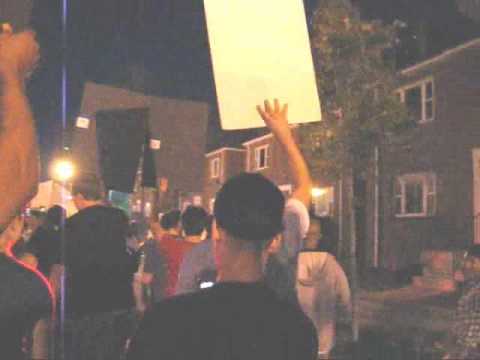 This video shot by A.J.(i think) shows the parade.
Watch it if you think marching 300 plus people in the middle of the road to Black Sabbath, Dilla, Cam'ron, M.O.P. , DJ Przm, Camu Tao, Jim Jones,Pharoah Monche and Racist Joe instrumentals to honor their fallen loved ones on an OSU gameday sounds interesting.
Photos taken by Danielle Kline that show a different detail after the jump.
I missed the basketball tourney that CJ Townsend organized because I was out in the burbs buying Montana's for a couple doods' outline colors for one of the graffiti murals.As for the basketball contest, I guess Central City Recordings brought in some ringers and won the game.
The other big story from the tourney, was Team Weedsteeler was narrowly defeated by the Grip 14-1. The other highlight was that Ron House played for Agit Reader(i think) and appeherently was a fierce competitor.
I got to the Park right before the rap battle between Zero Star and EC Vol. The battle was in front of the newly restored Tuttle Park handball court mural.
A. Kern and Ender did a wonderful job covering up the alterations made by tags, drawing of penises and the weather that had overtaken the iconic mural orginally meticulously painted by B. Jones, S.Zook, G. Sparano and D. Duncan that expressed both graffiti writer's civic pride and their often underestimated abilties.
(A. Kern is the young muralist that painted the Blue Danube, every Daymon mural, and the bathrooms of Milkbar among other things. Two of his murals were included in the Dispatch's recent Top Ten Murals in Columbus.)
Unlike the cityscape that A.Kern fixed, the bottom pieces of N.E.W.S. were dissed beyond repair, so Ender created a universal font that honored our cities fallen Hip Hop heros, Daymon Dodson, DJ Przm, and Camu Tao.
The mural, in its orginal form, had burners of the words, North, East, West, and South, directing the viewer to the idea that the kids that paint the city with letters could literally paint the city to the letter. The letters were on the original mural were intentionally painted in highly stylized graffiti form next to an amazing rendering of the cityscape of downtown Columbus.
The idea of those involved with the graffiti restoration process was that deviating from a graffiti font was ok. The point that letters can be as technical challenging as photorealistic scenery had be proven by the mural's original artists.
The muralists were restoring the idea that graffiti writers love their city and interact with their community.
So maybe the actual mural wasnt exactly restored to exact original form.
But the remembrance of icons and their contributions to our city is important to our city's culture and identity development. Graffiti was used to put this back in people's minds.
A legible font conveyed this sentiment by being more viewer accessible.
(plus the back wall has 18+ burners on it, painted by BSA,PBJ, ESE,IOK, 3WA and TFC doods.)
This set the stage for a rap battle between Zero Star and EC Vol.
video of battle by Chase Manhattan(i think)
DIY MARCHING BAND:Tony "Envelope" Collinger and Mike "DJ Detox" Tormey set up a PA in the back of a pick-up truck so that Detox could dejay while people marched in the parade.
Danielle Kline made a dinosaur float so that the Daymon Dodson doll would have somewhere to sit during the parade.
Parade time.
This is Jacqueliene Arias, a journalist, artist and filmmaker in town from NYC because of the festival on Gay Street downtown. She contacted me via facebook because she is making a documentary and wanted to talk about Columbus art and culture. So I picked her up.
She was really impressed by what she saw at ID09 on Gay Street. She expressed a notion that it was shame the events were the same day. I told her a real city can support two festivals in the same day.( Which Columbus did easily)
I told her that organizers of ID09 did try to include us.
However our parade is greatly contingent on having mural space to paint tribute walls, and the spectacle of marching in front of OSU celebrating football fans on gameday on OSU campus.
Daymon loved absurdity so trumping OSU football is prolly the best thing we could ever do.
Picture being a freshman at OSU:
You are on a porch playing beerpong. So pumped that the Buckeyes just won and you have a case of Natty Light to toast these glorious times..
You look over, and OMG, in the middle of the street are 300 people of every background possible except your own, marching to the instrumental Dipset's "What's Really Good" while chanting Racist Joe.
Might make you spit out your shitty beer, and create a memory
(and at least we had a painting of downtown's skyline)
rofl
The parade concluded on 5th and High where the crowd sung Daymon's hit song, "Bitch, You Don't Know Shit".
I was terrified because Daymon's family were there and the song is explicit.
To my suprise/relief Daymon's mom knew the words. She giggled during and did not sing the "bitch" or "shit" parts. It was laughshh you don't laughshh. It was beautiful that she had discovered and enjoyed that aspect of her son.
Detox finally gets to get out of the truck after dejaying a parade.
Eventually we left Milk Bar and headed to the Summit for this afterparty:
video courtesy of pos 2.