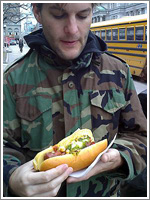 Somebody should take bassist Patrick Matthews from Youth Group to Dirty Frank's before Wednesday night's show at The Basement! The Australian band has made a few trips to Columbus since their inception in 2004 and their gentle brand of indie-pop (falling somewhere between Death Cab for Cutie and Teenage Fanclub) is always welcomed.
The band's latest (their 3rd U.S. release since 2004), The Night is Ours, is filled with tales of love and heartbreak and if the kids were still making mix CDs to express interest in somebody of the opposite sex, Youth Group would be the band on the soundtrack that the recipient would say, "They sound so familiar and yet I can't figure out who it is". I have no idea what size audience Youth Group draws in Columbus but when I saw them in L.A. in 2005, the Spaceland was packed with hipsters wanting to discover their new favorite band before the rest of the world.
Youth Group, Other Girls, and Six Gallery perform at The Basement on Wednesday, October 7. Tickets are $12 at the door and doors open at 7pm.