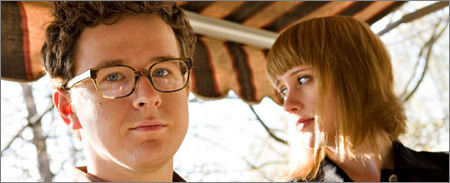 Donewaiting presents Blitzen Trapper and Wye Oak at Skully's on Tuesday, October 13. More info can be found here.
Before the interview begins, some obligatory praise for Wye Oak's sophomore release, The Knot (listen to it, in full, at the end of the interview). Admittedly I was relatively unfamiliar with the duo (Jenn Wasner – guitars/vocals, Andy Stack – drums, keyboards) other than checking out a couple of MP3s from If Children that we posted last year on the site. That being said, within the first 5 minutes of The Knot, I emailed the duo's publicist at Merge Records and said something to the effect of "Is it possible to fall in love with an entire CD before the second song has even ended? If so, I'll drop to one knee and propose to Wye Oak on the spot."
MP3: "Take It In"
The Knot opens with the spacey "Milk and Honey" – the subtle effects-pedal-drenched guitar hanging in the background (the guitar playing – and the song itself – remind me a lot of Ashland's Bel Auburn). It's the first – and last – song that Stack will provide lead vocals on on the CD. The rest of the CD works on the ebb and flow of slow to loud, loud to soft that bands that Wye Oak have compared to are so proficient in (Yo La Tengo, My Morning Jacket, The Spinanes). It's a beautiful sounding, at times loud and chaotic, CD and, as mentioned before, one that knocked me out from the get-go.
A few weeks into a tour with Blitzen Trapper, I sent Wye Oak some questions via email hoping they'd have internet access somewhere along the way. They did and the following are Jenn's answers to the questions I sent.
Have you found that touring with a band like Blitzen Trapper – a band with critical buzz – has led to a "fan" buzz? Have you been pleasently surprised with the attendance at shows so far on the tour or have you played to smaller crowds than expected?
The shows with BT have been so excellent! It's always interesting to play to audiences that aren't necessarily there to see you. It puts you in a position where you have to try to win people over, and that really provides a good bit of energy and excitement, especially when you've been playing shows for weeks and weeks. It's always really satisfying when you can get a good response out of an audience that's never heard your music before.
I was doing some "Googling" to see if Wye Oak has ever performed in Columbus and couldn't find any past show dates. Have you played in our fair city and, if so, did it leave any lasting impressions?
We haven't, actually! Looking forward to this being our first time.
I only just "discovered" If Children but I spent some time listening to it on Lala.com today. Am I correct in saying that you've shifted directions with respect to lead vocals? If I remember correctly, vocals on If Children were split about 50/50. What led to Andy taking a back seat? Was it too much to pull off playing multiple instruments at the same time AND sing?
That's pretty accurate. When we made If Children, we didn't have a live show at all- it was really more of a recording project. In pretty much every way, this new set of songs was largely shaped by our live show, and most of the songs were written–consciously or unconsciously– with that setup in mind. Andy's got a lot on his plate when we perform live, playing drums and keyboard bass simultaneously, so it's really realistic to expect him to handle lead singer duties, as well.
It also seems like you've dialed back a bit of the 'shoegazing' noise although when you do use it on The Knot, it's extremely effective. I love the way a song like "Mary is Mary" starts off quietly but then adds layers of noise texture. Is this a result of trying something different? Of maturing as songwriters? Of incorporating different influences?
The arrangements of the songs are never a result of trying to pigeonhole a certain genre or sound. We write the songs we write, and then we're really just trying to do justice to the songs themselves. There's a lot of trial and error in the studio, and the decisions of what stays and what goes are really based on our own personal tastes and instincts. I think we're probably the worst people to ask about how our music sounds our what particular genre we're emulating at the time.
Is there a reason that you haven't added additional players to flesh out the sound? Is it something you'd consider in the future or do you think adding new "teammates" would disrupt the dynamic the two of you have?
A lot of it is logistical. We're not a big enough band to be able to support a third person, and we tour constantly, so realistically, we've got to be able to stay afloat. Honestly, the duo thing started out as limitation, but it's grown to be an aspect of our musical dynamic that we're both really excited about and challenged by. If we ever get to a point where we no longer feel excited by the setup, it'll be time to move on.
I've seen references to bands like Come, The Spinanes, Scrawl in Wye Oak reviews. Are these bands that you listened to and are aware of or is it the case where you read these comparisons and then go out and check out these bands for the first time?
I don't know any of those bands, actually, except the Spinanes, and somebody just gave us a copy of one of their records a few days ago. So I can't really claim any influence, but I'm always curious to check out people's comparisons. It's very interesting to try and understand how your music is interpreted from an outsider's perspective.
Is there a magic formula to keeping your sanity while on tour?
On this tour, Andy and I will have covered almost 19,000 miles in two months. That's two consecutive trips out to the west coast and back in our Honda Odyssey minivan. You get into a very unique mindset when you're consistently living this way. You get used to it. Sometimes I think it's the greatest job in the world; sometimes it's a nightmare. It's all part of the deal, though, and I can honestly say there's nothing else I can imagine doing with my life.
What are your eating habits on the road? Have you ever booked shows in certain cities because there is some sort of attraction in that city (such as a restaurant, a book store, a museum, friends/relatives, etc)?
As of right now, we're mostly traveling as a support band, which means we're playing shows that are booked by the headliners, and we run on their schedule. We definitely make an effort to enjoy the best of what each city has to offer, but it's tough when you get 12 hours or less to spend wherever you go. Eating well is very important to us, though; we couldn't do this without maintaining a reasonably healthy diet. It's worth it to spend a little extra to not have to eat fast food, which we avoid at all costs. The ideal experience consists of a good show and a couple extra hours to spend at a really good local restaurant, plus a good coop to get some healthy snacks and kombucha in the morning. If all of these requirements could be met daily, I'd be a happy lady.
I'm going to assume that you don't make a living playing music – I don't think there are too many bands out there right now that can exist solely on money the make from CD (or download) sales and/or touring. If it's not too personal of a question – what type of work do you do to pay the bills?
We do tour for a living, actually- we tour constantly! We're never really home to work other jobs. You're correct to assume that CD sales are a small drop in the bucket for most bands, but plenty of folks do this kind of stuff for a living. Being on tour is the only real way to do it, though. I mean, for a band of our size, at least. It helps that we're a duo, and that we're able to live cheaply with minimal expenses.
I was reading the cover store on U2 in the latest issue of Rolling Stone and there is one paragraph that stood out to me. I realize that they are one of the biggest rock bands of our generation and they put on shows unlike any other bands, but I just want to get your reaction to this paragraph – "U2 are trying to make art in football stadiums – to achieve what Bono calls "intimacy on a grand scale" – even if getting there takes $750,000 a day of overhead: a 170-ton stage, 200 trucks and the corresponding carbon offsets, nearly 400 tour employees, more than 250 speakers, and 13 video cameras." Thoughts?
A tour on that scale is so far beyond the scope of my experience that it's hard to comment. I have no idea the kind of decisions I would make were I placed in U2's shoes, so I'll try to refrain from judgment upon their personal decisions about where to direct their money/creative image. I certainly hate being caught at the other side of that equation (on a much smaller scale, of course.)
With 2009 coming towards an end, any favorite CDs of the year that you want to mention?
We love the new Dirty Projectors record, Bitte Orca. We love the new Cass McCombs, Catacombs, and our friend Height (with Friends) put out an amazing record called Baltimore Highlands earlier this year.