Pictured: Built to Spill@The Newport
Bloggers/journalists are the worst thing. Oh man. i mean do you really think anything you have to say is more important than the thing I'm in the middle of? Like I give a fuck bout your website. I was in the middle of something important before you oh so kindly interjected. Maybe there was a reason your interview requests weren't granted. Fuuuuuck.
Oh hey how's it going? I'm feeling better thanks for asking. I meant to do this last week but after going to see that "Paranormal Activity" pos@Studio 35 and purchasing Them Crooked Vulture tickets upon arriving home, I awoke on Tuesday morning feeling as though I was hit by a Mac truck. That being said, I had no motivation to do anything so I decided to neatly(weakly) wrap up two weeks of shows at one go. I'm talkin Built to Spill, ipps, Buffalo Killers, Brainbow, The Lindsay, Gil Mantera's Party Dream, Jemina Pearl and some website that makes Cringe look like Pitchfork. You know what to do.

Pictured: Built to Spill@The Newport
I was on the fence about going to see Built to Spill. Basically I didn't wanna buy a ticket. I mean paying for shows is sooo pedestrian. As luck would have it, I managed to win a pair from CD101 the morning of the show. Thanks CD101! So, yeah. The show was pretty rad, the crowd not so much. I mean Doug and Co. played the songs we came to hear. Virginia Reel around the Fountain, Untrustable, which btw garnered little to no crowd response, Outta Site, Car, You were Right, which again, no response, and a 2 hour version of Carry the Zero. I mean nobody in attendance wanted to be caught having any fun. Lotta dudes drinkin the kool aid. There was no barrier up front which I have never seen at The Newport and it was cool to be able to make it up front with no hassle and enjoy the up front without getting smashed.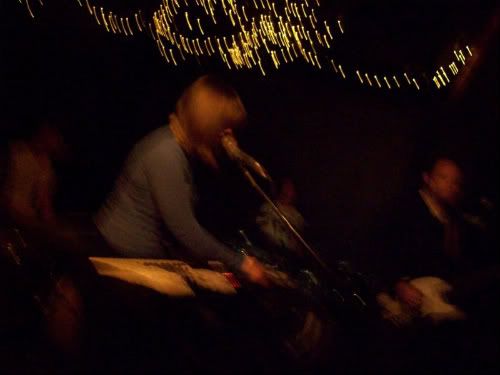 Pictured: ipps@Rumba
After Built to Spill I conned Mike O. into waiting for me to get to Rumba before ipps played. Thanks Mike O. Let's talk about ipps. Best band in Columbus that never plays? If you don't know/aren't drinkin the kool aid, ipps is Bo, Emily, and Matt from Necropolis and Mike O from El Jesus De Majico. Shoe gazey slow jams. Real fucking cool. Good show guys, big fan.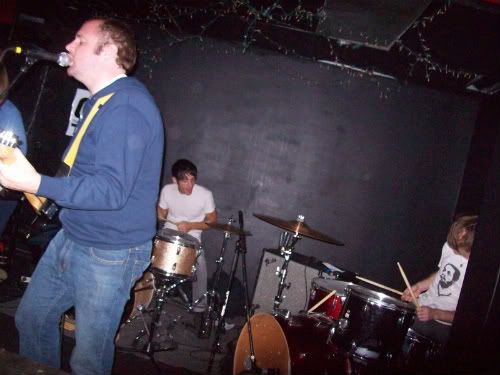 Pictured: ipps@Rumba
I included 2 ipps pictures due to the major lack of Mike O as of late.

Pictured: Flu Faker@Rumba
Flu Faker are a band that people seem to dig. I'm still on the fence. Sorry…all I got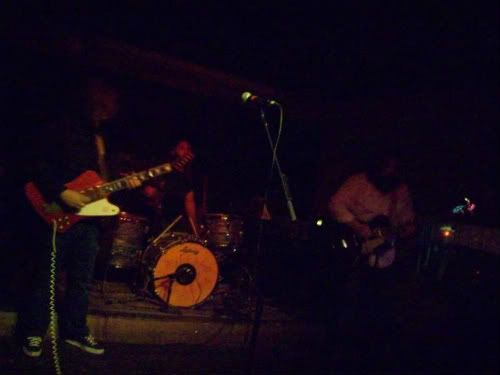 Pictured: Buffalo Killers@Ravari Room
Friday was Main Street Gospel and Cincinnati's Buffalo Killers at Ravari Room. For some reason I have a hard time catching MSG. It doesn't matter if they play first of last, they must just not want me to see them. Whatever Barry, Adam and Tito. I did get there in time to see me some Buffalo Killers. I mean long Cream-esque jams with the right amount of psych…all good. They also really kill buffaloes no shit.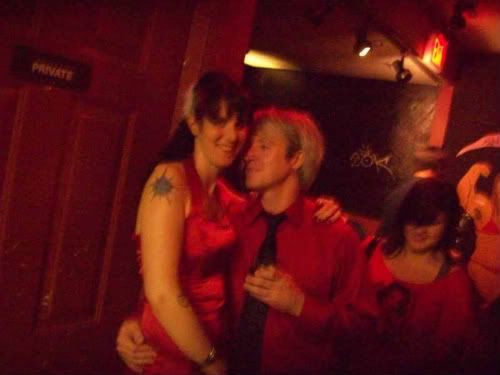 Pictured: Newlyweds Brian and Cassie Travis
Saturday was Brian Travis and Cassie Lewis, of Church of the Red Museum and rosehips, wedding day and their reception was at Carabar with The Lindsay and Brainbow. The nuptials were officiated by none other than Church of the Red Museum Drummer stud, Robby Coleman and everyone in attendance at the reception but me looked fan-fucking-tastic.

Pictured: The Lindsay@Carabar
The Lindsay play rock music with guitars. They are good.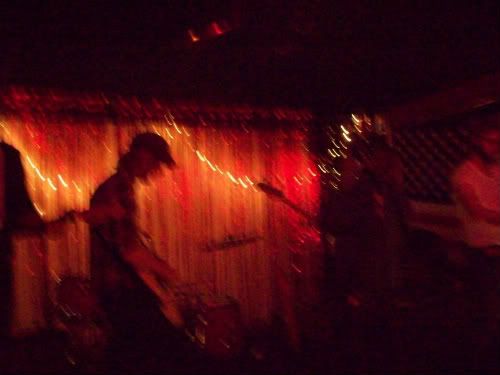 Pictured: Brainbow@Carabar
Brainbow play swirling, epic, distortion laden, beautiful instrumental masterpieces that make me wet.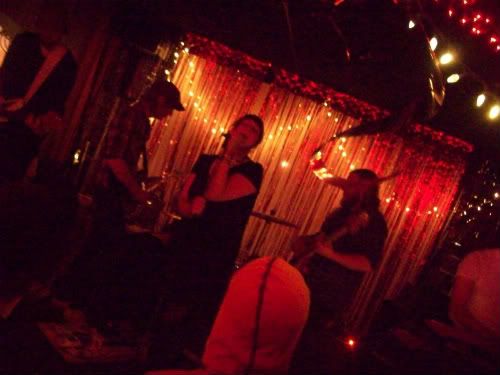 Pictured: Brainbow and Lara Yazvac@Carabar
Comfest reprise!!!
O.K. new week.
I'm not a big movie dude, but I was invited to go see Paranormal Activity on Monday night and said fuck it why not. I was quickly reminded why not. Those movie theaters will let anyone in! Seriously though, I had never been to Studio 35 before, so I thought that was reason enough to go. You heard about this movie? Oh man it's like totally like Blair Witch….PSYCHE…Big studio decides to virally market a shitty movie with limited release because they don't want everyone to see it and realize what a piece of shit it is. Have you seen the trailers? Best to leave it at that. I'm also convinced that's where I got sick. No Them Crooked Vultures show for me. C'est la vie.

Pictured: Jemina Pearl@The Summit
Decided I felt good enough to make it out on Friday night for BenCo presents Jemina Pearl, formerly of Be Your Own Pet at The Summit. Not really a BYOP fan but Jemina and I have something in common, we both hate people. The show was decent, garage rock with the BYOP chick singing. I honestly expected a better turnout because CD101 is playing the single and she did a Big Room performance the afternoon of the show. I met some dude that named his website after a Reno t-shirt. Whatever. Jemina loves Aleks.

Pictured: Gil Mantera's Party Dream
Look. Party Dream are great, getting greater and it's only a matter of time before theses dudes totally blow up. No shit.
Sorry tired of typing. Important shit to do.
This week I leave you with more Bobby Silver awesomeness.