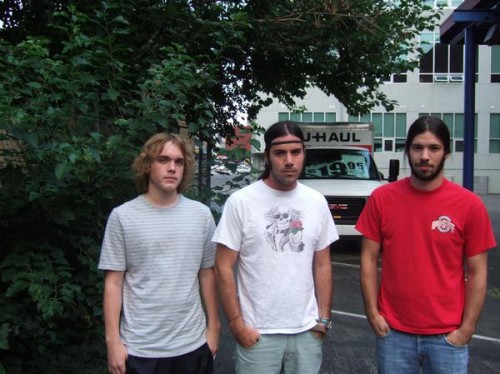 Mount Carmel has been getting some local love on the message board recently, and the band's profile is sure to grow before our very eyes with news of the trio's next record coming out on Siltbreeze — an especially familiar name in Columbus b/c of Times New Viking, Psychedelic Horseshit and ex-pat Pink Reason, all of whom have releases on the boutique Philly label. (Good work, Columbus.)
Ah, but don't start the gripefest just yet, shitgaze haters. If you're not familiar with Mount Carmel, this trio — Kevin Skubak and brothers Pat and Matthew Reed — gets compared to Cream whenever I hear their name come up. So you're more likely to catch them playing with fellow blues-rock lovers The Main Street Gospel than with local Siltbreeze labelmates.
Still, it's blues-rock under the influence of Siltbreeze's longtime Ohio affiliate Mike Rep. And maybe it's not such a big leap for Siltbreeze after all, given TNV's infatuation with the '60s. Now Mount Carmel brings us the '70s. (I know, Cream broke up in '69. But you get what I mean.)
Anyway, as Pat Reed tells Donewaiting, "We went to Musicol with Mike [Rep] and Adam Smith for a day this summer. They set a bunch of mics and stuff up and we played. We had a real fun time." Rep and Smith also mixed the album, which Reed says should be around 40 minutes and is due to come out in late February or March on Siltbreeze.
Upcoming Mount Carmel shows in Columbus:
11/6: The Treehouse w/ Brainbow, Val
11/23: Carabar w/ Earthless
12/26: Carabar w/ Nick Tolford and Company
In-the-studio video of the song "Still Listening" after the jump: