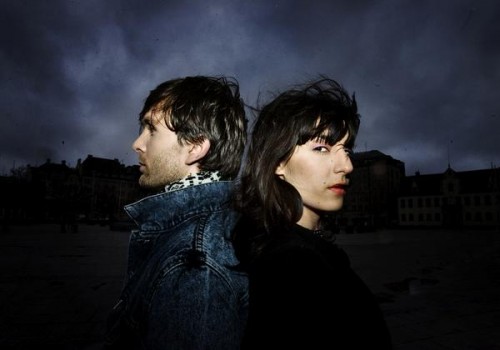 MP3: My Heart
The continuing flow of freshness coming out of Sweden in the last two years has made my faith in music exceedingly high and my bank account balance exceedingly low (yes, I do still pay for music). One of my favorites has to be husband-and-wife duo Andreas Werliin and Mariam Wallentin, better known as Wildbirds & Peacedrums.
Happening upon the "There Is No Light" video a couple months back made me an instant fan. Though it's reminiscent of The White Stripes' "The Hardest Button to Button" moving-drum video, it's chock full of (good) art-school flair. This song seems to serve as the centerpiece of The Snake (released in August), being infectiously upbeat and enjoyable for those not so interested in Bjork-like tunes.
The two have managed to make music that's amazingly simple (just percussion and vocals, with the occasional electronic samples and strings) yet full of life and emotion. This album has the power to take you on a journey through their imaginations while touching on an array of musical genres. Wallentin's voice is soulful chant-folk, reminding me of a New Age Native American in tracks like "Places" and "Great Lines." She lets it all sweetly bleed out in the final track, "My Heart," which may prove to be the most palatable song on the album. Werliin must also be commended for his incredible control of all percussion instruments, which keeps the mood intact not only through every song, but for the album as a whole.
Having now released two albums on UK-based label Leaf (Heartcore was in 2008; The Snake is on The Control Group in the U.S.), and supporting such acts as Bonnie "Prince" Billy, Wildbirds and Peacedrums are surely a band to keep an eye on (and hope to see in Columbus).
"There is No Light"
http://myspacetv.com/index.cfm?fuseaction=vids.individual&videoid=30201338