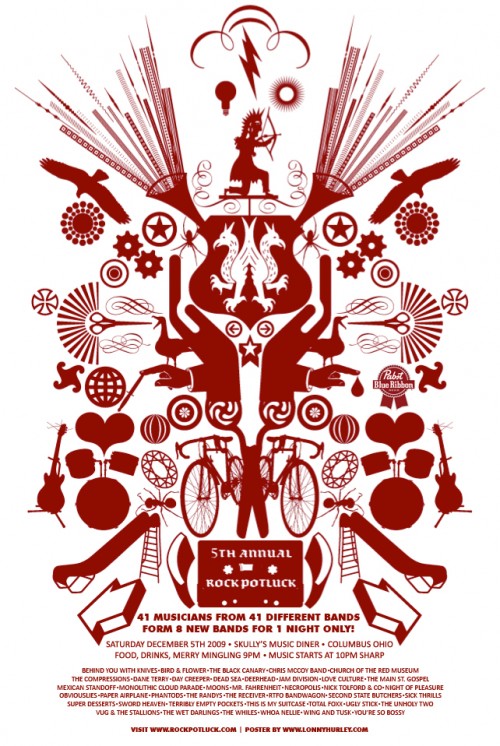 Picture this. You're a musician. You're in a local band that's created a steady fan base. You want to test the waters of your talent, so you accept a challenge that matches you randomly with four other people to form a band. You then have 8 hours to come up with two original songs and one cover with these people whose musical limitations are potentially a mystery. Following the minimal time spent conjuring up and practicing these songs, you must perform them in front of a full audience of your Columbus peers. Oh, and on top of all that, this year you get filmed every step of the way. Nervousness ensues, the pressure's on. Welcome to the Rock Potluck of '09.
In its 5th year of existence, the Potluck continues its raw artistic event, boasting a roster of 41 musicians from 41 Columbus bands. Though both the challenge and combination of personalities thrown together seem like an equation for an explosive reality TV show, there is an underlying positivity. The Potluck's coordinator, Bobby Miller, feels that the event "helps bring the entire Columbus music community together in a very unique and supportive way. Each band creates a bond and ultimately the experience they go through and the music they make together is something really exciting to hear and watch and something they can all be proud of." More than one band created within the event has continued to play out after the fact. Sandwitch, born in the '03 Potluck (made up of Ron House, John Olexovitch, Brett Burleson, Bobby Silver and Zac Szymusiak) has put out a 7", played at last year's SXSW and will soon be releasing a full-length record on Columbus Discount Records.
Full documentation of each band's creative processes will be the new spin on this year's event. Teams of local filmmakers have volunteered their services to follow each band with a goal of compiling all of the footage into a feature that will hopefully screen in late spring.
This year's event will take place on December 5th at Skully's. Guests are encouraged to bring food that will be served at 9pm, along with donations from local businesses. The music will start promptly at 10 and there will be a $5 cover. Portions of the proceeds will go to the Columbus Music Co-op as well as the making of this year's documentary. Please go out and support our local musicians and all the hard work that has gone into continuing this event. Who knows what Columbus superband could come out of the woodwork this time?
Sandwitch: