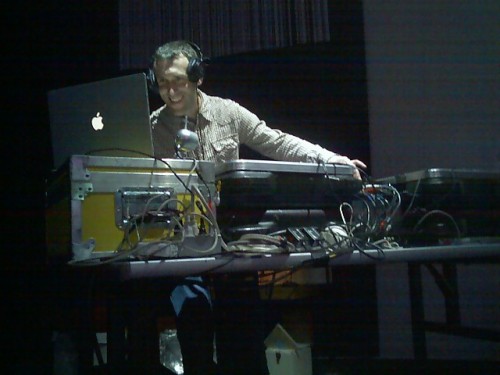 RJD2 is headlining Donewaiting's 7 Year Anniversary February 5th in Columbus and we couldn't be more delighted.
In the past our anniversary's line-ups weren't slouchs. Last year's event was the start of a pretty good year for quite a few of the performers:
– Envelope became CD101's favorite rapper.
– Adulture moved to Chicago and formed a disco- house group Le Principle which promplty signed to Tommy Sunshine's Brooklyn Arts label and will be on comps with Felix da House cats.
– And of course DW bloggers Two Cow Garage jumped on tour with The Hold Steady. That's just one year.
What about Blueprint and Brainbow? The various Fat Possum groups. Sinkane? DW has been quite blessed with the artists that fuck with our site
While we are real proud and honored to have such good talent willing to play our showcases, obviously RJD2 is our biggest show yet. RJ bounced to Philly from Columbus a good while ago. Since then he became the "next DJ Shadow" to the point you could argue that Josh Davis is in RJ's shadow. Doods done Hip Hop classics. RJ's remixed Radiohead.
In addition to his released catalog , the Clintonville kid's music has provided licensed sound scapes for everything from a Rodney Mullen skate video to the Emmy-award winning TV show Mad Men.
Of course y'all know the name.
RJ has sold out the Wexner and Skully's every time he has played since moving. Despite being one of the most critically acclaimed and musically successful people ever to graduate from Fort Hayes, RJ has made it a point to never lose contact with his friends and family in Columbus.
He eats at Surly Girl with his BFF Liz Lessner.
Dood still plays music with old roommate Derek Dicenzo
Rj organized a benefit for his father when his pops was injured in a bike accident. And the superproducer marched in the Daymon Day Parade a few years. Irregular Dood still stays grounded doing regular people things.
Just last week he recommend "Global Brain" by Howard Bloom to me. Book is blowing my mind.
The Donewaiting showcase at Skully's will double as the release party for RJ's new album The Colossus which hits stores January 19th. Is that MLK Day?
More details about this album and the Donewaiting showcase will be revealed as we near the February 5th show.
Why are we talking this early about it? Well Pitchfork leaked RJ's tourdates yesterday. Even misspelled Skully's(shucks). So we figured the cat was gonna get out of the backpack anyway. Lock-in to DW and RJ's website.
PS: Brooklyn anniversary show to be announced soon, too.