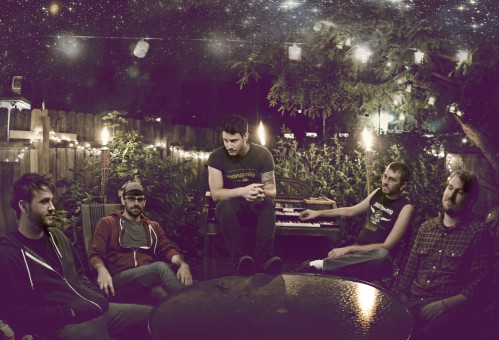 Columbus band Six Gallery inked a deal with German label Superball Music (Trail of Dead). The label, along with label InsideOut, recently announced that they will be cooperating with Century Media Records and EMI Music to distribute their artists' music worldwide. The official press release will be out soon, but I decided to talk to Six Gallery's singer/guitarist Daniel Francis (former Pirate) first.
How did this deal with Superball come about and how much time has passed since the beginning stage?
The entire record deal probably took about two months worth of conversation. We emailed someone. He was completely disinterested. We kindly asked him if there was anyone he might know who would like it and here we are..
So I understand SG's record Breakthroughs in Modern Art will be the first record released on the Superball in 2010?
As far as I know, that is correct.
And it will be distributed in Hollister stores in the US and Canada? What are your thoughts on this?
There's no reason to not distribute your music as widely as possible. I'm too cool for Hollister? No, I'm not too cool. There's nothing keeping people who shop there from being uneducated in music. People find bands they like in stranger places.
How do you feel about your music being distributed worldwide?
Awesome. I'm 27. I've been working toward this for half of my life now. I'm completely stoked. The more you can get your music into people's ears, the more they can like you. Or hate you. Either way.
I'm sure you're excited to be label mates with Trail of Dead.
Yea, they've been around for a number of years, strongly supporting their albums. I hope at some point I actually get to meet them.
I've noticed that SG has been one of the most proactive, self-promoting bands on the Columbus scene in the last year or so. It has obviously worked in your favor. When you all set out with goals for the band, did you anticipate everything happening the way it did?
Absolutely not. You work as hard as you think you should be working. We have all been on the same page and have all worked really hard. First, when you record the music, it's good enough or it's not good enough. After it's all been made, you just need to make it your job to get it out.
We've discussed the importance of Columbus bands being proud of the fact that the music they've created is in part due to the environment surrounding them. How do you feel being signed will or will not change your creative processes?
There's no amount of time or distance that being a product of your environment will change. It will always be a part of you. While you're making music, where you come from will always be a part of what you're making.
——————————————
Six Gallery will play the 2010 SXSW Festival, and in Columbus you can catch them next at the Holiday Show at Skully's on December 19th with Phantods, The Receiver and The Alphabet.
(Photo by Alysse Gafkjan)