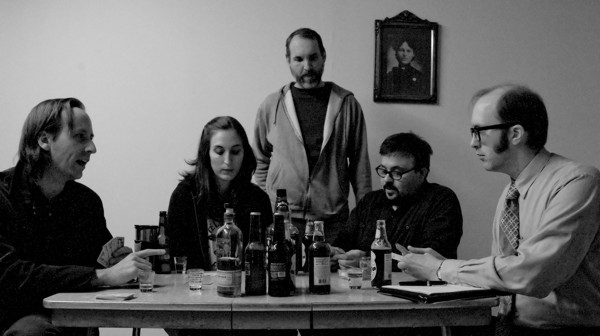 MP3: Bush League All-Stars – Gravity's Heart
After more than a decade since emerging from the ashes of Greenhorn, and 8 months since solidifying the current version of membership, Dan Spurgeon leads the Bush League All-Stars in debuting Cedar Knees this Friday. Reflecting the deep resumes of the members, all of whom have had success around town in the gamut of genres, the record varies from sweet to stomping (but tends towards the latter).
Most songs seem to fall somewhere in the spectrum between the smart piano alehouse-pop of the Hold Steady and a more visceral American camaro-rock. If you're looking for deep sentiment or brooding, look away. I'm left mostly with the impression that the songs are as fun to play as they are to listen to. It's got the vigor of a summertime record, almost a shame to dump it on the market when people are hunkering down under their comforters to watch crappy DVDs. Don't let the weather stop ya though. The release show is Friday, December 11th at The Summit. Hand-screened CDs make great stocking stuffers.
And speaking of great bands that have built up a little cred over the years, joining BLAS for the night are big shots Pretty Mighty Mighty and You're So Bossy. Whoa. Really. This is gonna be good.