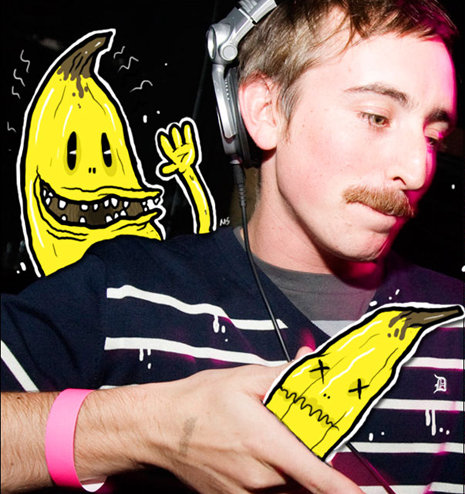 MP3:Kid Cudi, Kanye West, & Common-Make Her Say (Sammy_Bananas_Remix)
Sammy Banana's is playing at Bristol Bar this Friday along with CJ Townsend, and DJ Dan from Paradise Garage. He puts out music on Fool's Gold Records (A-trak, Kid Sister, Cool Kids etc). The New York Native dejays all-around the globe.
I met Sammy in the beginning of November. Dood booked Columbus' CJ Townsend to play at Piano's in the Lower East Side of Manhattan.
I was in the city, hanging out with Pat, and Mike of the Carney family
We met CJ and Lil Franz up at Piano's because it was CJ's 21st bday. (if you know me, ask me about me getting really drunk and stomping on a grown man's feet, and trying to run his pocket because I was confused of his intentions and didn't like how he looked in general)
Sammy played classic New York rap half the time, and house the other half.
CJ and Sammy sampled Gucci Mane's adlib "Burr" "Burr",and would press a button that would repeatedly make this adlib audible at random intervals whenever they felt like it.
Regardless of what music they were playing.
Be it Golded Era Hip Hop, House, New Jack Swing, Electro or Fidget R+B.
Even though we were drunk in NYC, it felt like we were in Columbus.
Sammy really likes R+B and New Jack Swing. He is huge fan of the 90's. So I figured I'd quiz him on his preferences.
In Living Color or SNL with Chris Rock?
In Living Color. I like the Fly Girls.

Living Single or Family Matters?
Neither.
Living Single was was the show that Friend's appropriated for white people like Elvis and Family Matters had Urkel.
Definately didn't watch Urkel.
Family Ties or Alf?
Alf. I'm fond of Aliens. I'm a a big XFIles fan.
Haha..perfect…Fresh Prince or Independence day
Independance Day is a good movie. But I'm going to go with Fresh Prince.
But Independence Day had aliens.
I said I like Indepedence Day. It is a good movie. But Fresh Prince captured the 90's, Fresh Prince had juxtapositions that allowed for comedic events to transpire.

I love Trading Places movies. Like that one with Eddie Murphy where he trades places. Whats that called? Trading Places
Yeah.
So Fool's Gold is owned by Atrak who is Kanye's Dejay.
A-trak was Kanye's Dejay. Kanye's show has grown into something that doesn't need a dejay. It's a spectacle.
OK…But A-trak was Kanye's dejay which means you have an insider's vantage point. Which rappers are members of the reptillian race?
Uh…
There are you tube videos exposing the reptillians. I was wondering which ones you know about.
Well. Lil Wayne always raps about being an alien. Self-admitted. I believe he said." I am a martian". Without implicating anyone.
I have a Flukeman T-Shirt. Who is your favorite XFiles Character?
That's tough. I'm rewatching Xfiles . I just watched a great episode that starred Jack Black and Giovanni Ribsi. The character had controls of both the electric power and the lighnting. So he used these powers to kill people.
My favorite reoccurring character is Agent Skinner. It seemed like sometime he was trying to shut them down. Other times he was looking out for them. It's a complex role.

Yeah…couldn't tell if he was looking out or what his agenda was.
Let me ask some more 90's questions.

Michael Jackson's Bad or Dangerous?
Dangerous. I was too young when Thriller and Bad came out to understand it. When I first saw the Bad video I was confused. Why are they dancing in a Subway? Dangerous was my first introduction to New Jack Swing. The production was Teddy Riley influenced. It opened the door for the New Jack Swing . It was like the Gateway drug for the music I play and mix Because all the songs but the corny ones were New Jack Swing influenced. I don't mean to corny in a bad way. I like corny music. They were a different corny.
I didn't listen to Tribe until 96.I listened to Hip Hop, R+B and grunge. So what got me into hip hop and R+B was Dangerous, Boyz 2 Men, and Bobby Brown.
So Who do you take on the Tribe/Wrecks n Effect fued?
No comment.
okk…Kurt Cobain or Tupac.
Kurt Cobain. Don't get me wrong. Tupac was talented. But I am biased growing in the North East and going to school in Cambridge. So I was on the Biggie side of things. Tupac didn't seem to have control as far as his image. He didn't seem authentic. Not that things have to be authentic. I'm not authentic. I am upper middle class whitekid playing Hip Hop and R+B. But Tupac's background and the dream he was following didn't match-up.
Now Kurt Cobain. He was a true punk from his beginning to the end.
How did you start dejaying?
My first DJ gig was at a dance at my Hiigh School. In 98. I played "Superthug" by Noreaga, Camp Lo's Luchini, Big Pun "Not Player"..What else did I play? I think I tried to play Chemical Brothers but no one liked it. I played "Deja Vu" by Lord Tariq & Peter Guns.
How did you make the transistion from Hip Hop to Electronic music?
Right after that dance I tried mess around with rappers. I began to sample and make instrumentals for songs I was playing. So I wanted to make dance mixes. I really like R+B music.
Yeah everything from T-Pain to Erykad Badu is pretty amazing and futuristic.
I think the new Alicia Keys song is very progressive even though I hate using the word progressive. It sounds like Prince but doesnt sound like Prince. It sounds like 2010.
You did the braids and fades project? Whats next?
I have this group Telephoned with Maggie Horn. It's a mixtape with us covering songs hooks over original remixes and its completely blended. It's a super-original idea. If I can say that about my own music. It has flow.
here is what these remixes of cover songs soundlike unmixed)
Telephoned-Turn My Swag On ft. Telli_Federline
What should be expect Friday at Bristol Bar?
New dance music and R+B favorites. Columbus has been good to me. It's a fun and not pretentious like some of the bigger scenes.
Peoplle seem more willing for fun.
CJ and Kareem from the Milk Bar have been cool
CJ told me to ask you about bacon? You eat a lot of bacon?
Bacon is long-running joke that CJ and I have based on Gucci Mane's "Gucci" adlib. Everytime he says Gucci, we yell "bacon".
I went from being a strict vegetarian to eating bacon.
Just got burnt out on it? Were you veg in High School?
Actually, I was vegetarian in college. Mostly for political reasons. The way meat is raised, and industrialized.
Now I just try to find meat that isn't part of this process.
Factory farming?
I try. At the same time I just ate a Vietnamese sandwhich where I have no idea where the meat was from.