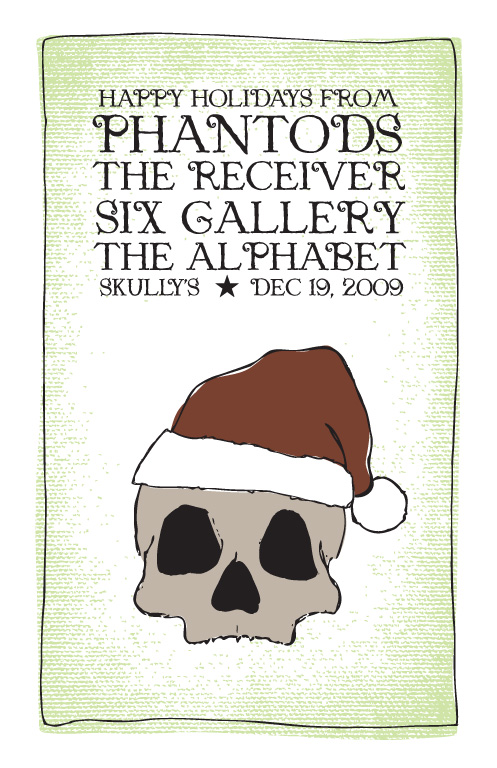 MP3: The Receiver – Skin and Bone
This Saturday, Phantods will be hosting a holiday show featuring The Alphabet, Six Gallery and The Receiver. I caught up with Casey Cooper from The Receiver about his thoughts on the holiday season and the coming year.
What can we expect for Saturday night's show?
This is meant to be a holiday show for The Phantods, with each band invited to play a holiday song or two if they'd like. Phantods asked us to play a little while back. And because we love their music, we were all about playing with them.
Ok, so on a scale of 1-10, how much do you like holiday music?
I'd say overall, about 6. It works for me mostly on Christmas Eve and Day, but that's about it. I've always been a fan of orchestral music, so I can appreciate that aspect of most holiday music played on the radio. The only holiday music that I voluntarily play throughout the span of the season is A Charlie Brown Christmas by Vince Guaraldi Trio. I can listen to that album over and over without getting sick of it.
Continued after the jump
What do you listen to during the cold Ohio months?
I tend to listen to a lot of mellow music during the winter. Anything that comes across as sounding warm I gravitate towards, as I assume most people do during this season. The dark and cold weather make most of us want to stay inside and hibernate, so I think musical tastes generally follow suit.
What 3 albums are you hoping to receive this year?
(three albums I've listened to a lot and should already own…but…)
Air "Love 2"
Mew "No More Stories…"
The Beatles "Magical Mystery Tour" (Mono Remaster 2009)
Has The Receiver written any holiday songs? If not, and you were to, what would it be about?
We haven't ever written any holiday songs. But I do remember writing one of our songs "Strength in Numbers" during a blizzard. I was completely snowed in at the studio I was working in for the weekend, and something about the cold weather had a huge inspiration on the final result. I really wanted a sound that was textured, relaxed, and warm, sort of like a blanket. And we even put sleigh bells over the last half of the song to drive the point home. After three days of steady snow and writing, the song was pretty much finished.
(Per the last year:)
What has been the highlight of 2009 for The Receiver?
The highlight was definitely the final recording/mixing/mastering and release of our new record Length of Arms. We put a lot of work into that album, and it's been a lot of fun touring and sharing it with friends and fans. The studio process is very exciting as a musician, and it's always a gratifying experience when you can release what you've done behind closed doors.
What are you looking forward to in 2010?
I think I'll be focusing a lot on writing new material for our third record. We've been playing a lot over the past 6 months, so it will be nice to get back into a concentrated writing phase. That's always my favorite part of the entire musical process. But as always, we'll be playing on weekends here and there, local and regional. So we have that to look forward to as well.
Do you have any ambitious New Year's resolutions?
I'd like to put at least 3 hours a day into writing music as often as possible. I've been a little lazy these past couple months, and I'm hoping that the new year will inspire me to get busy and become way more productive. So if it all goes well and I can be disciplined, I'll hopefully have a full album's worth of new material by the end of next year.