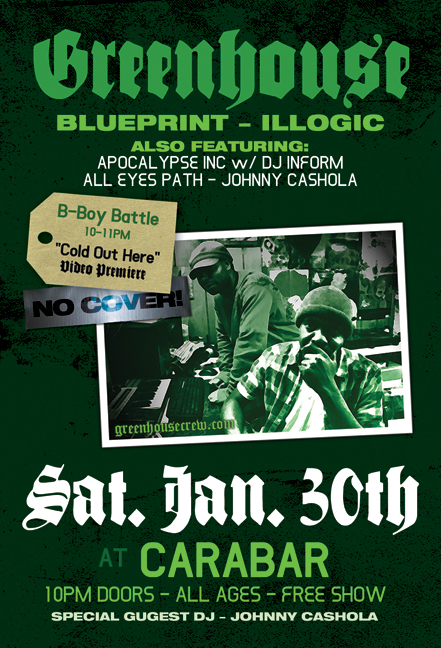 MP3: Greenhouse Featuring The Catalyst-Cold Out Here
My favorite two hip hop songs so far this Winter  are Jay Electronica's "Exhibit C",  and this Greenhouse/Catalyst collab, " Cold Out Here" from Greenhouse's EP, Electric Purgatory. On "Cold Out Here" all three emcees bring sobering depictions of how harsh these times can be.
Print raps about how stifling the world is right now, especially with the economy still fucked. Illogic speaks on ignoring detractors. And the Catalyst confesses to being an intoxicated, combustable mixture of talent and self-destructive tendencies in the midst of indifference.
Don't sleep on the Thought Setter's verse. Perfect for the winter blahs.
On Jan 30th, Greenhouse will be premiering the video for "Cold out Here" at Carabar. The show is free, all ages and will feature perfomances by Greenhouse, Apocalypse Inc., Johnny Cashola and All Eyes Path.