Editor's note: "Overlooked in Ohio" is a feature in which we ask an Ohio-based artist or music enthusiast to tell us about a few bands (past or present) from the state of Ohio that deserve some love. Our second installment comes courtesy of Mark Wyatt, former member of seminal Columbus band Great Plains and One Riot One Ranger; these days you'll find him singing behind the keyboard with The Beatdowns and Columbus Power Squadron. Here are Mark's reflections on and recollections of the Gibson Brothers.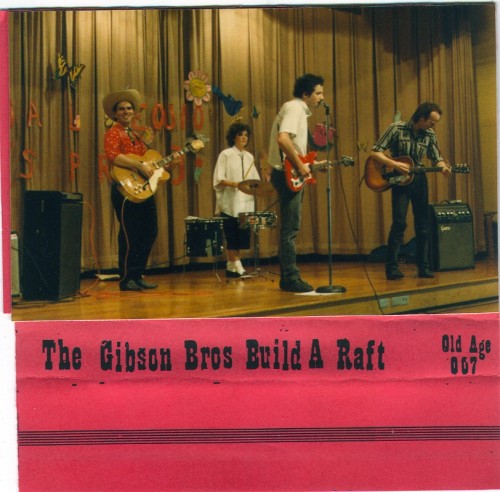 MP3: The Gibson Brothers – Big Pine Boogie off the 1987 cassette The Gibson Bros. Build a Raft (via Minimum Tillage Farming)
Jeez, where do I begin with these guys? At the beginning, I suppose. My brother Matt and I first met the eventual "lead" guitarist of the Gibbies, Don Howland, at a Ramones show in Cincinnati in the late 70's; he was hawking his fanzine Shake It! to the folks in line (don't hold me to that title…confirming it would require me to dig into my basement "archives"), we got to talking, realized we were fairly kindred spirits, and started a friendship which continues to this day. A friendship, I might add, that even endured him being a founding member of Great Plains, despite the fact that he didn't like the band well enough to even use his real name on the first record.
I already knew Dan Dow (the GB's acoustic rhythm guitarist) from Mole's Records, although the guy always played it so close to the vest that it's hard to say I really *knew* him… I can't recall when I met front man "Country Jeff" Evans or minimalist drummer Ellen Hoover, but I suspect it was when Jeff moved in with my next-door neighbor, the aforementioned Mr. Dow. I used to see Jeff coming back from the South Drive-In flea market on summer Saturday mornings, more often than not carrying some bizarre old amp or guitar, and I'd see Ellen and Jeff coming back from dates in one of Jeff's two ancient Cadillacs, the choice of which depended on which one was actually running at the time.
So, seeing as how they were all friends and/or neighbors, of course I checked out this Gibson Brothers thing when they first played out.
(Keep reading for more album art and words from Mark)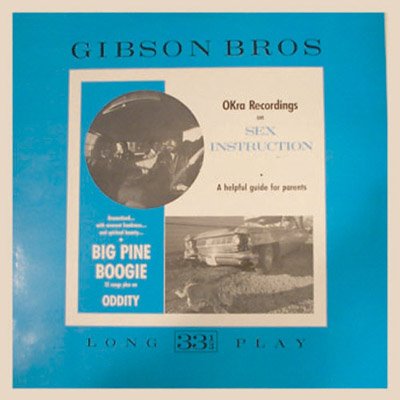 The band name, I was told, was because they really liked Gibson guitars, although I don't think I ever saw Howland play a guitar that cost more than 75 bucks, and that's rather under the going price for even used Gibsons… Right from the start, they were unlike any other band in Columbus…or pretty much anywhere else. Sure, there were elements of firmly established genres like rockabilly, country, and blues in their songs, but what ended up coming off the stage was anything but established. It's all too easy to say that they filtered all that roots stuff through a punk rock sensibility–that's the M.O. for every other alt-country band of the past two decades, or even of all the 80's LA roots and cowpunk bands, and the GB's sounded nothing like any of that.
OK, so I can tell you what they didn't sound like, but it's easier to just show you what they DID sound like, and thanks to Cruise Elroy's Minimum Tillage Farming blog, you can hear their very first release, The Gibson Brothers Build a Raft. Released as part of Mike "Rep" Hummel's Old Age cassette-only series, it features a studio side recorded in Harrisburg, OH, and a live side recorded at Avondale Elementary School (source of the awesome front-cover picture of them on the school's stage). A lot of it is pretty crude-sounding, even by their standards, but all the elements of everything that made them great are there…the twisted versions of obscure country and blues songs, fun stage patter, and an anything-goes notion of playing.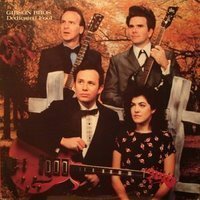 Since I mentioned stage patter, I'd be remiss if I didn't mention just how amazing the Gibbies were on stage. At any given Stache's show, Jeff would spend 20 minutes before a set at least setting up various strobe lights and color wheels…mostly to be pressed into service during their jaw-dropping version of Porter Wagoner's "The Rubber Room." And I've stolen Jeff's line "We're just priming the pump for the big entertainers…" many times as a warmup act myself. I don't think you'll ever see a Mel Bay book detailing the Jeff Evans Guitar Method, but as a front man, he was unparalleled. Dan Dow would turn his back to the crowd and bang away resolutely on his almost-inaudible acoustic, only facing front for his lead vocal turn on Neil Young's "Ohio," which featured rewritten couplets like "You stink and I smell you coming…you're dead in O-hi-o."
Ellen will tell you now that she was a terrible drummer, and that is wrong wrong wrong…she always kept a solid, steady beat as she stood up and played only a cymbal and snare. Finally, even in those days you could tell that Don was going to be something else on lead guitar…even on a piece of shit guitar that might or might not be in what the world would regard as standard tuning, he'd make the coolest sound you ever heard. Honestly, I'd put him up there with Johnny Thunders as a guy who can't play things "right" but can play things RIGHT…a real original. Of course, he's still showing the world that skill in the Bassholes.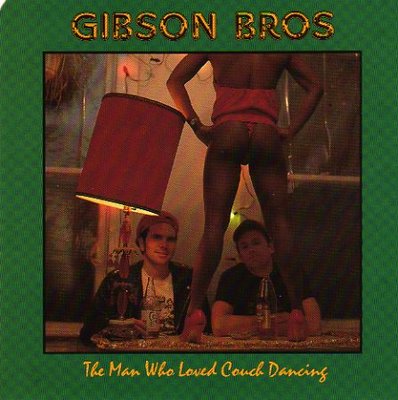 After this cassette, they would sign to Homestead Records…and I'd highly recommend you try to find Big Pine Boogie, Dedicated Fool, and The Man Who Loved Couch Dancing whatever way you can. Dan and Ellen would leave the band, records would come out on different labels, and others would join before the whole band fell apart, most notably Jon Spencer before he totally copped the GB's game with Jon Spencer Blues Explosion. While an actual reunion might be too much to hope for (long story…), I hope you agree with me that these guys are long overdue for some serious rediscovery.
(P.S. I should alert the gentle reader that I've been thanked on numerous Gibson Bros. releases, drove them to a show in Memphis, and even played melodica with them onstage once at Maxwell's, so take that for what you will…)