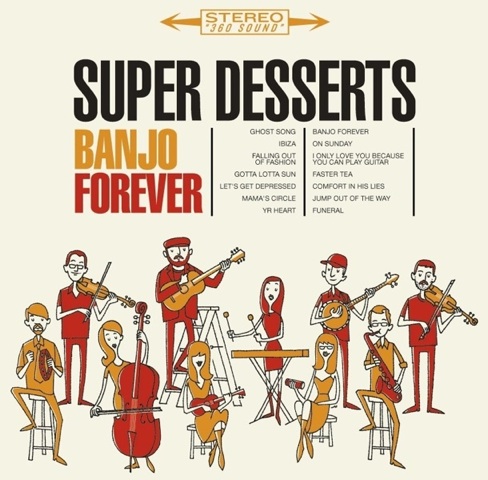 MP3: Yr Heart
The Super Desserts are set to release their new record Banjo Forever this Sunday (Jan. 24) at Used Kids Records. In a way, this is a new old record, as many tracks come from previously released material that have been remixed with added instrumentation. Singer/guitarist Bobby Miller explains: "Really it's just the culmination of a plan we had from day one. We set out to record as many songs as we could in a two-year span, releasing them in DIY fashion along the way. Then, we took our favorites and packaged them with the strongest of our "new" songs to create this record." Whether you're new to their music or not, their efforts don't seem to be in vain as they've managed to channel all of their energy into a highly enjoyable album.
This quirky gaggle of artists call on a variety of instruments (as with the first album, Barefoot in the Disenchanted Forest) that seem to tell stories of the mishaps of seeing life through melodic, rose-colored glasses. In fact, their airy way of tale-telling can refresh your inner child and leave you whistling, like in the track "Gotta Lotta Sun." While I'm left wanting to hear more new material, I'll be playing outstanding tracks such as the Sondre Lerche-like tune "Falling Out of Fashion," the charming "Yr Heart" and the tragically fun "I Only Love You Because You Can Play Guitar" on repeat for a while.
On Sunday you'll be able to purchase your own vinyl copy as well as catch an in-store performance from both Saintseneca and Super Desserts.