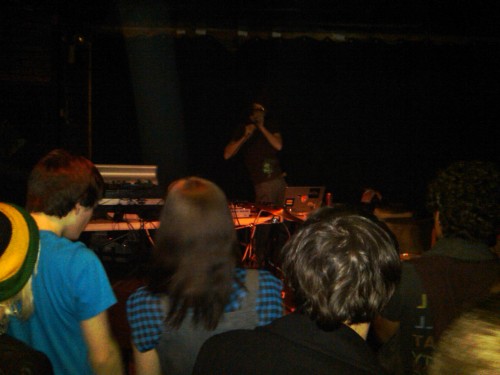 Atown's/Spain's Prefuse 73 thanked the crowd with humility after the end of his set because he was overwhelmed by the positive crowd response.
I'm not gonna lie, I've never listened to Prefuse in my life aside from when he played with Edan at the Wex but I did enjoy the soft toned layers of sound over the live drums.
It had a very earthy warmth to it…. like being at a cave near a beach with water trickling in.
I think his performance was more refined than the opener that I came to see, the Muthafucking Gaslamp Killer.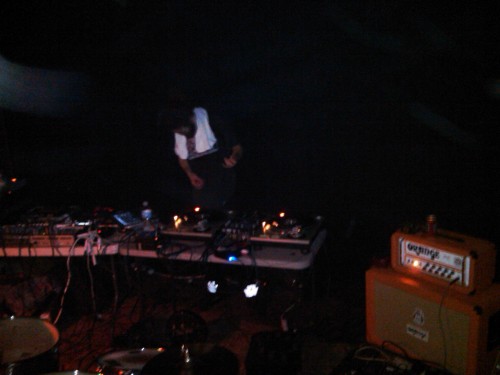 Gaslamp Killer
Of course,Gaslamp only did a dejay set so maybe he was just playing his part as an opener.
The Los Angeles DJ/ producer/Flying Lotus/Stones Throw affiliate awkwardly blended a broad spectrum of music. Dropping everything from Turkish Psych to Indelible Emcees to NIN to Snoop Dawg to Dubstep.
Someone yelled play some dubstep while he was playing dubstep.
Womp womp womp womp in Charlie Brown teacher voice as they call dubstep on the Hollertronix board…dubstep is truely the new drum n bass.
The Summit was packed from front to back when he performed with a good amount of ravers, and hippies.
If a dejay is from Philly, Bmore, BK or another East Coast city the crowd is gonna be more preppy either hipsterhopped or indie rocked out.
If a dejay is from out West then hella hippies will be in the building
Make sense. Hippies get their trends from SF.
Hipsters..out East.
Gaslamp is from LA.  He is white and has dreads.
Though I was surprised by the patchouli in the air, I still enjoyed his performance.
The crowd at the sold-out Summit loved it. Before Gaslamp ended his set with Live @ the BBQ and Mr. Sandman, Gaslamp announced that this was the best show on the tour so far.
He had a huge line at the merch booth so I guess you will be seeing Gaslamp tshirts around town.