Editor's note: "Overlooked in Ohio" is a feature in which we ask an Ohio-based artist/music enthusiast to tell us about a few bands (past or present) from the state of Ohio that deserve some love. Our third installment comes courtesy of Bela Koe-Krompecher, a staple of the Columbus rock scene and head of the soon-to-be-revived Anyway Records — former home of Gaunt, The New Bomb Turks and countless other "important" Columbus bands, including this volume's subject, Greenhorn. …This is a long one, but do yourself a big favor and read the whole thing… (All photos by Jay Brown.)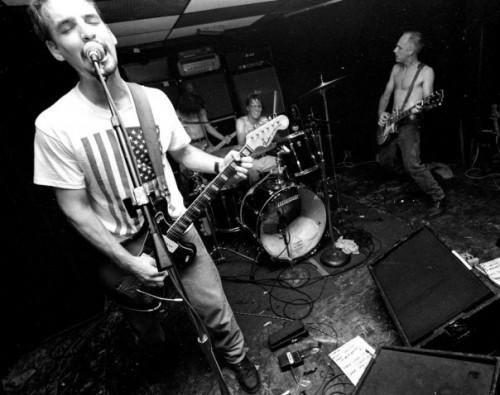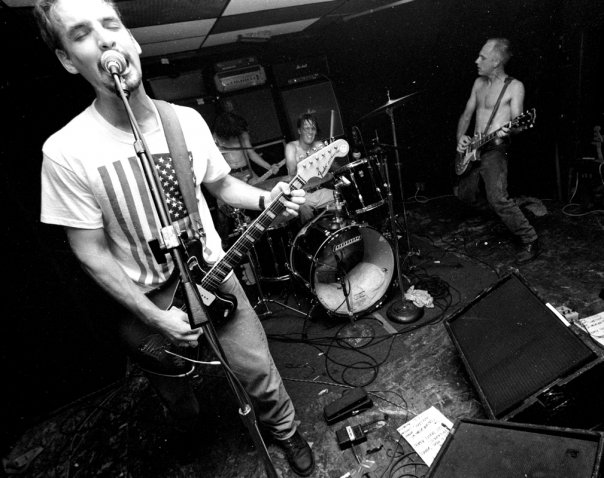 MP3: Unreleased Greenhorn album (courtesy Minimum Tillage Farming, who also has two others here)
In 1990 there was a force in Columbus that shook the walls and very foundation of such hallowed halls as Stache's and Bernie's. While it may be the easiest assumption to think that this force was The New Bomb Turks, Gaunt or the Thomas Jefferson Slave Apartments (who were all sharpening their guttural and whiny blasts of intellectual yet primordial rage to be unleashed on an unsuspecting public), none of them could hold a candle to the utter force of Greenhorn. Consisting of two sets of brothers out of the ashes of the first Datapanik band, Two Hour Trip, Greenhorn was Midwestern to the core, but they inflicted an audio assault that ranks with the best of American rock and roll.
The Columbus music community gathered around Greenhorn like ants around a dropped sucker. Everybody loved them — the punks, the junkies, the feminists (riot grrls?), indie-rockers and even the college crowd. There was nothing ironic or tongue-in-cheek about the music nor the lyrics. In fact, primary songwriter Dan Spurgeon was not afraid to let his emotions hang on his sleeve, and many of his songs consisted of paeans of love to his future (and ex-) wife. As any good-minded record geek knows, being this upfront and exposed in music is a dangerous and daunting task, especially for a male songwriter. Chan Marshall may be able to do it, but you'd be hard-pressed to believe Steve Malkmus could ever do it with a straight face, let alone Ron House.
Part of the effect of Greenhorn was the sheer potency of the Greenhorn live show; these fuckers stacked the back of the stage with a wall of Marshall amps. From floor to ceiling, the rhythm section consisted of Pat (drums) and Steve (bass) McGann, two intelligent, good-old boys with handsome boyish charm that flooded the stage with exuberance whenever they played. Steve had an intrinsic "I-dare-you" attitude that he wore on his bass, playing this out by removing two of his bass strings — the musical equivalent of "we don't need any stinking badges!" Dan sang and played rhythm guitar while his older and shirtless brother Mark played lead, adding snaky leads over Dan's simple yet vigorous songs.
(Keep reading for more on Greenhorn from Bela. Seriously. Do it.)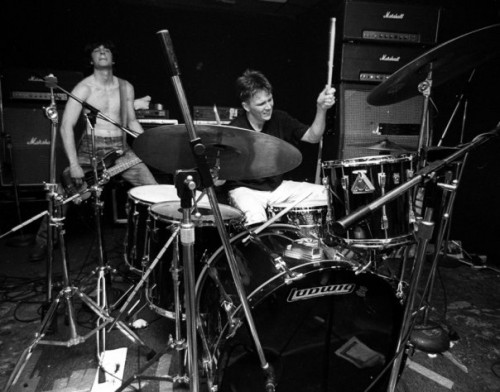 If you grew up in Ohio during the 1970s and '80s you were forced to listen and gain an appreciation of classic rock. Every city had the one station that dominated the airwaves. In Cleveland it was WMMS, in Dayton WTUE and in Columbus it was QFM 96, the runt of the big three. I used to hear R.E.M. and Los Lobos on WTUE, sandwiched between ZZ Top, Def Leppard and Billy Squire. The old horses that should have been laid out to pasture weren't quite as old then, as it was only ten years or so since The Who, Lynyrd Skynyrd and Neil Young burst on the FM scene. At the same time most of us music freaks dug deep and found salvation in punk (Dead Boys, Ramones), UK imports (Elvis Costello, The Jam) and the burgeoning American underground scene based mostly around the SST and Homestead labels (the Minutemen, Black Flag, Sonic Youth and Dinosaur Jr.). Every college town had a loud band that was an amalgamation of this sound. In the Northwest it was bands like the Screaming Trees (the closest equivalent in sound to Greenhorn), Nirvana and Mudhoney. Boston had Dinosaur and the Throwing Muses. Cincinnati had the Ass Ponys. Gainesville the Silos. And Columbus had Greenhorn, a blistering, wicked sound that rocked harder and better than anything Columbus had seen before.
At the time, it was a no-brainer that Greenhorn would be the band that broke out of Columbus. They had the sound, the authenticity, the look (all the men were devastatingly good looking) and the chops. The songs were fucking killer — I mean like "Freak Scene" or "Barstool Blues" good. There was a tension to the band the was inflicted upon the audience — not a standoffish "fuck-you" tension, but more of a fucked-up-family-Christmas-gathering tension that developed between the brothers. Maybe it was a mixture of two art-minded liberals (Dan and Mark) paired with two country-loving conservatives who could give a fuck about French movies and Chuck Close. Maybe it was a mix of incredible egos, who managed to make magic upon playing music together from the get-go only to be combustible when the music ended. Whatever it was, it combined to make a hearty beefy stew of plaintive yet ragged music that has the best of the boys' record collection, from the squall of Dinosaur and Neil Young to the simple songwriting of the (sadly) forgotten Silos.
They did not strike the music community outside of Columbus with the same force as the Turks, Gaunt and TJSA, mostly due to the fact that their earliest singles could not capture their live sound and didn't lend itself to the more punk tendencies of the 7" format. But they made some immediate fans. I remember talking to Dave Shouse of the Grifters and he was talking about playing a warehouse space the previous weekend in New York with "some band from Columbus who kept hauling all these Marshall amps up three flights of stairs and then proceeded to leave everybody in the crowd floored." He then looked up and saw Dan Spurgeon walking across the Stache's stage and said, "That's the fucking singer." That was part of a series of shows put on by Gerard Cosloy during the summer of 1991. Tim Adams from Ajax put out an early single. They appeared on a highly respected double 10" record put out by the Boston-based label Pop Narcotic that featured the aforementioned Grifters as well as Polvo and Helium.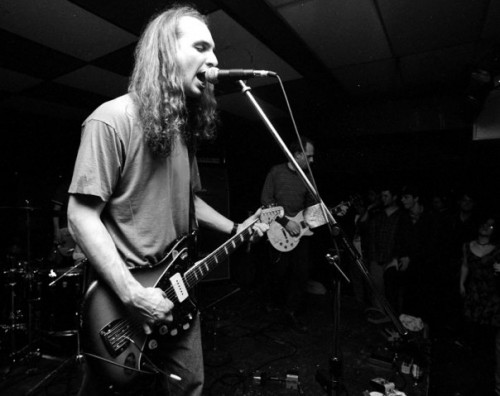 At the time of their first break-up they were being heavily courted by Alias Records and had interest from Columbia and Capitol. I have no reason why Columbia backed off from the band as they appeared to be a no-brainer to me and I had extensive discussions with the A&R rep from Columbia (Dawn Debuis) about the band. Anyway, in the midst of contract negotiations with Alias (who at that time sported the following bands on the label: American Music Club, Yo La Tengo and Archers of Loaf), the band inexplicably broke up. Both the McGann brothers went on to the join the similar-sounding Big Back Forty while Dan plunged ahead and formed Bush League (later re-named Bush League All-Stars). Soon thereafter Big Back Forty signed with Polygram and released one record, and Bush League recorded a more Replacements-tinged record for Pop Narcotic consisting of a few Greenhorn songs.
Greenhorn reformed in 1998 and made a stab at another record. They were still good, although they had lost some of the innocent bombast of their earlier incarnation. Soon the brothers McGann left to go to medical and law school. Danny restarted the Bush League All-Stars and joined Jenny Mae's band, bolstering her sound with his hefty guitar playing. Greenhorn finally released their first full-length in the mid-aughts, a self-titled affair that by no means is a disappointment but lacks the fire of their early, (mostly) unreleased recordings.
Recently Dan Spurgeon supplied me with five CDs of what appears to be the entire studio (with some excellent live) recordings. Listening to them over the past few weeks, I am quite certain that these recordings contain the best Ohio record never released. It is easily on par with the best of the Mice, Guided by Voices and Ass Ponys records. Nick Schuld has complied many of these recordings and some can be found here. If I had the brains and money I would release all of these recordings as a nice box set, but I've always been broke and kinda dumb.
Big Back Forty released one record on Polygram, a somewhat quiet affair that sounds like a hangover from the rattle of Greenhorn. It's somewhat alarming to listen to the McGanns play quietly around songwriter Sean Beal's appealing yet restrained tales that would not be too out-of-place in the hushed confines of any coffee shop or bookstore. Even when allowed to break out a cowbell the McGanns are kept quiet, almost as if the bell is to be used as a decoration. Big Back 40 never had the indie cred in Columbus, and sadly I was one who dismissed them — more over my disappointment over Greenhorn collapsing. But fans of Souled American, Mark Kozelek and Old 97's would find comfort in their songs.
Bush League All-Stars have released two records, the hard-to-find Pop Narcotic debut, which is somewhat an item on the Americana collector's scene, and the new Cedar Knees. The debut was a janglier affair than Greenhorn ever was. In a way the songs were somewhat underplayed, as if the rest of the band was too self-conscious of Dan's previous stature in Greenhorn. Cedar Knees is a confident stab of music. Pulled around Dan's excellent sense of melody, it bears the mark of a punk sensibility grounded in the song structures of Randy Newman.
It is truly a shame that Dan Spurgeon has never gotten his due as one of the finest Midwestern songwriters in decades.