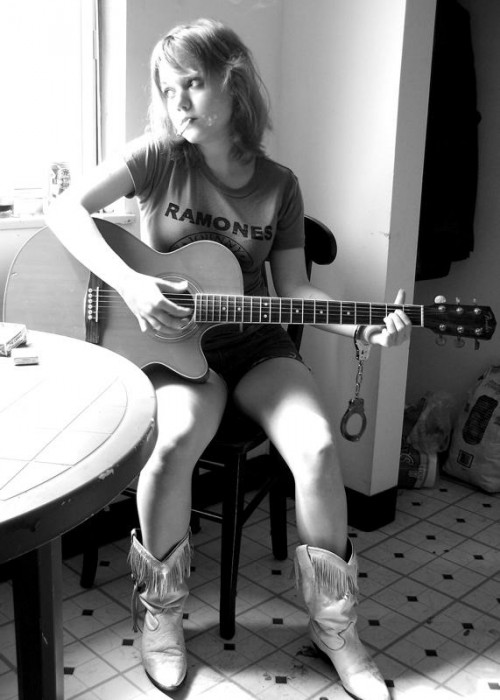 Lydia Loveless celebrates the release of The Only Man on Saturday night at Rumba Cafe. Micah Schnabel (Two Cow Garage), Todd May, and Akillis Green will also perform.
MP3: Girls Suck
It's about time – along with a good contingent of Columbus music fans, I've been waiting on this debut by spitfire country-punk Lydia Loveless for what seems like years. And, as cliche as it sounds, the wait was worth it as The Only Man (Peloton Records) is a timeless collection of heart-weary tracks written by a 19-year-old well beyond her years.
Since the dawn of time, songwriters have been afforded the luxury of straddling the line between truth and fiction and it's hard to tell just how much of Loveless's real life she brings into her lyrics. If these songs are all true life testimonials, it's a wonder Loveless isn't in a mental institution or, worse, jail – maybe it's the gift of song that is saving her soul.

Tales of cheating lovers, jealous girlfriends, holy roller religion, and heavy drinking abound throughout The Only Man as Loveless – who sings with a southern drawl that sounds more Tennessee than Ohio – is backed by badass country musicians who sound fresh off the Grand Ole Opry stage. In fact, where it not for the randy language and tales of violence, I could easily imagine this record sitting comfortably amongst somebody's grandparents record collection (not my grandparents, unfortunately) alongside offerings by Patsy Cline, Loretta Lynn, and Tammy Wynette.
Before Disney made superstars out of teenage pop tarts, younger musicians were more the exception than the norm and had this record come out 20 years ago, Loveless would most likely be the subject of a major label bidding war and earn half-page featurettes in mags like Rolling Stone and Spin who would undoubtedly reference the old spirit living in the young body. But this is 2010 and the charts are loaded with girls (and boys) who have yet to earn high school diplomas. Those kids aren't singing about shooting and killing their dads because their dad killed the only man they ever loved as Loveless does on the album's title track, "The Only Man". Don't worry, Loveless and her dad are good friends, in fact her dad plays drums on the record and live (maybe he's keeping his eye on his little girl so that she doesn't fall for the 'baddest boy around' that she so often sings about).
"Girls Suck" is the penultimate country song and were it not for the lyrical content (sensing a theme here?), it would be easy to close your eyes and imagine Porter Wagoner introducing "the lovely and talented young lass from the Buckeye state" to the studio audience at the Grand Ole Opry. But lyrics like "There was a girl that everybody fucked / She had 10 men but 10 was not enough / So she asked my man if he would have a go / And he pulled it out and said 'If you say so, I guess'" would probably send the blue hairs into a tizzy.
Having performed since her early teen years (starting off as a member of Carson Drew in which she played bass alongside two of her siblings), Loveless is no newcomer to the scene which is pretty surprising considering she's a veteran at the old age of 19! At least now we've got something physical to hold in our hands, and listen to at will, to say we were there at the start of her recorded legacy as I have a feeling Loveless has a long, long career ahead of her.