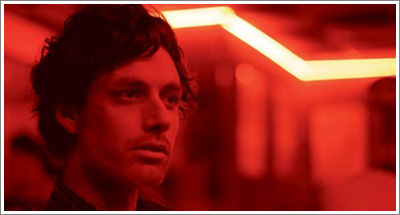 MP3: "Hand of God"
Jason Boesel has spent years looking at the butts of Jenny Lewis (Rilo Kiley), Conor Oberst (Bright Eyes) and Ben Lee – now it's time for the drummer to step out of the shadow and up to the mike. On January 12, Boesel released his first solo album, Hustler's Son, on Oberst's Team Love Records.
Difficult to catagorize, Boesel's material is in the same post-alt.country (did I just make up a new genre?) league as bands like Wilco. There's a folky/twang to the sound though don't expect to catch Boesel in a cowboy hat and boots any time soon.
Jason Boesel is currently touring as the opening act on a bill that also includes Dawes and Cory Chisel & The Wandering Sons. Rather than hire a backing band, Boesel has enlisted Dawes to pull double duty.
As long as the next round of snow holds off, Boesel, Dawes, and Chisel will set up shop at the Rumba Cafe on Wednesday night for what promises to be one of the best triple bills in this young new year.
Boesel took a few minutes during the first week of the tour to answer some questions I sent his way.
I hate to start off on the wrong foot so if you hate this question or want to reach through your computer and choke me, then pretend like this question was never asked. That being said – Phil Collins or Don Henley?
Hmmm, I really and truly think they're both great drummers, singers, and songwriters. If I could only choose one, I'd go with Phil. He's a mother fucker all the way.

If people recognize your name, it's as the drummer for either Rilo Kiley or Conor Oberst's band. Is the singing and song writing thing something you've developed over time or have you always been a singer/songwriter but took work as a drummer wherever you could find it?
It's happened over time. I've certainly had an interest in writing songs for quite a while, but only started doing it seriously over the last couple of years.
This is your first real touring as a solo artist from what I can tell. Are you leaving things open as far as your future goes (like, would you consider leaving the drumming gig if the solo thing takes off) or is this a creative endeavor that you wanted to get off your chest and happened to have a little bit of time between commitments to do?
I view my future as always being open. I'm enjoying playing my songs live and would love to continue doing so, but I also miss drumming and look forward to getting back to it some time in the near, and uncertain, future.
I believe that I read that Dawes will be backing you up rather than you having to put together a touring band. With Taylor already working on Hustler's Son, was it pretty easy to sit down with those guys and teach them the songs? At some point, would you like to put together a 'real' touring band?
It was exceedingly easy to teach Dawes the songs. They pretty much knew everything by the first rehearsal. They're all really great musicians and they play really well together. I don't look forward to putting together a "real" touring band. Sounds like a drag. I much prefer the ease of a pre-made band. Sort of like mail-ordering a really sick log cabin.
Unless there is a limited-run CDR out there that you made years ago and only distributed to friends, this is the first full collection of songs you've released. I'm not sure how old you are but typically it feels like a first album encapsulates your entire life experience up to that point in time. But, having been in the biz for as long as you have, would you say the lyrical content is fresher and timelier than the stuff you would have written for your first album if you were a green/naïve 21-year-old college student?
No cdr's out there, though I did write and record a song as a Christmas gift for my mom a long time ago. It was pretty shitty, but I think she loved it. I would say this record draws from pretty recent experiences and thoughts.
To me, "French Kissing" is the standout track and it reminds me of something off one of the more recent Wilco efforts. In other words, I love it. (I felt the same way about Nik Freitas's most recent album) What can you tell me about the writing of this song from both a lyrical and musical perspective?
DOWNLOAD: "French Kissing"
Lyrically, I feel this one is one of the more abstract tracks on the record. In my mind it's sort of a collage of people and moments in time. My friend Blake Mills played guitar on this track and really brought it to anther level.
You gathered a great group of musicians to work with you on Hustler's Son (I'm a big fan of Orenda Fink's stuff dating back to Little Red Rocket). Would you say that the end result is clearly your vision with these other musicians following your direction or did they each bring their own flavor to your stuff?
Overall I would say it's what I envisioned. I think each player had their influence, though. Especially Blake Mills, Nik Freitas and Jonathan Wilson. Those three shaped the record quite a bit.
I'll be honest, when I think of Rilo Kiley, I think of Jenny and Blake. In fact, (ready to stick foot in mouth again and have you complete stop answering my questions), in my review of Pierre's CD for The Big Takeover, I said "The third most recognizable name in Rilo Kiley (does anybody even know who the drummer is?), bassist Pierre de Reeder finally caught the solo album bug …." Is it nice to be able to be talking about yourself and YOUR music now rather than being the default spokesperson for Rilo Kiley? (I noticed you did a lot of interviews with 'smaller' publications and websites while Jenny talks to the big magazines.)
It's fine to be talking about myself and my music, but I don't mind talking about any band or project I'm apart of. It's sort of all the same. In releasing this record, I have found a good number of people know who the drummer of Rilo Kiley is. Info like that is pretty easily obtained in this modern age.
The bill you're touring on is, in my opinion, a really strong one. Usually, especially with 3 band bills, there is at least one band that I dread having to sit through but in this case I'm looking forward to a full night of great music. I've been telling my friends about the show but have had a hard time pigeonholing all three bands into one simple genre description. "Alt-country" doesn't work but it's the fall back. Once you hit the road, undoubtedly you'll be hitting truck stop fast food joints across the country. When the high school girl being the counter takes your order for a value meal and then says, "Y'all look like you're in some kind of rock and roll band. Do y'all sound like Nickelback or something?" how will you respond? If you wanted to give her a succinct description of your sound (and/or the sound of all three of the bands), what would that description be?
I agree about the bill. I'm really enjoying every set every night. To be honest, with most people who ask what kind of music we play, I just say rock and roll. In my experience it's usually not worth it to get into detail with influences and sounds like's etc…. Either that, or I tell them I'm a sexual balladeer.
How many times do you think Cory Chisel will be mistaken for Lukas Haas on this tour?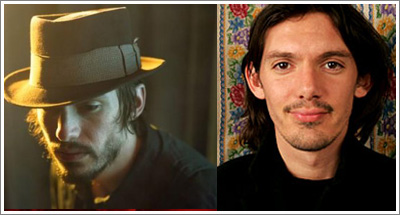 So far I haven't heard it happen. The resemblance is strong, though. I'm gonna say seven or eight.
Finally, just so I don't really mess it up when telling my friends about you, how do you pronounce your last name?
Sounds like Bozell. I think it's Alsatian.