UPDATE: Wristbands going onsale today for Austin locals.
—
If you're going to SXSW and Showlist Austin isn't on your daily list of sites to visit, you a punk. I mean it seems like so many sites (somes with real staffs and real budgets!) this year are copping Dan's style it's sort of embarrassing. Naughty, naughty websites.
ANYWAY.
Can't remember Billions doing a free day show in recent years, but here you go: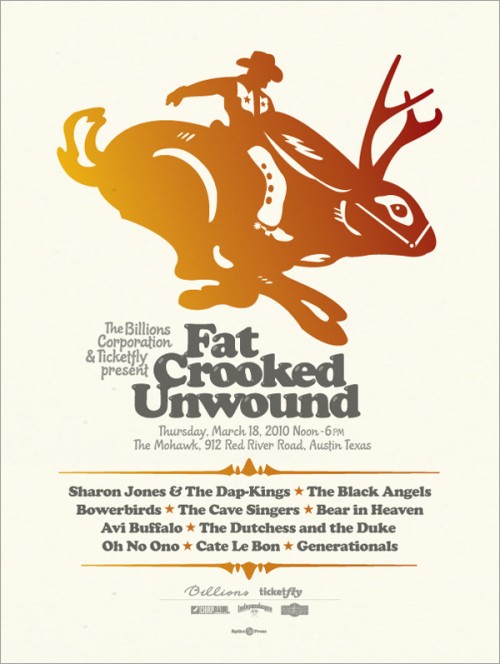 We've got so many more shows after the jump, dudes.
ITEM!
Irish: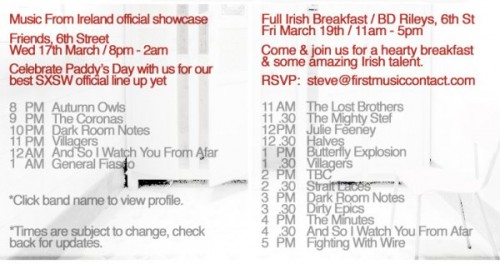 ITEM!
I was involved with the first Big Texas Jumpstart, so I'm happy to see they're keeping it going with some great bands:
Come join us on Wednesday March 17th at Creekside Lounge for 6 hours of free fun. The lineup, with accurate times, is as follows:

1200-1230 – The Gary
1245-0115 – Goes Cube
0130-0200 – The Hounds Below
0215-0245 – Vandaveer
0300-0330 – The Midgetmen
0345-0415 – Wax Fang
0430-0505 – Ezra Furman & The Harpoons
0520-0600 – Everybody Was In The French Resistance… Now!
ITEM!
Force Field PR and Terrorbird Media's got another big show: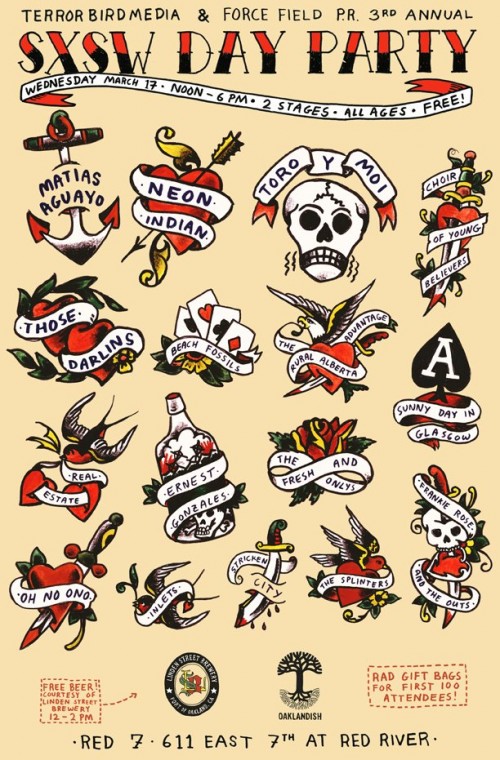 ITEM!
RSVP to Full Metal Texas here.
ITEM!
Details on the free ALTPRESS show:
Each year, AP throws the biggest, free, most insane show which just so happens to take place at the same time and in the same place as a certain music festival in Austin, Texas. This year, the all-ages, all-day Attack Of The 100 Bands (You Need To Know) concert will begin at at noon on Saturday, March 20, at Emo's in Austin. It features 19 bands on three stages.

Circa Survive
Sum 41
The Rocket Summer (acoustic)
Never Shout Never
Hey Monday
The Cab
Lights
Terrible Things
Title Fight
Every Avenue
The Summer Set
There for Tomorrow
Ruiner
Stereo Skyline
Conditions
Honor Bright
La Dispute
Cymbals eat Guitars
Zlam Dunk
ITEM!
Other Music says:
SAVE THE DATE! OTHER MUSIC SXSW LAWN PARTY
We are very excited to announce that Other Music will be in Austin next month for the SXSW festival, hosting two great days of free music on the rolling lawns of the French Legation Museum. This is our third year throwing the event with our good friends Dig for Fire, who are filming the festivities so you'll be able to enjoy the sights and sounds even if you can't join us in Texas. We'll be announcing the full 20-plus band line-up in the coming days, but some of the confirmed acts include: the xx, Thurston Moore, Real Estate, Dam-Funk, Mayer Hawthorne, and the Antlers. Stay tuned for more details!

THURSDAY, MARCH 18 & FRIDAY, MARCH 19
French Legation Museum: 802 San Marcos St. Austin,TX
No Cover | 1PM to 7PM both days
Presented by Babelgum | Sponsored by Magic Hat
ITEM!
Consequence of Sound show: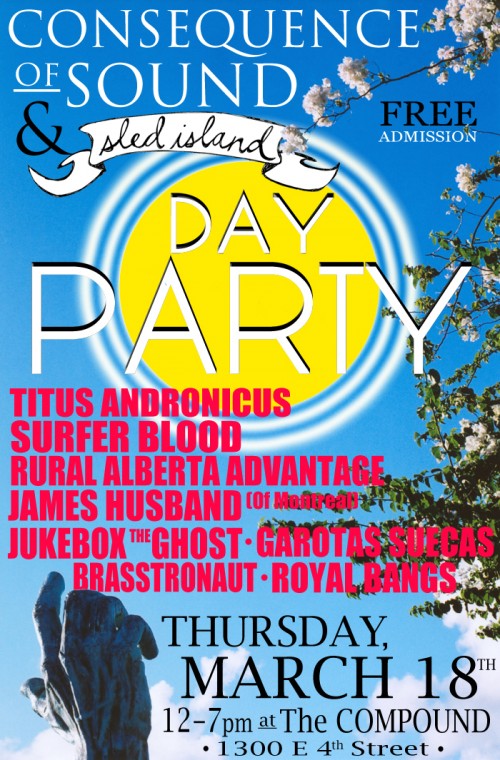 ITEM!
With WOXY's move to Austin, TX, they're really taking advantage of being the home town radio station. They've got an official showcase, working with Homeslice Pizza, and are copresenting this event:
Wednesday, March 17th
The Mohawk
Austinist/WOXY
w/Washed Out, Warpaint, Small Black, The Besnard Lakes and more
ITEM!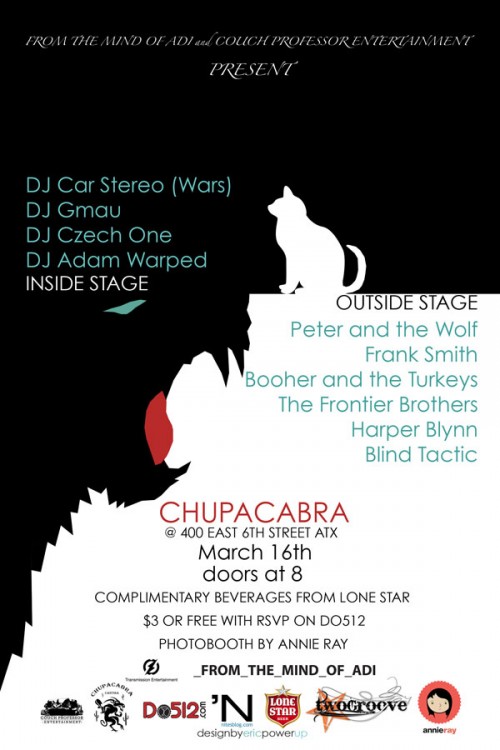 ITEM!
Indie Sounds party: