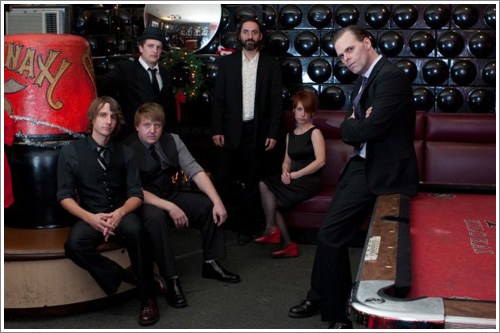 What a change in sound for Local H's Scott Lucas. After spending the last 15 years (geez, has it really been that long????) pumping out heavy, post-grunge rockers, Lucas just released his first "solo" record under the name Scott Lucas & The Married Men. There is nary a hint of aggression in these songs that Lucas likens to material by Mark Lanegan, Pink Floyd and Pavement and while Lucas did write all the songs, the members of the band add their own flavor to George Lassos the Moon.
With just one show left (tonight's show at The Summit with Colin Gawel & The Lonely Bones and Tilt) before the big Chicago homecoming CD release party, I had the chance to chat with Lucas after the band's soundcheck in Pontiac, Michigan.

David (Houston Calling) sent me an email a few years ago pointing me to your MySpace page where you had put up a couple of demo songs. Were those early solo songs written with the new band in mind?
Those songs were just songs between me and my girlfriend. In a week I had pretty much written half the record – they were like late-night e-mails. I didn't have any intention of putting them out on a record. Once I got past that first week, I was like "I have a lot of stuff here, what should I do with it?" It seemed pretty clear to me that it wouldn't be a Local H record so I just put them up on MySpace. I recorded all those demos on GarageBand and then I got everybody in the band together and gave them the demos and we've been sort of working on them for the past couple of years, just trying to get the dynamic of the band together.
You've got a lot of musician friends in Chicago. Did you think about inviting all of them to play on the record or did you want to put together a real band?
There's a bunch of different people on the songs. There's a horn section, Elizabeth Elmore sings on a song, Andy Gerber plays on a couple of things. I was working with Randy [Payne] and Tom [Szidon] as the rhythm section and we had done a few shows of the songs as a three piece. Then we brought Pete [Muschong] in on guitar and we worked as a four-piece for a while. I had done a tour with The Tossers and I had talked to Becca [Manthe] and Aaron [Duggins] from that band about being in this band. By the time Becca jumped on board, she was like "Aaron has been playing accordion, should I bring him?" I was like "Yeah." So they came in and started playing together and it added a dimension almost like we had a string section.
When you put the band together, did you plan on touring or did you originally just think of making a record?
Nothing was really thought out. There was no masterplan. The first song that was written was "Damn Dead Horse". That was all I thought – here's this song, I'm writing it, I'm sending it in an email. Then it just kept going. Once you did one thing, it's like what do you do next? Well, we record a record. What do we do with that? We put it out and then go on tour – all the things that you're supposed to do but you don't really see that far down the road.
In Local H, it's always been just you and a drummer. Now you've got a full band. Do you feel like you've lost any control?
There's definitely a feeling where I'm the bandleader and there's no way around it. But there's also less control. I don't tell anybody what to play; they don't need me to tell them what to play. In the studio, it was definitely a case of where I felt like I was the worst player in the room. I was just trying my best to keep up and play in tune. As far as the band thing goes, with a 6-piece band, it's outside of my comfort zone. I'm used to doing everything I want except for the drums. Here, it's not like that at all.
Do you consider this your solo thing or do you consider it a band?
I wanted to stand behind my name. This is me, these songs are completely me. I take full responsibility for whether or not these songs suck. If this stuff is too sappy, it's totally my fault, don't blame anybody else. Nobody is tied to this. If they don't want to play, they don't have to. There's none of it being a job. It's definitely a band, we've been getting along as a band. I don't think anybody feels the pressure that we have to.
Where did the Married Men name come from?
It was Becca's suggestion. Randy, Tom and Pete are married and she just kind of found it fun and charming to be in a band full of married men. The ideas that we had come up with – I had the whole Cowboy Junkies Trinity Sessions on my mind – there was a lot of religious imagery. We were going to call ourselves Scott Lucas and The Holy Innocence but nobody was too crazy about that. Becca was like,"Why don't we call it the Married Men?" We laughed and it stuck.
The last Local H record, and now this solo record, seem to have much more of a relationship focus in the lyrics than anything you've done before.
They are flipsides of each other. Where the Local H record is all about anger – I think some people found that hard to get their heads around, they're like "It's all angry." Well, yeah, it's called 12 Angry Months. But with this, you can listen to the lyrics and see a breakup and a separation and a story in the arc of the record but to me the record is really romantic. I wanted that to be the thrust of the record. Some people listen to the record and think it's really sad. I don't want it to be weepy, kill yourself sad. I just wanted it to be beautiful and pretty, something I'm not usually associated with.
You're a week into your first tour with the Married Men. The record just came out. Are some people showing up expecting to hear Local H but with 4 additional members?
You can see some people looking around and thinking, "When's he going to kick it up?" We do kick it up but definitely not in the way they're expecting it. Live, we do get a nice squall going. I think anybody that has been listening to Local H over the years knows there has always been stuff like this, quieter stuff, it's just that there's more of it on this record.
It seems like you've really had your hand in a lot of things over the past 12 to 24 months.
At the end of the year I sort of felt like I hadn't done anything. I hadn't really toured a lot last year and felt like it was a pretty unproductive year. And then I started looking and was like, wait, there's this Prairie Cartel record that came out, a Local H DVD, and now this solo record. I wrote a couple songs with Lions and hung out, but that wasn't work, that was just hanging out.
Is your plate already starting to fill up for 2010?
I've got my eye toward the next Local H record and the next Married Men record. When we get back from this tour we're going to go into the studio and record an EP.
Mike Willison (of Prairie Cartel) recently moved from Chicago to Oregon. Does this mean the end of the Prairie Cartel?
Mike was starting to become disillusioned with playing live anyway so it's not a huge thing. Sending tracks back and forth over email, it doesn't matter how many miles away you are. Blake [Smith] and I have talked about putting together a huge band, it would still be the Prairie Cartel, and it would incorporate video, making it more of a multimedia thing. Instead of using samples on stage, everything would be live.
Is there any end in sight for Local H or will you keep doing this as long as people want to hear it?
Eventually, you'd think it would have to end. But as long as me and Brian want to do it, and as long as we don't make records that suck, I don't see any reason to stop. I don't think our records are getting worse. We're not tarnishing the reputation of the band, so everything is fine. Shows are good, everything is great.
Right. And, I see that you've got some Local H dates lined up for the spring.
We're doing a Local H tour where we put all the records in a hat, somebody comes up and picks a record out of the hat, and that's the record we play. We're going to have to be on our toes big time.
**************************
Scott Lucas & The Married Men, Colin Gawel & The Lonely Bones, and Tilt perform at The Summit on Friday, February 19. Doors at 8pm, tickets $8, show starts at 10pm.