ITEM!
I haven't even tried to keep up with all the Brooklyn Vegan events at SXSW, but here's one worth mentioning:
BrooklynVegan & AnSo Present:
A Day Party in Austin, TX!
@ Spider House (2908 Fruth St @ Guadalupe)
Thursday March 18, 2010
Noon-7pm
ALL AGES-FREE [No badges, wristbands or RSVP necessary]
19 bands on 3 stages (1 indoor and 2 outdoor)
Full bar w/ Drink Specials. In house restaurant & backyard BBQ.
Stage #1
6:00 Human Eye
5:00 Tyvek
4:00 Thee Oh Sees
3:00 Golden Triangle
2:00 Lovvers
1:00 The Beets
Stage #2
6:00 Cheeseburger
5:00 Jim Jones Revue
4:00 Slim Cessna's Auto Club
3:00 Kid Congo Powers
2:00 Carletta Sue Kay
1:00 Or, The Whale
12:00 La Strada
Stage #3
5:30 UUVVWWZ
4:30 Everybody Was In the French Resistance Now (w/ Eddie Argos of Art Brut)
3:30 A Sunny Day in Glasgow
2:30 Odawas
1:30 DM Stith
12:30 The Sandwitches
More after the jump..
ITEM!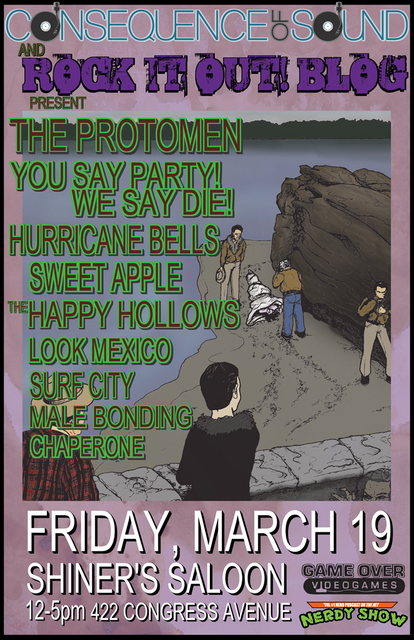 ITEM!
A girl blogger rock and roll party! We are doin' it for ourselves with this ass kicking, female-powered unofficial SXSW Showcase. Check our first video below for details.

BANDS… Campfires, Cloud Nothings, Rangers, Pill Wonder, Alex Bleeker and the Freaks, Coasting, Pure Ecstasy, Twin Sister, Big Troubles, Family Portrait… perhaps some SURPRISE GUESTS!
ITEM!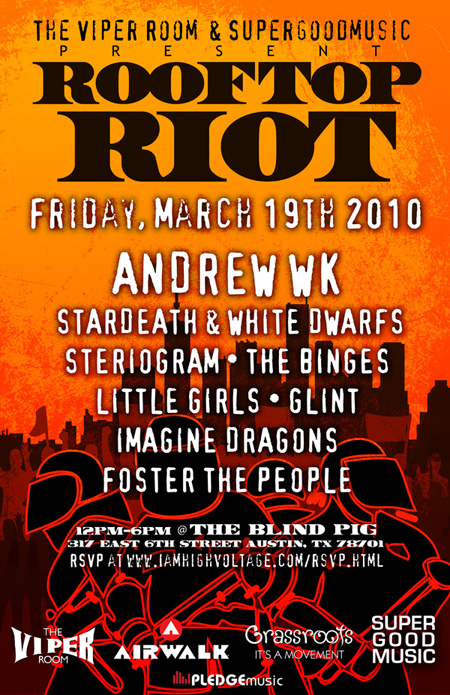 Click here to RSVP.