This is a Stalley video for his song S.T.A.L.L.E.Y. off the upcoming Ski Beatz Mixtape, 24 Hour Karate School which also features Mos Def, the Cool Kids, Jay Electronica, Curren$y, Jim Jones,Nicole Wray and more, out March 30th. This video has various people rocking Stalley's trademark beard.
No he isn't from Philly.
Stalley is from Massillon. Thinks about that for a second. He has already dropped a jazzhop mixtape called Mad Stalley:The Autobiography that would make Scott Storch beg to rejoin the Organix Roots and not be funny and has a bunch of projects with whose who in modern Low End Theory land on deck.
But he isn't from Philly or Queens.
Fucking Massillon.
Stalley is performing in Austin for South By Southwest this year:
March 18-SXSW Urb Magazine Showcase Light Bar,
March 19-SXSW  Last Rights Showcase Firehouse Lounge .
March 20-SXSW Kenny Dorham's Backyard.
For this interview, we talked Massillon sports, Hip Hop, Islam, Ohio weather, Jamaica, J-Rawls, and mainly how the fuck someone goes from small-town Ohio to being Dame Dash's latest discovery. You should read it. He is from Massillon and is in a rap group with Mos Def, Curren$y, and Jay Electronica called Central Edge Territory.
Have you been to Massillon?
ME:We are in Columbus, which is close to Massillon. I know you got you're thing going on in Cleveland with Terry Urban and them. But I'm going to try to get Columbus up to speed. You grew up in Massilon your whole life?
Stalley:I grew up in Massillon until High School  I left Massillon when I went away to college That's when I left.
So you played for the Massillon basketball team. Sports is big up there uh?
Yeah. Football is huge. As everyone in Ohio usually knows. If they do know about Massillon that's what they know is football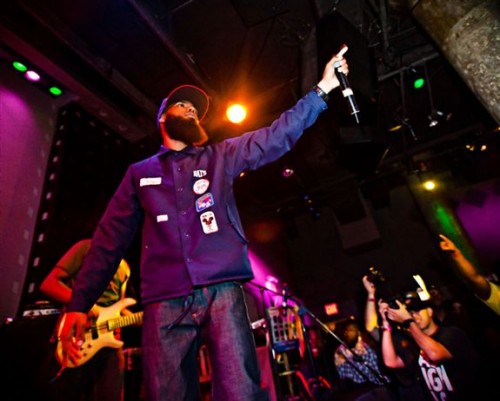 You ever seen that documentary, Go Tigers?
Yeah, that was a couple years before me. But I knew a couple of the guys in there. Sports Illustrated did something on the rivalry between Massillon and Mckinley. Canton and Massillon, yeah.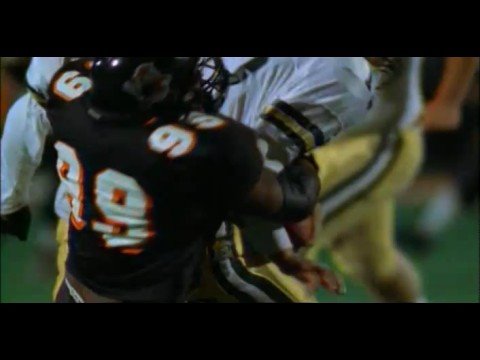 It wasn't like that for basketball?
It was, but it wasn't as crazy. Don't get me wrong, All sports are big. It wasn't as big as football though. Every game was sold out. People came. Attended. It just wasn't a big deal like football.
They have Tiger prints on the Freeway don't they?
Yeah. Exactly. laughs. And they post up signs to beat everyone. All the time.
Seeing that Massillon is a small Ohio football town. How did you get into the type of Hip Hop you are into?
Loving music, really. I had to dig deep to find the type of music that I liked. There were only three other guys in the city that was familar with the music I was into. Such as, Nas, Mos Def , Talib Kweli. Common, The Roots, Tribe Called Quest, De La Soul. A lot of people weren't into the underground I guees Hip Hop  you would call it.  At first I was exposed to more of the mainstream. As I fell in love with it so to say. That's when I started research. It kind of came to. I was attracted to good music, or what I felt was good music.
Any musicians in your family?
Naw. Just Me. Everyone in my family is into to music. I had a few uncles that sang. But no one in my family was directly into music. They were more into sports.
Yeah. In Ohio it's hard to make money off art or music. And there aren't many examples of people making living off of music so it's hard for a family to take it seriously.
So what position did you play?
I played the 1 and 2. I mainly played the 2. It was funny because I would start out the games at the one. I usually moved off the ball because I could shoot a little bit. So I played basically both positions.
In college you played for Michigan?
Yeah, I went to Michigan. Then I went to Long Island University. Now I"m here in Brooklyn. I really played down here. When I went up there I got hurt. I had to sit out and their were some coach switches. Some things going on. That's why i actually transferred down here to Brooklyn. Thats how I ended up in New York.
How did you get involved with the current people you are rapping with?
Well, It's just a long…Man, Where do I start? Really it started with making music and being around. Doing shows and things like that, meeting people. umm. And just bumping into people. When I met Mos Def, it was in a store. I'd only been rapping for two years. Some guys basically asked me to do a demo. They kinda dragged me into the studio. I did a little six track ep.
And I took it into a store where I had friends who worked in the store. A couple people hung out in the store. Ti make a long story short, Mos Def was a co-owner of that store. He happened to come into the store the day I was playing my music. He was like, "who is this? This is good. This is you. This is really, really good. What you trying to do with it?" I was like, 'honestly I just got this, and I was letting them hear  it. But I didn't know what I was gonna do with it.' We exchanged information and he said "keep in touch".
That's basically how that was. That's how this Center Edge thing came about to because I had met Dame Dash a couple months ago. And I started going to the studio and working with them at their space. And Mos happened to come again. I hadnt seen Mos for awhile. I just happened to Mos that day. He came in and he was putting together that project with him ,Currensy and Jay Electronica. And he was like, "you want to be a part of this?' I was like, 'are you serious?' He said, "no, I'm serious.'
Basically his point with Center Edge is have emcee's that are alike but aren't alike. Basically, emcee's that are lyrical that come from different parts of the United States or just live or speak on some the same topics. Just in different ways.
I might talk about Massilon the way Mos Def talks about Brooklyn. Or the way Jay Electronica talks about New Orleans. We are all coming from that same struggle. But it's different so it makes it ill. Y'know, when you have doods that are lyrical from different styles, blah blah blah.
So that's why he was like, "I really feel you. Yeah, I want you to be a part. " So they,Jay Electronica, Currensy and Mos.  He was like, "just hop on the songs we already done. Just add a verse to em. Anything we do in the future, we are just all gonna do together, when time permits.
We are all pretty busy, running around. But once we in the studio doing what ever we doing. Basically get a song out. Do whatever we have to do.
Ski (DD172's inhouse producer) makes like a beat a day, right?
Yeah, sometimes he makes two or three, a day. He is working. Grinding. Like, we about to head out to Jamiaca tomorrow. We are gonna shoot some video. And record. Ski is bringing all the equiptment out. We are gonna be out their for like a week. Just basically banging out music. Shooting videos and stuff like that.
Thats crazy. Cause in Ohio it's really cold right now.
Massilon is pretty rustic. What's the industry up there?
Massilon. It's like steel. It"s very cold. I looked online a few days ago. It was 7 degrees. It's cold here. But it's like 44 degrees. In New York. It's not that bad. But still, going to Jamaica where it's supposed to be 85 all week.
I'm like yeah, I'm about to kick the shorts out. And this is my first time going to Jamaica. I'm kicking the shorts out and being on the beach, a little bit.
(note this interview was conducted a month ago. Between the donewaiting anniversary, me getting sick and things, it's just getting posted now. they filmed this video in Jamaica)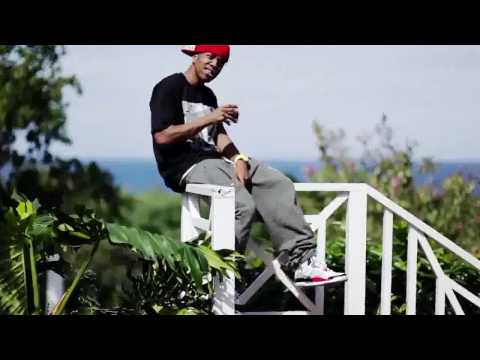 That's awesome!
It's just awesome coming from Massilon being able to do the things I'm doing. Working with the people I'm working with.
Just as a fan. I grew  up listening to Camp Lo. Ski. He produced most of Reasonable Doubt. I could't imagine what it"d be like walking into a studio and working with him.
I grew up listning to Camp Lo too. That what one of me and my older sister's favorite albums. They changed to game with their style. With the way they rapped. The Production. Everything.
To be able to work with Ski. And for Ski to embrace me, and think I'm next. And I'm a dope emcee. It's just amazing
One day, me and Currensy were sitting in the office. We were looking at Damon. And on the table was a Roc-a-fella chain.
Currensy said to me, "damn thats the Roc-a-fella chain. We used to look at this when we was little boys."
It's true. I used to be a little boy in front of the TV, watching Dame pop bottles and throw it on models. All that crazy stuff.
I used to look up to Mos and all these people. To be able to work with them? And for them to say that I'm dope and I'm next.
Thats just like. I can't even have words for it.
A dream developing. You been back to Massilon?
i actually haven't. We are actually gonna go shoot a documentary when it warms up.  I'm sure you've been following Creative Control. They are gonna go out to where I'm from. They already went to New Orleans with Currensy to show where he is from. Just to see his friends and how he grew up where he is from. blah blah blah.
So we gonna do the same thing in Massilon. Dame wants to go when it gets a little warmer.
I don't blame him.
How much familiarity with other Ohio acts did you have when you lived in Massillon?
I was familiar with J-Rawls. Hi Tek. Mood.
CINCINNATI!!
That was pretty much. When I was young coming up. Bone Thugz. When I was really young, MC Brains.
Ouchie Couchie
Hah, Yeah. Ouchie Couchie.
Yeah, every now and again the Alkoholiks would make a reference to Ohio,
Tash.
Mixmaster Ice lives in Columbus now.
I didn't know that.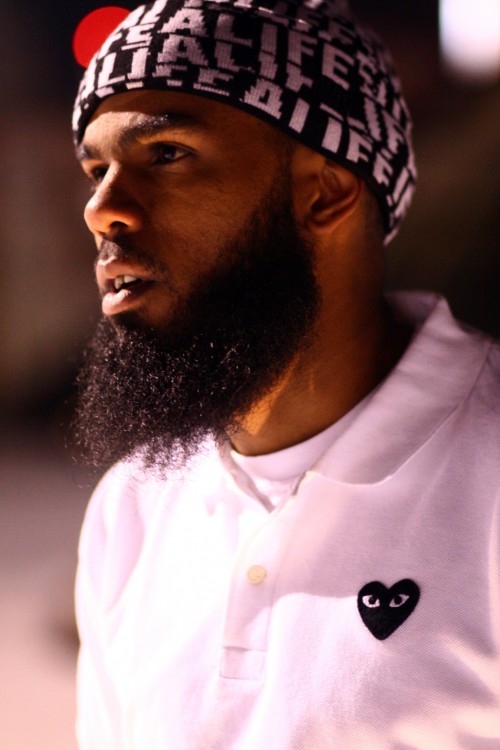 I noticed your beard. So you've never lived in Philadelphia?
Naw. hahah. Naw, everyone here thinks I'm from Philadelphia. They don't think, but they ask me.'are you from Philly'? No, I'm not from Philly.
Did you have that beard when you were playing basketball at Massilon?
Naw, I didn't actually. It's funny. when I played basketball,  I had hair on my head. And no hair on my face. Now I have hair on my face and no hair on my head.
The beard is also a religious thing. I'm Muslim. I came up that way. That is something I embraced as I got older. That was something that was like an outlet for me also, To have that strength. Personally, to have the strength to be able to grow it.
Focus on the things, I need to focus on.
Are there many Muslims in Massilon?
Naw. There is a couple.Not alot at all. It's not big at all. There was a few of us.
Are you Sunni?
Yeah, I'm Sunni Muslim.
Were you ever involved with the N.O.I?
No.
I was just wondering the N.O.I. had a Mosque in Massilon. Thatd be a trip.
Naw. I had to do a lot of my studying by myself. I had to travel to Cleveland. There was nothing around us really, so.
It makes you appreaceate things more than huh?
Definately, it does.
Any other future projects besides 24 Hour Karate School, Center Edge, and your Documentary.
I'm working on a project with Sa-Ra. I'm going to be the first Hip Hop, rapper ever to do a project over Sa-Ra beats. I was just out in Cali recording with them. I'm working on a project with Ski. 8 to 10 songs. All his production wih me over it.
I have lot producers who reached out to remix my my mixtape, the Autobiography. Shafiq, J-Rawls, Moonbug from Jurassic 5, Susie Analog, Mussina a lot of dope producers.
It's good to see J-Rawls is on it. It's good to see an Ohio collab.
I'm all about Ohio. I'm really trying to get back there. I had to leave. I'm from Massilon. It's a little ass city. It's like 31,000. I would'nt be doing anything I doing, if I was still there. I want to be able to shows back there.
I'm trying to get down to Columbus. The University of Cincinnati reached out to me for their Spring festival. Hopefully, I'll be able to do that. Ohio is a big part of me.
That's what I rep to the fullest. Whenever you see me, I got Ohio State, Cavs or Indian's Wahoo fitted on.
I'm repping Ohio to the fullest.
You gotta love Lebron.
I played against him…I don;t know Lebron personally. I played against him.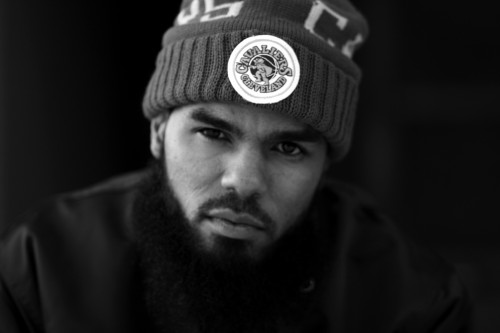 Download Stalley's music and learn more about him via these webspots